The Italian menswear brands first-ever retail location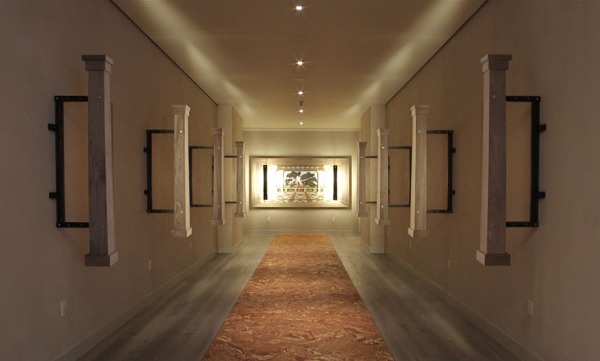 To celebrate the significant occasion and showcase Italian menswear at its most exceptional, Caruso created a 4,500 square foot Italian enclave that brings together the best of Italian art, design and music. Located in front of Manhattan's Four Seasons Hotel, a sweeping gallery welcomes visitors and creates a linear perspective that draws the eye to the first of Caruso's many wonders.
Paying homage to the space's previous tennant, the renowned Spanierman Art Gallery, Caruso commissioned artist and cabinetmaker Giuseppe Amato to create a classical wooden intarsia piece all'italiana. With an elaborate inlay of multi-coloured wood, the piece interprets the panoramic terrace of a traditional patrician palazzo overlooking a Renaissance garden.
The space beyond has been given a contemporary approach by alternating larger and airier spaces, where the clothing engages in a dialogue with the environment, with smaller and cozier rooms. Throughout, details represent classic Italian virtuoso craftsmanship: curious "musical furniture,"; cuts of embossed wallpaper similar to that used by nobility to decorate the most silent rooms; a block of Carrara marble that enriches the visitors' restroom, in which a basin has been carved out, as in the times of the ancient Romans.
A room dedicated for special clients becomes a tribute to the Italian temple of opera, the Teatro alla Scala. Tone-on-tone velvets and silks, mirrors that multiply perspectives, a refined cabinet designed for this occasion, a vintage carpet with a burgundy floral pattern, "hammered" brass profiles like these used centuries ago all evoke the intriguing atmosphere of theatre foyers of old. This tucked-away room contains genuine velvet curtains from a box at La Scala and a collection of memorabilia – posters, manuscripts and scores – are dedicated to Enrico Caruso, the legendary tenor.
All of the material used in the store comes from Italy, including the oak flooring as well as the strikingly veined terracotta tiles that are made from two different color clays from the floodplains of the Po river, close to Soragna: the area where Caruso was founded in 1958.