A worthy edition to the Montegrappa Limited Edition Icons Series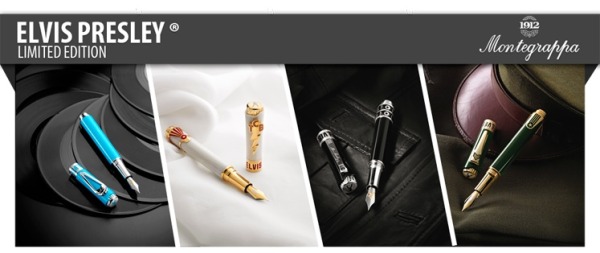 Montegrappa's latest collection of limited edition writing instruments is the Icons, which has seen plenty of gadgets dedicated to renowned figures like Bruce Lee, Muhammad Ali, Batman, Frank Sinatra or Yuri Gagarin. The brand has now come up with a limited edition series dedicated to the rock-n-roll king of all time, Elvis Presley.
Montegrappa is now launching 4 different models of fountain pens in order to celebrate Elvis Presley's fabulous career, from 1954 to 1977. There were four colors chosen to represent the life of the King, representing different periods of his life.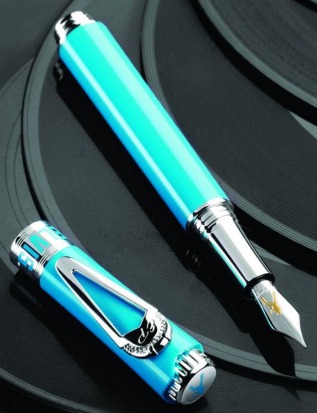 An Aqua tone was chosen for the first part of his career, during early '50s, standing for the Million Dollar Quartet which had included Elvis, Jerry Lee Lewis, Carl Perkins and Johnny Cash. They've performed together during 1956. The matching writing instruments are the Montegrappa Elvis Presley Aqua & Silver limited edition fountain pens, with profile-engraved nibs, price at $2,860.
Two years later, in 1958, Elvis Presley joined the US Army, therefore the next color chosen for the pens was Green. The Montegrappa Elvis Presley Green & Vermeil limited edition fountain pen features an uniformed Elvis and his rank of Sergeant. This is priced at $3,380.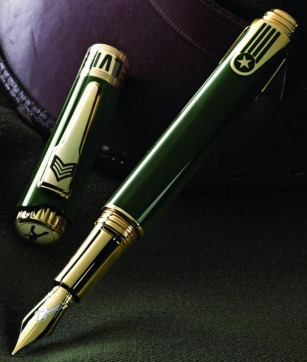 The next year that was chosen is 1968, when Elvis' comeback had occurred. The legend of him wearing the fabled black dress had started during that year, therefore this version has been painted in Black. The Montegrappa Elvis Presley Black & Silver limited edition fountain pen comes with a black-dressed Elvis and costs $3,050.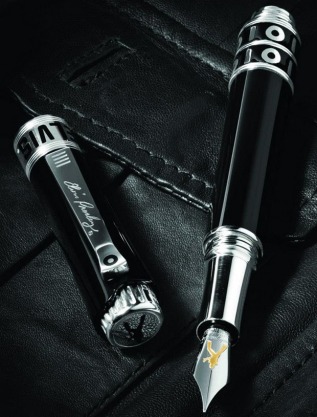 The last but not the least model is the pen dedicated to the Aloha From Hawaii broadcast. The Montegrappa Elvis Presley White limited edition fountain pen honors the show that used to be anxiously watched by around a billion people worldwide, through satellite. Montegrappa will produce 500 fountain pens, 500 roller balls and 973 ballpoint pens of this edition. The gold version will be released as 14 fountain pens, 14 rollerballs, and 14 ballpoint pens, totaling 42 in honor of his age when he passed away in 1977. The pen is set with stones on the cap's band and the pocket clip recalls Elvis message to his closely-knit band of friends: TCB for Taking Care of Business. This exclusive version is priced at $3,900.
These models are also to be available as roller ball pens and ballpoint pens. There are also gold editions of the four available as well.
---
Since 1912, Montegrappa has been manufacturing high-quality writing instruments in the same historic building in Bassano del Grappa, North East Italy.
Elmo & Montegrappa
Via Ca' Erizzo 43/45 – 36061 Bassano del Grappa (VI) ITALY
Phone: +39 0424 522232 – Fax: +39 0424 523975
Web: www.montegrappa.com – E-mail: contact@montegrappa.com