Go out in style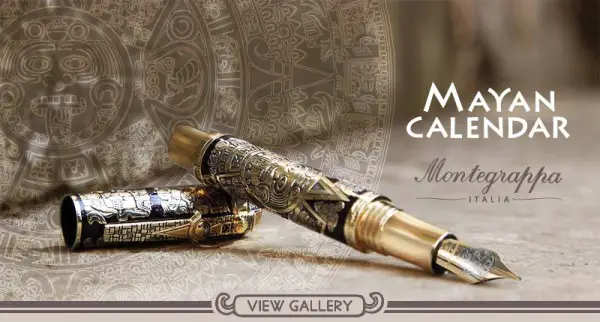 It's a long shot, but for many years scholars have noted that the Mayan Calendar predicts the end of the world on 21 December 2012. Whatever may transpire, we're sure there will still be time to enjoy Montegrappa's exclusive limited edition dedicated to the Mayan Calendar. And given the time constraint that inspired it, the pen is – naturally and truly – a limited edition.
Decorating every surface of the pens are the engraved images of the Mayan gods, with patterns reminiscent of distinctive Mayan architecture. The pen clip itself is fashioned after the sacrificial sword used by Mayan priests to dispatch their offerings to the gods.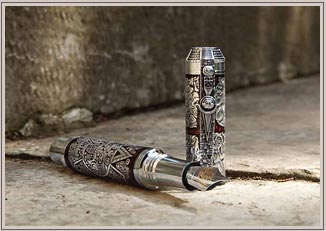 All fountain pens in the collection are fitted with Montegrappa's patented built-in piston filling mechanism. Turning the blind cap, which activates the piston, provides the same tactile feel of winding the movement of a mechanical watch. Nibs are made of 18K gold and boast an ebonite feeder. Most components of the sterling silver pens are made using the 'lost wax' casting technique, with details enhanced by hand, while the caps and barrels for the solid gold pens are etched by hand. 
Available in sterling silver or solid 18K gold, both editions are finished with translucent enamel; there is an innovative all-bronze version as well. As 360 days formed the Mayan year, divided into 18 months of 20 days each, the sterling silver and the bronze versions will be offered as limited editions of only 360 fountain pens and 360 roller balls each. Gold versions will include only 20 fountain pens and 20 roller balls. The Mayan Calendar collection will also include cufflinks in a limited edition of 360 in silver, 360 in bronze and 20 in solid 18K gold. 
Elmo & Montegrappa
Via Ca' Erizzo 43/45 – 36061 Bassano del Grappa (VI) ITALY
Phone: +39 0424 522232 – Fax: +39 0424 523975
Web: www.montegrappa.com – E-mail: contact@montegrappa.com