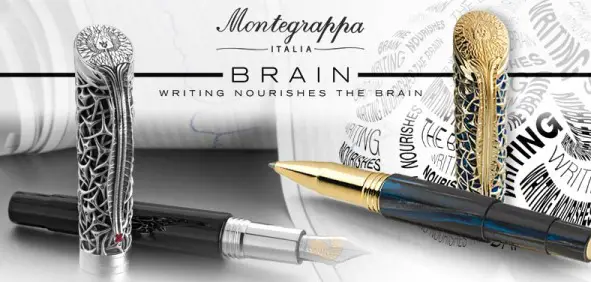 Press courtesy of Montegrappa –
It is always an honour and a blessing to be able to demonstrate commitment to the subjects chosen to be celebrated as Montegrappa pens. The most readily-available means to show our respect for a subject is to support a related charitable venture. When it came to a pen as esoteric as the Brain, we were delighted to find the perfect cause existed, one that addresses the essence of the Brain pen and the scientific research it embodies.
Montegrappa was pleased to donate a silver Brain pen, designed in collaboration with the respected neuropsychiatrist and author Dr Richard Restak, for the auction held to benefit 'Keep Memory Alive', in support of the Cleveland Clinic Lou Ruvo Center for Brain Health. In recognition of Montegrappa's support, Anna Robins, Director of Special Events, wrote:
'Thank you for your generous contribution to Cleveland Clinic Lou Ruvo Center for Brain Health made through the 2013 Power of LoveTM gala. All of us at Keep Memory Alive (KMA) and Cleveland Clinic Lou Ruvo Center for Brain Health are forever grateful for your loyal commitment to our battle against the insidious diseases of Alzheimer's, Huntington's, Parkinson's, Multiple Sclerosis, ALS and other neurodegenerative disorders.'
KMA supports families affected by neurodegenerative disorders, educates local communities about the role of early detection and provides the finest treatments in the world. Ms. Robins added, 'Your gift allows us to further our ground-breaking research and care – until we find a cure!
'We recognise that there are many worthy causes that you can choose to support, and in these challenging economic times, KMA is grateful to earn your trust.'
Learn more about the Montegrappa Brain Pen Series here: Montegrappa Celebrates The Century Of The Brain
Those wishing to learn more about KMA should visit: www.keepmemoryalive.org
---
Since 1912, Montegrappa has been manufacturing high-quality writing instruments in the same historic building in Bassano del Grappa, North East Italy.
Elmo & Montegrappa
Via Ca' Erizzo 43/45 – 36061 Bassano del Grappa (VI) ITALY
Phone: +39 0424 522232 – Fax: +39 0424 523975
Web: www.montegrappa.com – E-mail: contact@montegrappa.com