Montegrappa pays tribute to Nelson Mandela by hosting a red carpet screening of the movie Mandela: Long Walk to Freedom in Dubai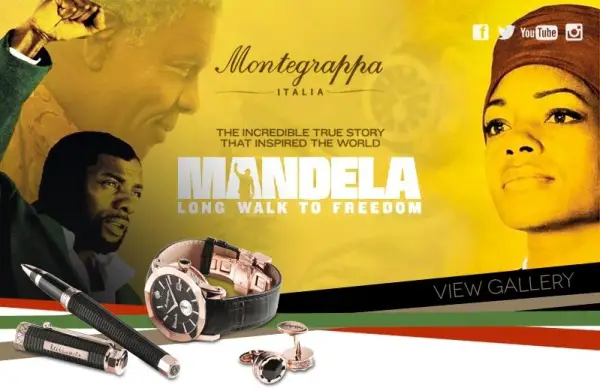 Montegrappa recently created a limited edition series set to honor the 95th birthday of Nelson Mandela. The exclusive set consists of a watch, pen and cufflinks limited to 500 pieces only (500 is the number of hospitals upgraded / constructed during Mandela's presidency of South Africa).
Mandela waived goodbye to the world on 5th December 2013.
Mr. Giuseppe Aquila, CEO of Montegrappa Italia said 'It is with great sadness we at Montegrappa join those who love peace, in mourning the passing of Nelson Mandela.' He added 'We have learned to appreciate the breadth and depth of his achievements through our work with his family and foundation. Through the greatest hardship imaginable, he remained steadfast and true to his cause, never wavering. He spent his entire life serving his people, his nation, and – ultimately – the world.'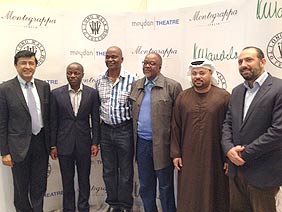 Montegrappa hosted a special red carpet screening of the movie – Mandela: Long Walk to Freedom paying tribute to the great man. The event was held at the Meydan Theatre in Dubai and was well attended by VIPs including His Excellency Manabile Shogole, the Consul General of South Africa.
Nelson Mandela was a man who appreciated the value of a good writing instrument. In a letter to his daughter Zindzi, written on the 10th of February 1980 while he was imprisoned on Robben Island, Nelson Mandela wrote: "A good pen can also remind us of the happiest moments in our lives, bring noble ideas into our dens, our blood and our souls. It can turn tragedy into hope and victory."
Knowing this Montegrappa is honoured to have contributed to his efforts during the final year of his life, with the gift of a pen set on his 95th birthday in July, 2013. His memory will be cherished forever by all who work, hope and pray for the betterment of humankind.
Since 1912, Montegrappa has been manufacturing high-quality writing instruments in the same historic building in Bassano del Grappa, North East Italy.
Elmo & Montegrappa
Via Ca' Erizzo 43/45 – 36061 Bassano del Grappa (VI) ITALY
Phone: +39 0424 522232 – Fax: +39 0424 523975
Web: www.montegrappa.com – E-mail: contact@montegrappa.com