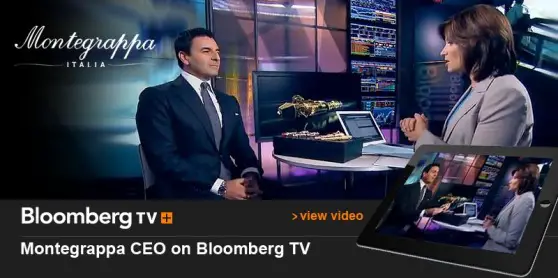 In a year that has included such high-profile appearances as a key prop in a scene in The Expendables 2, a spot on Tonight With Jay Leno and a plot role in a major soap opera in Korea, Montegrappa has crowned its centenary year with its most high-profile coverage yet. On October 18th, Montegrappa CEO Giuseppe Aquila was a guest of Deirdre Bolton on Bloomberg Television's Money Moves, to discuss "luxury at your fingertips."
In conversation with Ms. Bolton, Giuseppe explained both the fascination with pens and how they have become objects of desire with price tags now surpassing $100,000. Among the limited editions seen on the program were the Centennial Dragon, which he explained as needing six months to produce, the product of "teamwork" that might include 10-12 people working on the same pen.
When asked who used such writing instrument, Giuseppe recounted how Boris Yeltsin used a Montegrappa Dragon to sign the documents that handed over power to Vladimir Putin. Other pens discussed during Giuseppe's impressive news segment included the Bruce Lee Dragon pen and the Chaos pen designed by Sylvester Stallone, culminating in the unveiling of Montegrappa's "Million Dollar" Centennial Pen, and the revelation that a Montegrappa pen was auctioned for $8.5m.
In the context of the Bloomberg network and its sophisticated audience of those who operate in the world of finance, one can only imagine that its regular viewers now see pens as wise investments.
To enjoy this fascinating segment with Montegrappa's CEO, please visit:
"See The Montegrappa Pens That Cost $100,000"
 
Elmo & Montegrappa
Via Ca' Erizzo 43/45 – 36061 Bassano del Grappa (VI) ITALY
Phone: +39 0424 522232 – Fax: +39 0424 523975
Web: www.montegrappa.com – E-mail: contact@montegrappa.com