An "Icons" series writing instrument featuring several distinctive elements that signify Sinatra's remarkable life and career.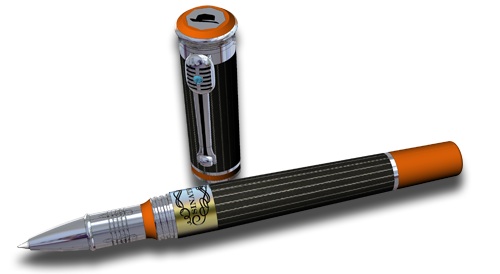 Montegrappa, Italy's most revered manufacturer of fine writing instruments, has announced the debut of several new commemorative pens honoring Frank Sinatra during Baselworld, the world's largest and most important event in the watch and jewelry sector held annually in Basel, Switzerland, this year from March 24 to March 31.  The pens will be part of Montegrappa's popular "Icons" series of writing instruments, which pays tribute to global cultural icons, who have achieved greatness in a variety of fields, including music, movies and sports.  Previously released pens in the "Icons" series have honored Muhammad Ali and Bruce Lee.
To pay tribute to Frank Sinatra, Montegrappa has fashioned pens that, from cap to tip, are imbued with several distinctive elements that signify Sinatra's remarkable life and career.  At the working end, the tip of each pen bears a musical staff and a G-clef.  The barrels and caps of each pen are finished to resemble the fabric of a sharp pin-striped suit, while the ends of each cap are engraved with the fedora logo used today by Frank Sinatra Enterprises to identify authorized Sinatra items and suggestive of the signature style of hat that Sinatra wore and made famous.  The fountain pen models in the series have blue accents in a nod to "Ol' Blue Eyes," while the roller ball models bear orange accents reflective of Sinatra's favorite color.  The pocket clips for each pen are carved in the shape of a classic microphone.
Montegrappa will issue the following models of Frank Sinatra-themed pens: 1,915 fountain pens and 1,915 roller balls, each in resin with silver trim, to honor the year Frank Sinatra was born (1915); an additional 12 fountain pens and 12 roller balls, each in resin with solid 18K gold trim, to denote Sinatra's birthday on December 12th; and finally, 5 roller balls and 13 fountain pens, each with solid 18K gold trim and overlaid barrel, to recognize the date that the United States Congress designated " Frank Sinatra Day" in honor of his significant contributions to American culture.  The Sinatra writing instruments collection will be sold to boutiques and approved Montegrappa dealers.
---
Since 1912, Montegrappa has been manufacturing high-quality writing instruments in the same historic building in Bassano del Grappa, North East Italy.
Elmo & Montegrappa S.p.A.
Via Cà Erizzo, 43/45
36061 Bassano del Grappa (VI)
Italy
Phone: +39 0424 522232
Fax: +39 0424 523975
Web: www.montegrappa.com
Mail: contact@montegrappa.com