A pen that represents the complexities of the very organ it celebrates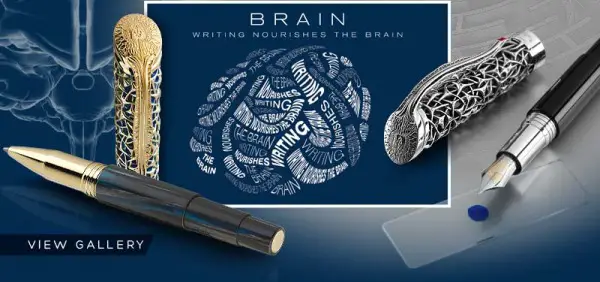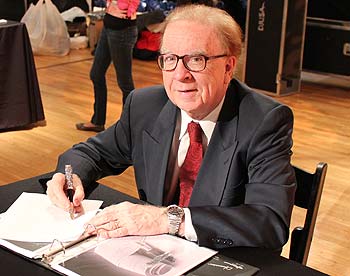 Working with no less an authority on cerebral matters than Richard Restak, M.D., Montegrappa is proud to announce one of the most ambitious pens in its illustrious history. The Brain Pen is the result of extensive collaboration with Dr. Restak, the author of more than 20 books on the subject. Among his many positions are those of Clinical Professor of Neurology at George Washington University School of Medicine and Health Sciences, and residencies at Mount Sinai Hospital, Georgetown University Hospital and George Washington Hospital.
To create a pen that represents the complexities of the very organ it celebrates, Montegrappa's designers drew inspiration from the brain itself. The link between the brain and the pen, with the act and art of writing serving as an extension of man's ability to express himself while exercising the brain itself, encouraged Montegrappa to illustrate this direct intellectual and physical connection. Emblematic of this is the contrast present in the pen's most basic structural elements: the top part of the pen is rich and elaborate, while the body is simple, acting as a parallel to a man's body, where all his riches are in the brain.
Adorning the top of cap is a cross-section of the brain, based on an ancient illustration. The cap features an overlay made up of neurons, with the pocket clip representing the spinal cord. The clip has a spring-loaded mechanism and its tip is lacquered in red or black, to differentiate the fountain pen from the roller ball.
Etched into the nib is the image of a sea-horse. This refers to the hippocampus, which is a major component of the brain of humans and other vertebrates. It belongs to the limbic system and plays an important role in the consolidation of information from short-term memory to long-term memory and spatial navigation.
The Brain Pen will be offered as a limited edition consisting of:
1012 silver fountain pens, a quantity representing the number of neurons in the human brain, which are estimated to be between 10 raised to the 12th power or 10 raised to the 13th power
900 silver roller ball pens, as the number of neurotransmitter (messenger) molecules released by a single synaptic vesicle is 900
50 solid 18K gold fountain pens, as the diameter of a synaptic vesicle is 50 nanometers
50 solid 18K gold roller ball pens, also representing the diameter of a synaptic vesicle of 50 nanometers
12 solid 18K gold fountain pens with diamonds, representing the 12 cranial nerves
6 solid 18K gold roller balls with diamonds, representing the 6 cortical layers
Accompanying every Brain Pen is a copy of a book written especially for Montegrappa by Dr. Restak.
Since 1912, for precisely 100 years, Montegrappa has been manufacturing high-quality writing instruments in the same historic building in Bassano del Grappa, North East Italy.
Elmo & Montegrappa
Via Ca' Erizzo 43/45 – 36061 Bassano del Grappa (VI) ITALY
Phone: +39 0424 522232 – Fax: +39 0424 523975
Web: www.montegrappa.com – E-mail: contact@montegrappa.com