Montegrappa and the Aquila family doing what they enjoy…giving back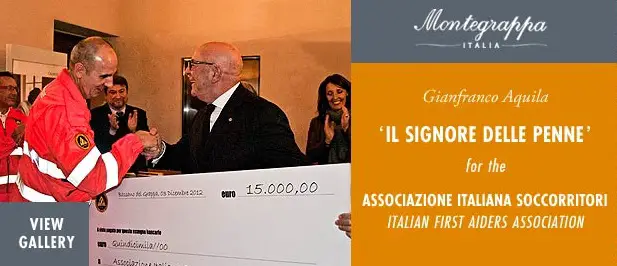 Continuing the festivities for the centenary celebrations of Montegrappa, a cheque has been handed over to Alviano Bau of the Associazione Italiana Soccorritori (Italian First Aiders Association) of Bassano del Grappa. Gianfranco Aquila, President of Elmo & Montegrappa, has donated the profits from the sales of his biography Il Signore delle Penne, officially launched in December 2011 at the concept store 'Il Sagittario' (where there is a Montegrappa shop-in-shop).
The event took place on 3 December with guests from regional and municipal authorities, including councillor Elena Donazzan (Veneto regional council) who had spoken at the book launching.
During the evening, Claudio Ruggiero, author of the book, retraced some of the most significant passages and episodes in his biography of Gianfranco, recalling how 'the brilliant idea of transforming the pen from a simple object in common use into an objet d'art, resulted in him being rated among those entrepreneurs who, in the 1950s and 60s, contributed greatly to establishing the fame of Italian products all over the world.'
The words of Gianfranco, punctuated by contributions from guests and questions from the public, reaffirmed the devotion of his family and firm to the region, as well as the importance of friendship, the value of faith, and his love for his children.
The hope of both author and guests was that, even in these difficult times for the country, this wonderful story of courage, passion and success will continue to be told. 'From when he was a child eating pastries at the Pasticceria Attanasio, and right up to his meeting with Pope John Paul II, Gianfranco lived his life to the full with joy and style, and despite his increasingly public role, he never failed to set an example for youth, or to cite the teachings of Leopoldo Tullio, his father, friend and mentor.'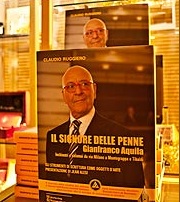 To reserve and obtain a copy of the book, Il Signore delle Penne, Gianfranco Aquila. Inchiostri e calamai da via Milano a Montegrappa e Tibaldi, please write to:  contact@montegrappa.com