An elegant historically designated national monument of Italy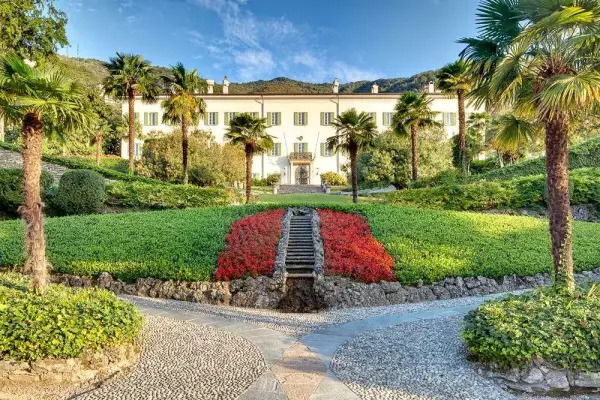 The Villa Napoleon I, a luxury villa rentals in Lake Como, is a national monument of Italy. It was constructed in the 1700's by Count Passalacqua who had been granted the property by the Odescalchi Family—a Northern Papal family.
Draw inspiration from the scenery, architecture and furnishings at Villa Napoleon I. The historically designated eight-bedroom home of the 18th century and was later home to the opera composer Vincenzo Bellini, who lived here from 1829-1833 and wrote his most famous operas here (Norma and Sonnambula). The villas breathtaking views of Lake Como and lush grounds are matched in splendor by its carefully designed and lavishly decorated interiors.
With eleven working fountains, the villas grounds alone are a work of art. Stroll down to the private dock on Lake Como, or up to the pool terrace, which is surrounded by citrus trees, a greenhouse and a 12th-century bell tower. There are outdoor sitting and dining areas with gorgeous views of the lake and mountains, as well as a gym and a playground for children. In the evenings, make cocktails at the bar, gather in the home theater or music and billiards rooms, and send the kids to the two playrooms for their own enjoyment. For comfort and convenience, the property has a fireplace, a wine cooler, computer and Wi-Fi access.
Soaring ceilings, symmetrical layouts and elaborate moldings and frescoes make the interiors of Villa Napoleon I stately and traditional. In the double-height music room, an antique piano and tufted sofas sit under pale peach walls and a second-floor gallery. Other sitting rooms feature a marble fireplace and mahogany bar, and fresh flowers from the estates garden provide a finishing touch. The formal dining room has a beautiful ceiling fresco by Andrea Appiani, while a second Tuscan-inspired dining room is the place for more casual meals. Despite the well-preserved elegance of the rest of the home, the fully equipped kitchen has state-of-the-art appliances.
The villa sleeps 12 with 9 bedrooms; all have en-suite bathrooms. As in the common living areas, many of the bedrooms have rich paneling, sumptuous drapes and bedding and Murano chandeliers, and the bathrooms are clad in more paneling, wallpaper or marble.
Weekly Rate: Min. € 59000 Max. € 64000
For rental info visit: Luxury Villa Rentals Italy