Hollywood star rumored to be considering a $100 million offer for the Italian estate he reportedly bought in 2001 for $10 million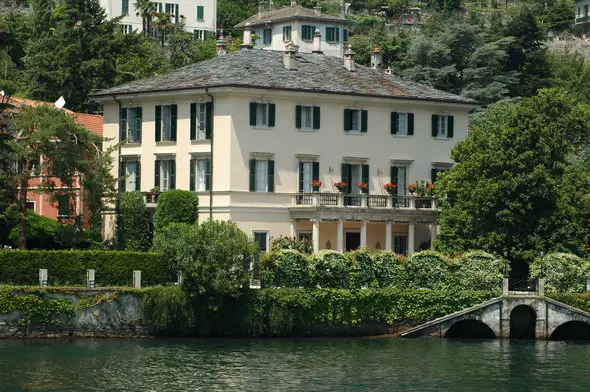 Lakefront villas in the area aren't often put on the market and are thus known to garner huge offers from wealthy people hoping to sway an owner's mind. But for those with the desire…and financial means…to sleep in the same bedroom as once George Clooney – here is the opportunity.
The beautiful villa in Laglio on Lake Como with its ultra-luxe, historic interiors and romantic setting, right on the water, have been documented in many high-end magazines.
Clooney often spends his spring and summers at the lakeside 18th century Villa Oleandra, where he is known for inviting a number of his famous friends to stay.
'George loves the area and the people who live there, but is conscious of the attention he gets when he is in town,' a source told Page Six.  'He has received a huge offer for the villa, which he is considering, and he would buy another, less accessible property in another area of Italy.'
George and wife Amal are said to be fed up with the paparazzi zeroing in on the villa, which – as pesky press photos have captured over the years – has hosted many a movie-star soiree.
Late last year, ahead of the couple's wedding, local police imposed a ban on photographers and locals in boats from venturing within 100m of the villa, but no such restrictions seem to work.
Lake Como is the classic high-powered Hollywood retreat for others besides Clooney, such as fashion designer Donatella Versace, Virgin boss Richard Branson and music icon Madonna being among the famous who have kept mansions on the water.
The estate is 45 minutes from Milan's airport and has a private boardwalk to the water from the meticulously landscaped gardens. The main villa has seven bedrooms and the guest house, three. There are 8.5 Bathrooms (4 Ensuite)
The villa has been available for rent, costing up to $9,400 a night during peak.
For rental info: Luxury Retreats