Series: A Shopaholics Tour of Central Italy's Best-Kept Shopping Secrets.
Last month we looked at shopping in Milan, now I'm heading for Lake Como, and the silk factories then onto Venice. (With a few shopping experiences enroute!)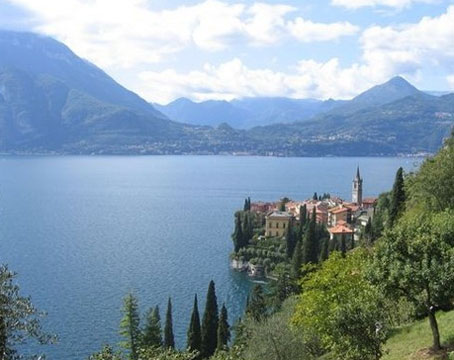 Como is a city famous for scenery and silk, and of course stars, such as George Clooney who has a waterside villa here.  Located at the southern tip of the lake, Como has concentrated on luxury silk production, leaving China to fulfill mass production.  I was fascinated to learn, just like us, the silkworm is a lover of luxury too, and will only produce silk if it eats leaves of the Mulberry tree (native to Italy, and grown nearby along the river Po).  There are about 800 companies here, engaged in the silk and textile trade, who can react quickly to the fashion trends and designers requests from Milan.
Where then to shop?  Our first stop was Diffusione SETA Outlet at Via Pasquale Paoli, 3 22100 Como.  Just 10 minutes from exit Como Sud (South).  Hours 9.30 am to 7 pm from Mon to Sat.  How very exciting to find rows and rows of colourful scarves and ties, the brand Basile amongst them, ties from 19 euros, scarves from 26 euros.  A small section devoted to the big label designer name ties and scarves, Versace, Valentino and Armani among them.  Silk accessories, ladies silk wear, lightweight tops in their own label, 'Marina D'Este' in natural colours, lovely to touch, lovely to wear.  I bought a delicate top with lace detailing, and matching tie front heart-warmer in a cashmere silk mix at 55 euros and a Basile leather fringed wrap at 35 euros in the bargain bin.  I was checking for the percentage of silk in the labels, – 'Seta' in Italian – when the lady said they would be closing in 10 minutes, I resorted to panic buying like a child in a sweet shop – for christmas presents you understand, ties, a silk bag that I want to keep myself…silk hair scunchies in lovely colours, (no damage at 7 euros) and, dare I ? a cashmere blanket with paisley silk lining PURE LUXURY!
Next day we visit Frey – Emporio della Seta, here we found elegance and style, fabulous quilted jackets, I particulaly liked those lined with antique map prints, from 250 euros, waistcoats, scarves and ties in vibrant colours, from 15 euros.  Also homewares such as cushions and gorgeous silk bags to die for. 30 – 50% discounts www.frey.it . Via Risorgimento 49, 22073, Fino Mornasco (Como) Open every day 9.30 – 12.30 then 2.30 – 7pm.
La Tessitura is a new 'concept' shop which converts luxury silk remnants to women's, men's and home collections.  Visitors to the renovated textile factory retail space encounter multimedia and interactive displays on the history and processes of silk production and design.  You'll find it at Viale Roosevelt 2/A, 22100 Como, just a few minutes from the historic city centre.  www.latessitura.com .
Finally Seteria Ratti, although I didn't have time to visit, you can find it along the lake, on the road to Villa d'Este.  The entrance gate is in the first floor of Ratti's lovely old Villa.  Ties, scarves, fabrics, pillows, and blouses in silk.  You'll find Valentino, Dior, Givenchy, Celine, and Leonard. Via Cernobbio 17,  Como – 9 -12.30 am then 2pm- 6pm.  Parking is difficult.
Armani fans you'll LOVE the big factory store at nearby strada Provinciale per Bregnano 12, Vertemate (CO) on the SS35 30 minutes south of Como.  Open every day 9.30 am – 7 pm Discounts from 50 – 80%.  You'll need some time in here as it can seem overwhelming.  We found all the labels of Armani here, most last seasons collections.  Men's suits at 500 euro, reduced from 2000 euro.  Womens jeans from 15 euros, trousers from 30 euros, coats at 200 euros and less.
If you're keen to pop over the border into Switzerland, pay a visit to the Designer Outlet Mall,  'Foxtown', just 15 km from Lugano, exit at Mendrisio.  160 stores including Gucci, La Martina, the Ferrarri store, Fendi as well as some English and American brands.  Open Monday to Sunday 11am to 7pm.  www.foxtown.ch .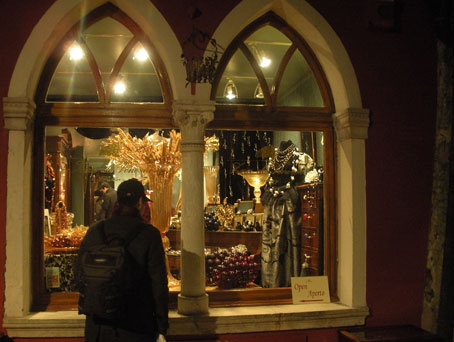 Once we arrived in Venice, hometown of the Selandari brothers, I decided to leave my credit card at home and happily agreed to give fashion a break and take a short waterbus trip to the island of Murano.  What could I possibly buy here?  I'll take my camera instead.  Murano is famous for it's glass working since 1291, when workers moved to the island so that the fires which often broke out in their ovens would not threaten the city of Venice.  I press my nose up against the shop windows marvelling at inventive glass pearl jewellery and chandeliers.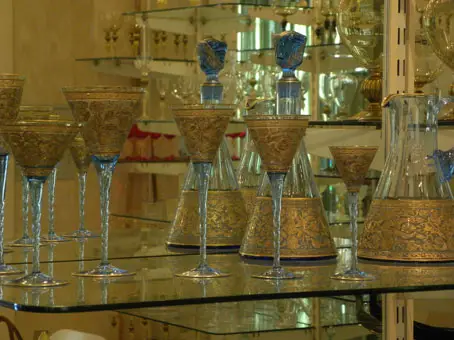 Back on Venice we take a magical evening stroll in the designer district, shops here including Armani, Roberto Cavalli, Laura Biagiotti, Gucci, Krizia, MaxMara, Missoni, Prada, Trussardi, Valentino and Versace, to name but a few, all near to the Piazza San Marco.  No discounts here, but wonderful to combine window shopping and culture in the world's most beautiful city.
I couldn't persuade signor Selandari to drive in the wrong direction, instead of heading for home we could have taken the A4 direction Trieste to visit the Veneto Designer Outlet at Noventa di Piave, Via Marco Polo 1. www.mcarthurglen.it .  Open every day from 10 am to 8 pm.  I'm told they host a portfolio of prestigious international fashion brands set off perfectly by an architecture rich in details, mosaics and frescoes inspired by the palazzos of Venice and Treviso.
Next Month I'm taking a look at Christmas shopping in my region of Marche.
---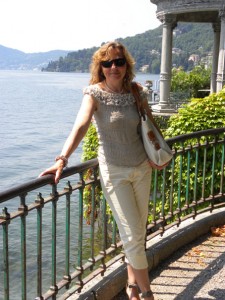 About the author:
Sally Hamilton lives between Italy from Britain and runs an online boutique specializing in exclusive, Italian-made clothing and accessories (www.selandarisitaliancollection.com ).
With a gift for discovering designer outlets and traditional artisans in hidden corners of the Italian countryside, Sally's latest innovation is the Shopaholics Tour of Central Italy's best-kept shopping secrets.