Highly anticipated luxury hotel opening in Italy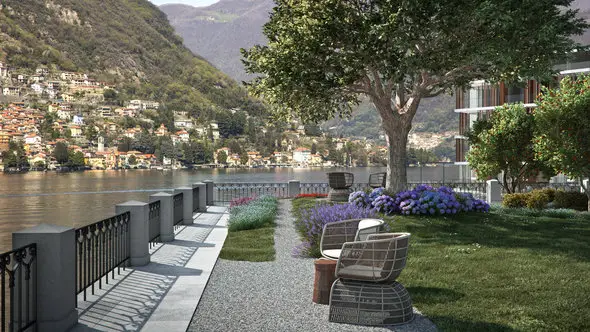 Located on a bluff on the eastern shore of the lake, this five-star boutique hotel will be the sister establishment of the luxurious Le Sereno Saint Barths. Located 6 km from the center of Como and 50 minutes from Milan, the design of the new 34-suite hotel has been overseen by in-demand designer Patricia Urquiola, who has focused on natural materials to create an aesthetic that is both timeless and full of character, intimate and casual. Urquiola's studio will also design the interior of the ferry that will shuttle guests around the lake.
Be it the spacious bedrooms (the smallest room is over 600 sq-ft), private terraces, secluded gardens, 60-foot infinity pool, terrace restaurant or restricted sundeck — there is not a single space on property without a panoramic view of Lago di Como.
Urquiola will create a relaxed, peaceful sanctuary for guests, drawing inspiration from Lake Como's culture, lifestyle and the history of the region. Every space on the property will offer a panoramic view of the lake and mountains with the hotel being sensitively designed to complement and showcase its surroundings.
Joining Urquiola on the project is noted botanist Patrick Blanc, who will create two vertical gardens to ensure that the hotel blends with its surroundings, as well as landscaped gardens on the property. This project is of special importance to Urquiola with the hotel being close to her home town, Milan, one of the design capitals of the world, particularly for furniture.
A promising culinary destination for hotel guests and locals alike, Il Sereno's terrace restaurant is another Patricia Urquiola creation that sits directly on the water. The restaurant will take inspiration and ingredients from the nearby regions of Valtellina, Lake, and the Milanese Plateau to serve simple and delicious creations on the waterfront.
London restaurateur Giuliano Lotto (La Petite Maison, Il Baretto) will operate the hotel's indoor-outdoor Restaurant Il Sereno. Guests can also relax at the hotel's full-service spa, situated under original arches dating back centuries.
The property will feature a private beach, as well as a dock, allowing guests to arrive by one of the hotel's boats custom-built by Ernesto Riva. One of Il Sereno's show stopping features will be the 60-foot-long freshwater infinity pool suspended over the water and the large sundeck.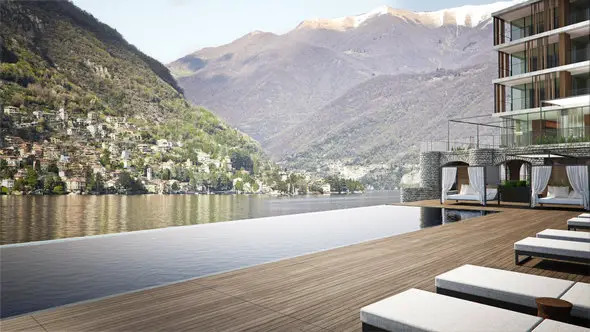 Imagine an atmosphere with the sophistication of nearby Milan and the glamour of Como — Il Sereno is destined to be the place to see and be seen.
Room rates will range from 600 to 4500 euros.
For more info visit:  www.ilsereno.com