Bringing New Yorkers true artisanal Italian food & recipes from Rome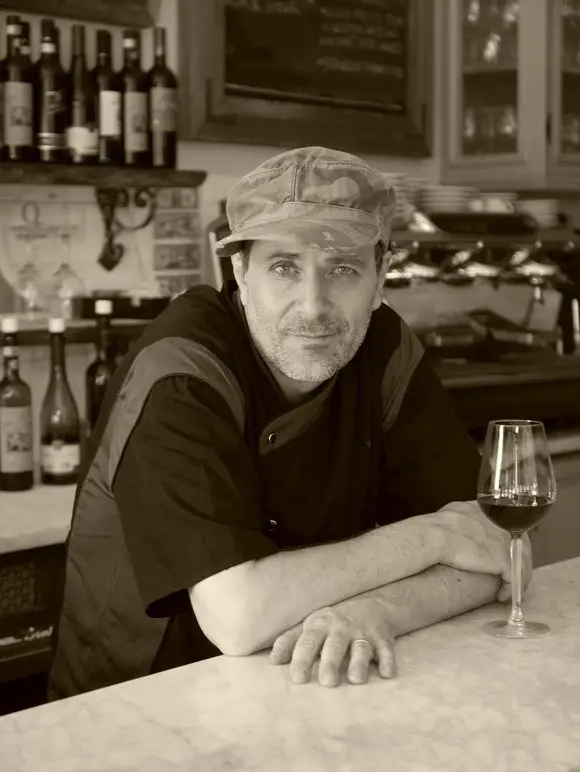 After completing culinary school in the Peidmont region of north Italy, Antonio Morichini started his career in a restaurant in the seaside town of Chiavari in Liguria (northern Italy), the Lord Nelson Pub. There, he worked with the freshest fish and the traditional food of that region.
Antonio returned to his native Rome, and after many years of working on the line and then as sous chef at Michelin-starred restaurants in Rome (Il Convivio Troiani (Chef Angelo Troiani), Glass Hostaria (Chef Cristina Bowerman), Acquolina (then-Chef Giulio Terrinoni) — he moved to New York with his American-born wife and two small children.
Since his arrival in New York, he has been blessed with a third child while working as Executive and Corporate chef in Manhattan (Bottega del Vino, 83 1/2), Westchester (Gavi), and Brooklyn (Provini, Bevacco).  Antonio is thrilled to set up his own shop in Astoria NYC, two blocks away from where he lived when he arrived in New York 8 years ago — offering artisanal Italian food, including house made pasta, and brick over Roman-style pizza.
VIA VAI opened on 11 June 2014 in the Ditmars section of Astoria.
Visit their website: www.viavai-ny.com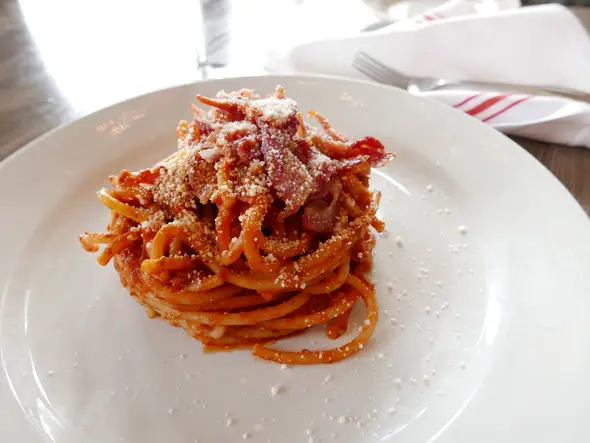 Interview with Chef Antonio Morichini by Loraine Stupakoff
Where were you born and raised?

In Rome Italy, specifically in the area around the Casalina.
What is your most favorite dish at home you ate growing up in Italy?

Growing up my favorite dishes were those that formed part of family events and occurrences.  Sunday lunches were my favorite where the entire family (grandparents aunts, uncles and cousins) got together and cooked together (the women of course in those days!). They would prepare incredible meals, gnocchi, lasagna and stewed meat sauce that accompanied my favorite meat dish called Veal Spezetto.
Did you always want to be a chef/restaurant owner or this is something you fell into?

I discovered my passion for cooking for myself and especially for others and related hospitality in my 20's.  My first eye popping dining experience was when I dined at the Michelin starred Il Convivo Troiani.  That opened my eyes to what food and hospitality can be and how traditional Roman cuisine could be.  From that point on I started cooking for myself and my then girlfriend (now my wife) and hosting lunches and dinners at home with a big group of friends to watch soccer games.  I would wake up at the crack of dawn with my rolling pin (materello) in hand to make different types of pastas.  I would prepare many different sauces and often roasts. The menu served was Rigatoni Carbonara, Gnocchi alla bolgenese, Maialino (roast suckling pig).  My way of cooking was a crowd pleaser, and my girlfriend led me to really consider and then finally pursue a professional culinary path.  I attended a culinary school in the Piedmont region of Italy.  I had worked at a restaurant in Chiavari right on the water in the Italian Riviera.  I had returned to Rome where I had the fortune to work with the chefs Angelo Troiani, Cristina Bowerman and Giulio Terrinoni all Michelin starred chefs and restaurants.  Since then I have not looked back.  I immigrated to New York to accompany my wife when she returned.  I knew then I wanted a place of my own in Astoria to pay homage to my roots and my passion.
A kitchen utensil you cannot function without?

The rolling pin.  It is a staple I have used since I discovered my passion for cooking.  My rolling pin has been in family for years and I use the same one to this day.  It is a symbol and reminder of where I came from.
What is always in your refrigerator at your home?

Aged Parmigiano and Reggiano Cheese…and of course I always have tomatoes in the house.
Do you cook at home for your family?

Since opening Via Vai, my family comes to me to eat.  Before then I always cooked family meals at home.
What sets apart Via Via from all the other Italian eateries in the NYC area?

For me the most important thing is that the restaurant reflects my philosophy.  All the fresh ingredients coming together to make our food from scratch.  Being the chef and owner, having trained and worked in Italy, I am in Via Vai's kitchen prepping and cooking from the moment we open to the time we close.  It has been that way since the beginning, which ensures quality and consistency.  That is what our customers expect and deserve, and that is what my staff and I want to give them.
What is your cooking philosophy?

My food is a combination of tradition and innovation. It is modern Italian but very firmly rooted in tradition.  I want the ingredients and their flavors to play off one another.
If you had to live on a deserted island and had one food to grow and eat there what would it be?

Tomatoes for sure!  They are healthy, sweet, substantial, versatile and wonderful with fish.
If you could invite 7 famous people to Via Via for a 7-course meal who would they be and what would you serve?

Claudio Baglioni, Francesco Totti, Robert Benigni, Anthony Bourdain, Robert DeNiro, Al Pacino and Lebron James. The menu would be 'LA SERATA ROMANA'

1-House made porchetta with puntarelle

2-Salad fiori di zucca with mozzarella di bufula

3-Anchovies and red pepper sauce.

4-Carciofi alla romana (Roman Artichokes)

5-Zuppa D'Arzilla (Skatefish soup with broccoli, ginger and squid ink).

6-Bucatini All Amatricana.

7-Bacchio al forno con patate e cicoria ripasstata (Roast Baby Lamb with potatoes and dandelion).

For dessert a warm Torta di Ricotta con visciole (Italian cheesecake with sour cherries served with Passito wine.
---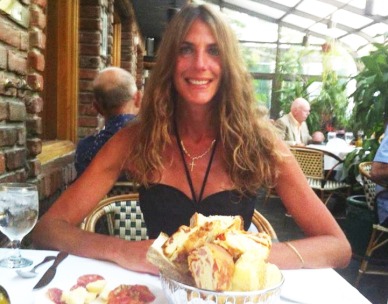 Loraine Stupakoff has had a diverse career in publishing with several successful magazines.
Learn more about Loraine here.