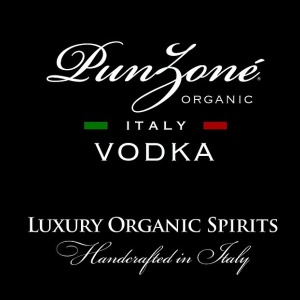 A thought came to mind recently…happens occasionally. There are a growing number of celebrities putting their name on their "own" brand of Spirits…many of which are vodka. It's a great marketing ploy that the public in general will always fall for…pay more for a celebrity endorsed product, thus making the celebrity even richer, while the consumer settles for…well…in most cases a mediocre product.
Vodka might seem to the occasional drinker, like one of those Spirits that you can't tell much difference from one to the other. That can't be further from the truth. If you want to spend your money on quality, instead of having it sucked away by marketing – try the uniquely different Punzoné Organic Vodka from Italy.
Ultra Premium Punzoné Vodka is uniquely crafted in a five-column distillation system from organic Italian wheat grown in Piemonte, Italy. This exceptional vodka is precisely balanced with pristine water from the Italian Alps to ensure that no unnatural additives taint its unmistakably smooth, velvety consistency, resulting in superior organic excellence.
Punzoné is the only organic vodka brand to win the coveted International – Five Star Diamond Award from the AAHS two years in a row. Only brands of the highest quality and standards are selected. Punzoné has been designated as the finest in its category and classification for 2012 and 2013.
Punzoné Vodka has character like no other ever created and it quality surpasses any other in its category. The nose is subtle, the taste is bold yet distinctively soft and the finish cool and refreshing. If you want to kick up your vodka with even more natural flavor, try their unique two blends.
Punzoné Originale is exquisite fusion of its ultra-premium Vodka enlivened with a delectable blend of red sangria and natural blood orange essence. Crafted from organic red grapes of the Sangiovese variety, grown in the Abruzzo region from certified vineyards, it is blended with citrus sourced from the finest organic groves in Southern Italy, to achieve a natural experience.
Punzoné Lemoncino is a delicate blend of Punzoné Vodka refreshed with natural Sicilian lemon essence and white sangria from organic Chardonnay grapes grown in the Abruzzo region. The aromatic nose possesses a hint of lemon and once tasted the smoothness takes over. The finish is long and ends with a balanced feeling of all the flavors.
With Punzoné, they care for and value their customer and their money is spent on the quality of what's in every bottle.
The facts are as clear as vodka – Punzoné is simply the best.
Be sure to visit their website and social media pages for much more info: