"New Jersey's Bad Boy of Comedy" – Presidential Comedy Tour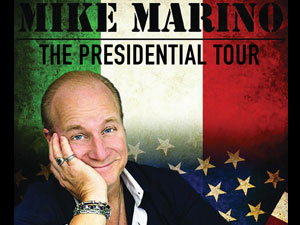 Born in Jersey City, New Jersey, Mike Marino is affectionately known to thousands of his fans as "New Jersey's Bad Boy of Comedy". He has performed in every major comedy club from New York to Los Angeles including: The MGM Grand, Catch a Rising Star, The Comic Strip, Stand Up NY, The Improv, Rascals and The Icehouse. He has worked with some of the biggest names in the business, and can be seen nightly as a top headliner at both the world famous Laugh Factory and The Comedy Store in Hollywood.
At an early age Mike entered the world of theatre. After graduating from the American Academy of Dramatic Arts, Mike went on to appear in over 200 national television commercials, one earning him a Clio Award Nomination. He has also appeared in many Prime Time Television shows including roles in "Becker", "Nikki", "Frasier,"and "Party of Five". Mikes film credits include "Pizza With Bullets", "Errors, Freaks and Oddities", "Shacked Up", "Bella Cam", "Totally Blonde, "Yo, Alien" and "Love, Fear and the 14th St. Chicken."
After great success in theatre, commercials and Soaps, Mike began touring the nation performing at countless comedy clubs. His stand-up material ranges from cutting edge to his Italian family roots. His style landed him a guest set on the Martin Short Show, and made him a regular sketch player on The Tonight Show with Jay Leno.
Though Mike's performed in countless television shows, commercials and movies, he says; "I enjoy doing all of it, but there is no better high then a live performance."
Mike has a tongue like a razor and a heart of gold. He has performed hundreds of corporate functions for companies. He has performed for numerous organizations and charities including the LAPD, Aids Project – LA, Haven House, Team Earthworks and the Eric Davis Cancer Fund, just to name a few. He has also headlined several USO Comedy Tours.
Mike holds dear his strong ties to NJ, and enjoys every chance he has to come home to visit his family and perform for his fans. His 2007 DVD, Live from the Paramount in Asbury Park, New Jersey is still a best seller, as well as Live At The Borgata Hotel Casino in Atlantic City filmed in 2012. In 2008, Mike was inducted to the New Jersey Comedy Hall of Fame, and says: "it remains one of the greatest honors of my life."
As "New Jersey's Bad Boy of Comedy", when asked if when you perform around the world, do people elsewhere find the Jersey Italian humor just as funny as if you were performing to a Jersey audience, Mike said — "The nickname was given to me by friends, fans, and industry in Hollywood, Ca. The material works no matter where I am from Texas to Vegas to Omaha and nationally through Canada. Truthfully, any comedy works no matter where you are."
---
Come out and support Mike on his Presidential Tour! There are many upcoming appearances and shows, so check his Tour Dates.
For his fans and supporters on the Jersey Shore, come see Mike at the Algonquin Arts Theatre in Manasquan on June 25th presented by Uncle Vinnie's Comedy Club. More info and tickets
Visit Mike Marino online at:
www.mikemarino.net Website and Tour Dates
www.youtube.com/mikedmarino Latest Videos
www.twitter.com/mikedmarino Follow Me
www.facebook.com/mikemarinolive Fan Page