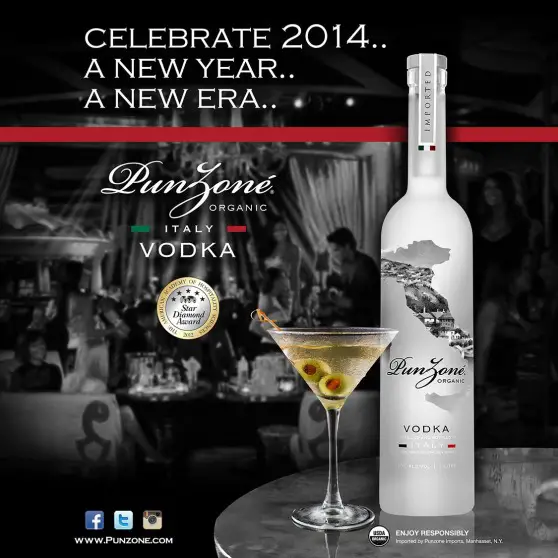 By Richard J. Michelli – Founder/Executive Director of Italia Living –
Over the past year, we have had the pleasure of having Punzoné as a Featured Sponsor of Italia Living, and sharing them with our readers.  The response to the brand has been incredible.  The quality of what goes into each bottle brings enjoyment to all who drink it, and the shared enthusiasm has been phenomenal.  Personally, I can't say enough great things about the exceptional people behind the brand that have become friends.
I recently asked Founder and CEO Frank Guerrera, a few questions about what 2014 may hold for the brand…
Punzoné Vodka has had tremendous success over the past couple short years in existence.  What would you say is your greatest accomplishment with the brand so far?

The recognition by the industry has been phenomenal.  Punzoné  has won several awards for our quality, which is truly outstanding – but the real success is seeing our brand on the shelves and the reaction we've seen to it in the market. We have had such an overwhelming response from customers; and that is the most humbling for me.

What are your goals with the brand for 2014?

We plan to expand Punzoné Vodka into more markets through broader distribution. We are getting an enormous amount of inquiries from all over the country – and the world. We want to make Punzoné easily available to customers everywhere.

As a personal huge fan of Punzoné, I can easily see no boundaries as for how far the brand can go…but what are your long term desires for Punzoné Vodka?

Thank you, Richie! For me it's simple: My long term desire is to reach a level of success that allows us to share the Punzoné experience with people all over the world. This brand is something special and so are our customers.

While our largest target markets of readers are in the US and major cities such as NYC, LA, Miami, etc., our readers and members do come from all over the world…many of which have asked about Punzoné.  Do you plan on eventually expanding outside of the US?

The global demand for Punzoné has been incredible! We are currently working with our team in Italy to facilitate international requests. Stay tuned! Ciao!

 
For more on the brand and its success, read: Punzoné Key Ingredient is the Vision to Always be Seen and to Always be Wanted