Truly an amusement park for foodies!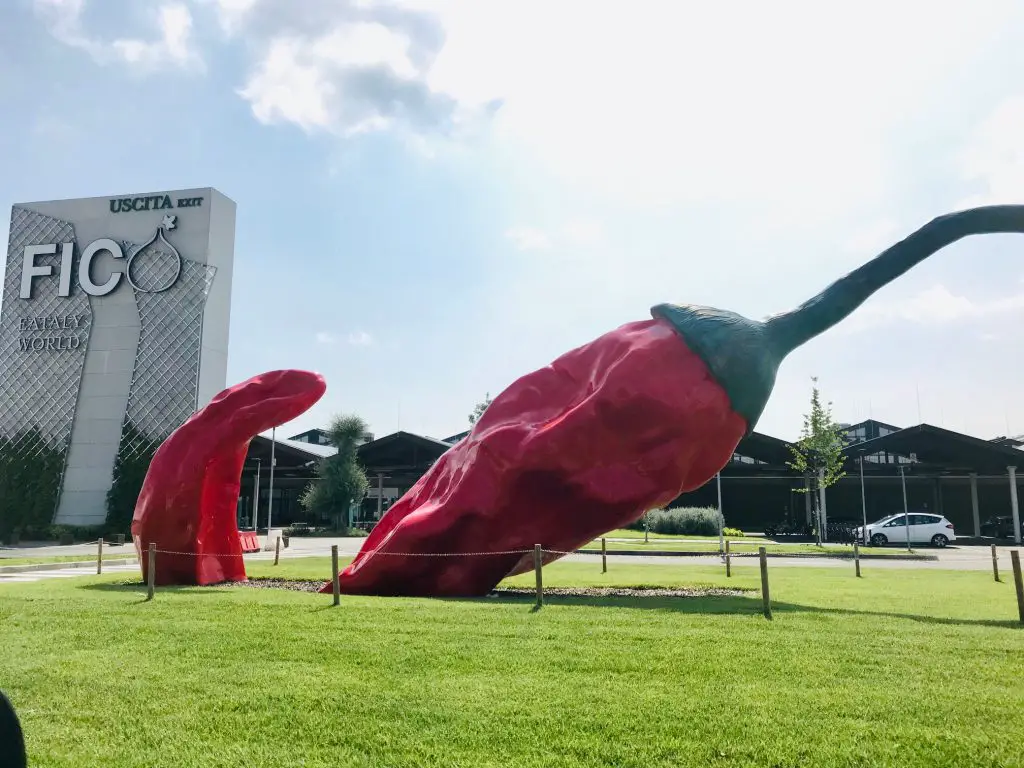 Thank goodness I wore sneakers! Talk about a kid in a candy store. What to do first?! Watch an outdoor truffle hunt, take a bread-making class at Forno di Calzolari, go into one of multimedia carousels, see how Di Martino pasta or artisan Baladin beer is made? So many choices… wow, there's even kids over there learning to stomp grapes! Sign me up!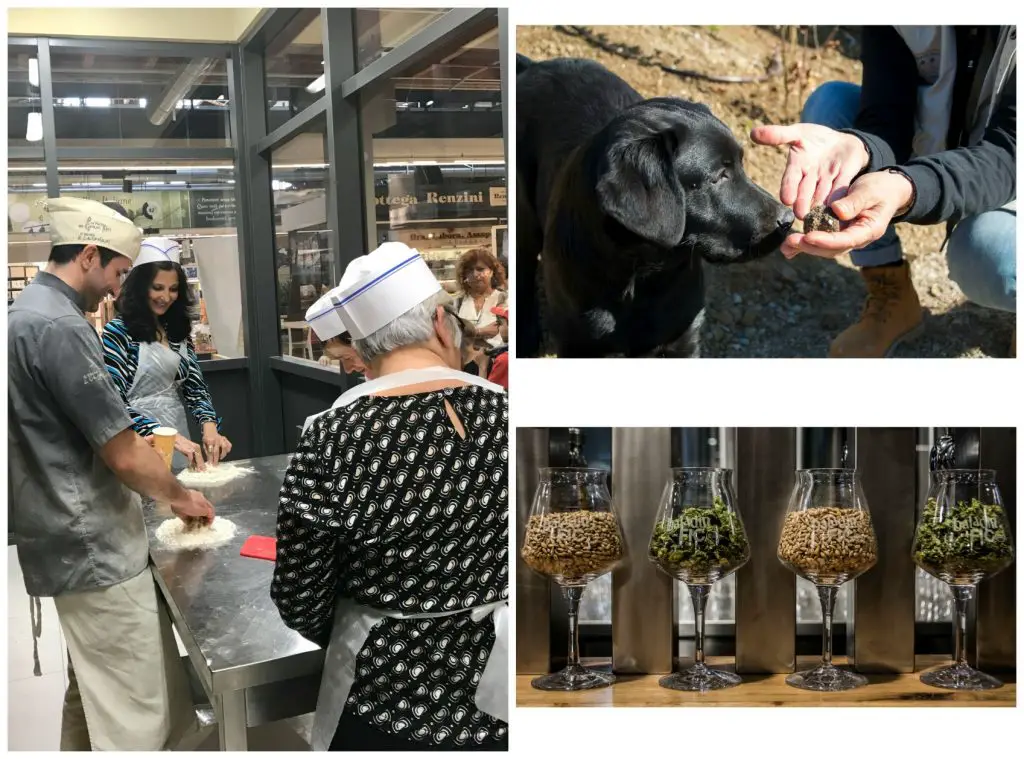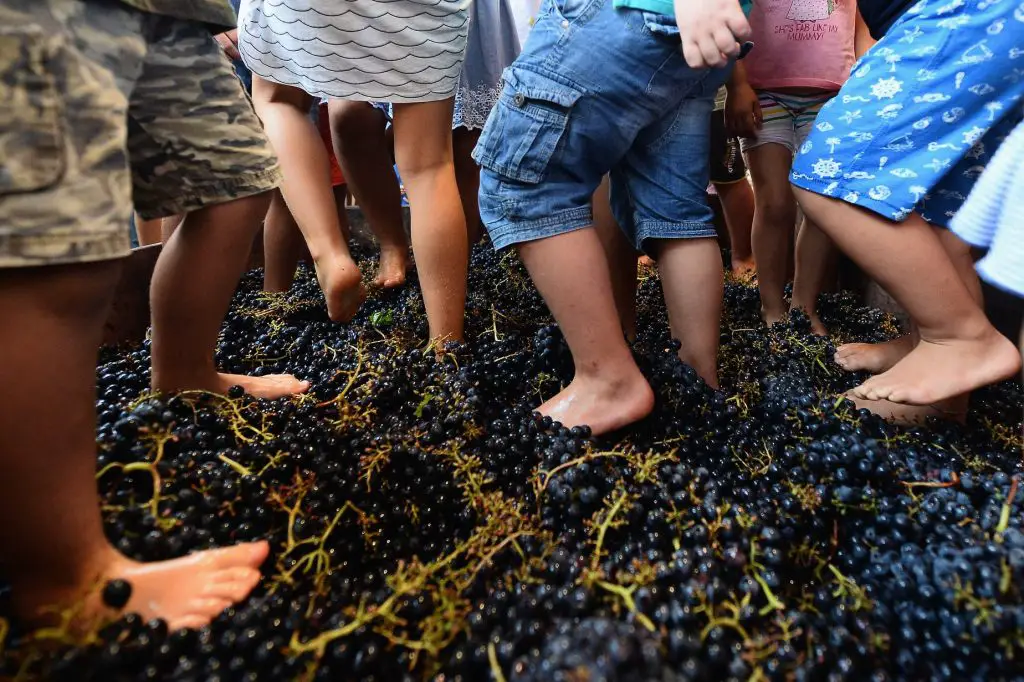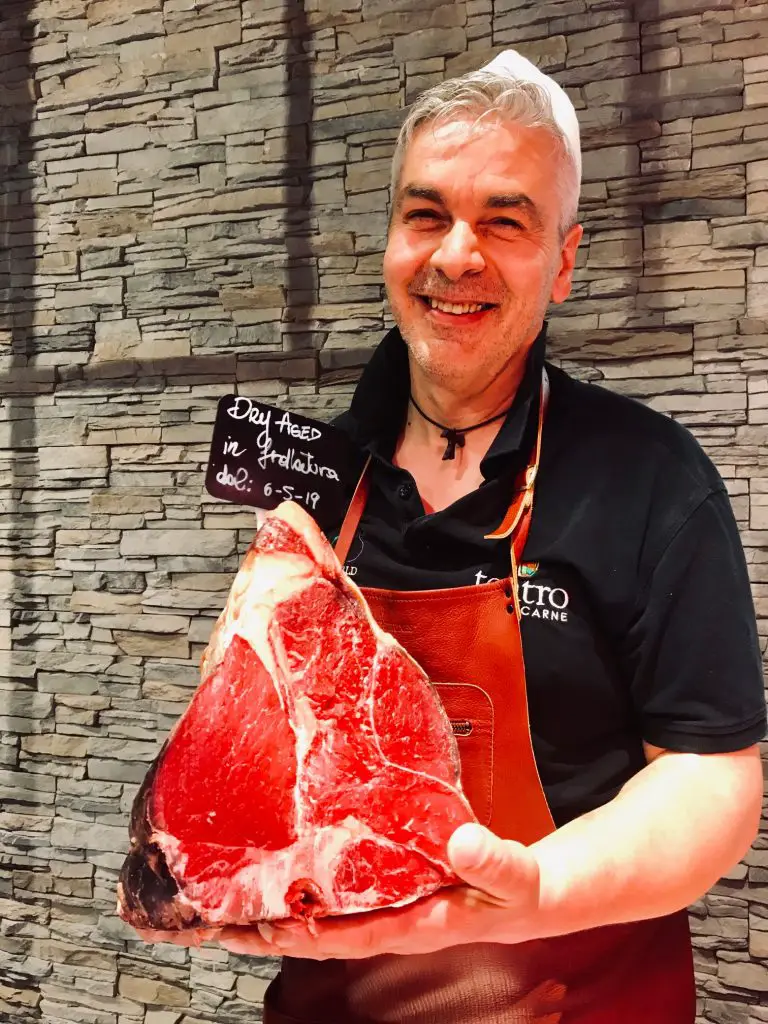 FICO, the world's largest food theme park, is ingeniously organized starting in the front with Italy's appetizer foods – cured meats and cheeses – then moving on to 1st course specialties – pasta, rice, soups; breads, milk and eggs; main course foods, like Teatro del Carne "Theater of Meat", where master butchers help you select a cut of beef, then walk you through the aging & cooking process.
FICO doesn't end there. Other sections include wine, beer and cocktail exhibits; desserts and sweets like Palazzolo's famed Sicilian cassata cake, coffee and after-dinner drinks. Plus, indoor concert theaters, sports areas for both adults and kids – and special events venues, like this one for Tiramisu Day.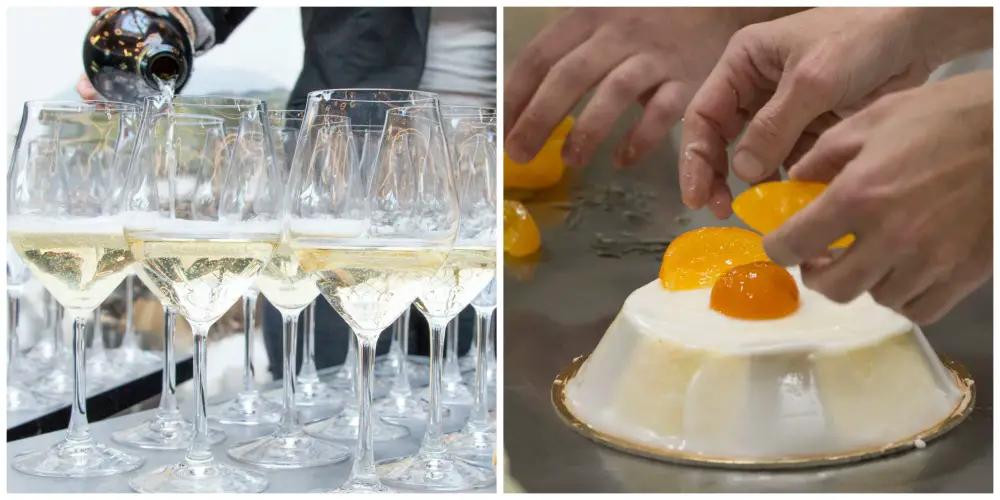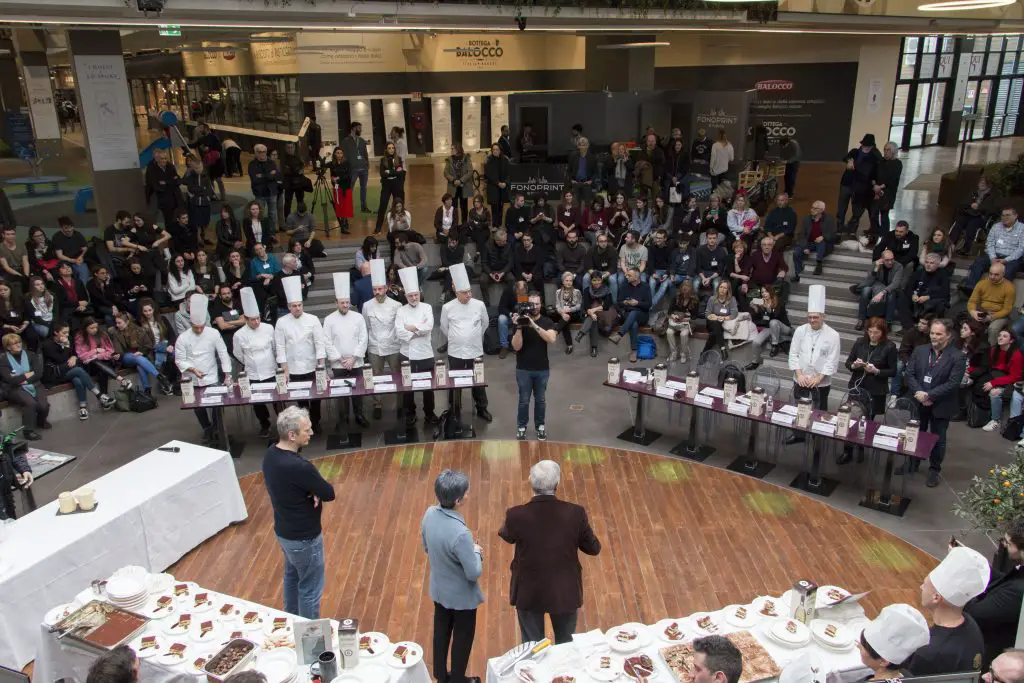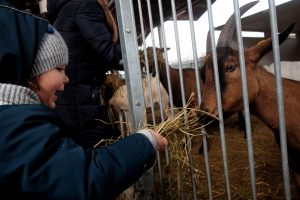 That's just what's inside, there is also a huge outdoor area with orchards, grain growing areas, vineyards and live animals. Luckily, FICO provides free bikes to help you see it all. They even added baskets, to buy the goodies you discover along the way.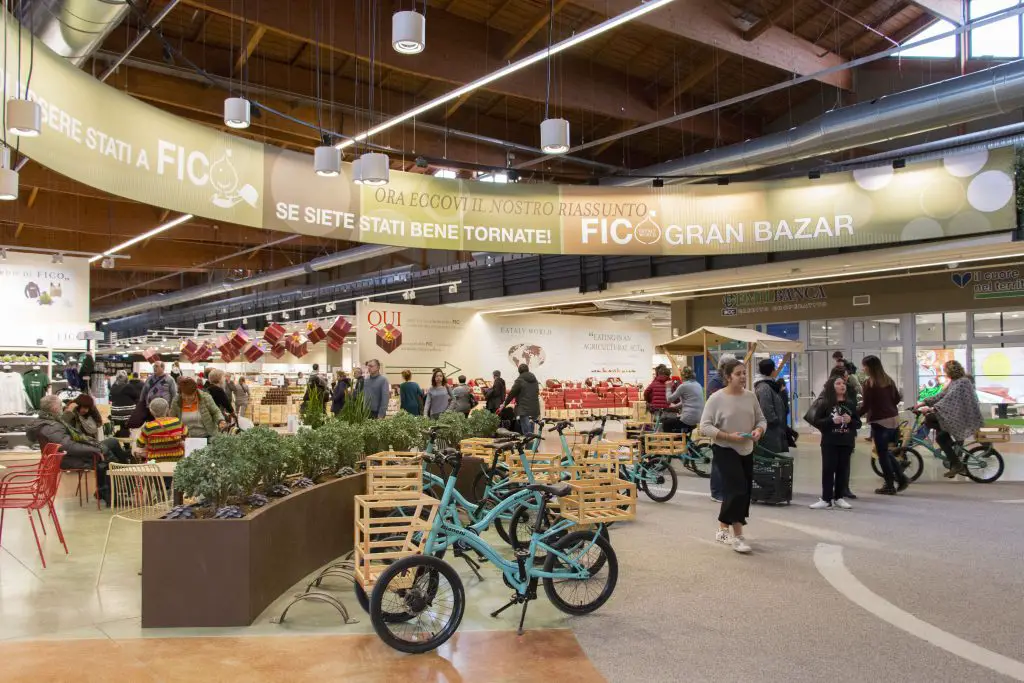 Since I love Bologna's "pink queen of cured meats," I headed to one of the first demos near the entrance: Mortadella Making. To watch how they fill and hand-tie the huge casing and then slow cook it for 20 hours. A surprise was seeing the Mortadella "shower," a long spray of water to quickly cool it down after cooking.
FUN option: Tasting in the dark: Monday to Sunday you can book a class to enjoy a guided tasting while you wear eye covering! You'll taste all sorts of pairings and learn how to recognize Mortadella Bologna IGP by its aroma and flavor. There's also: Mortadella "Sushi" making class, where you'll learn how to create all sorts of Mortadella-based finger foods!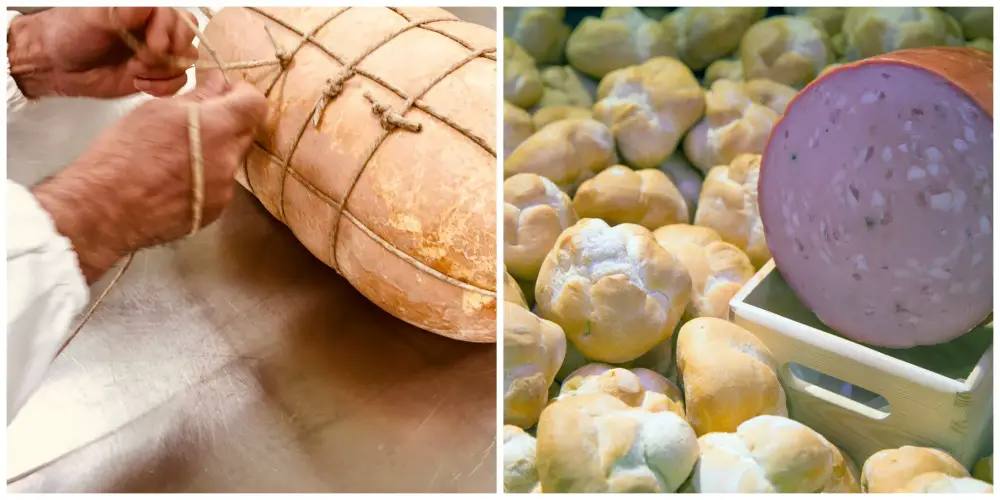 Next up, Grana Padano demo with guest participants learning how it's made.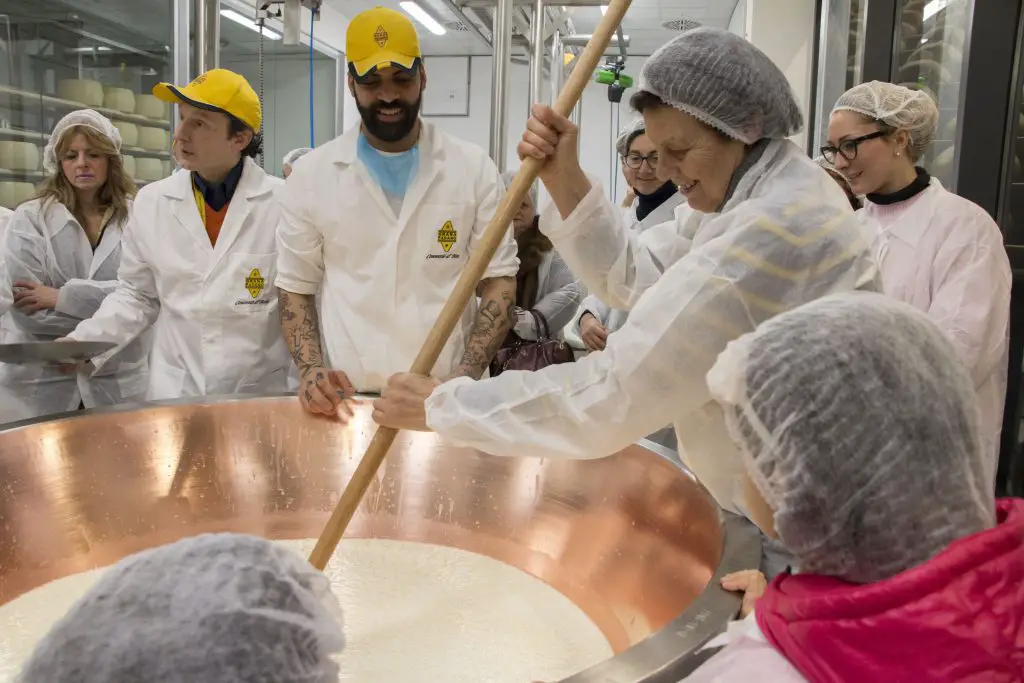 Then onto the "King of Cheese" Parmigiano-Reggiano where they played a continual loop of images on the cheese-making process and had exhibit tools and history, like the 1353 citation of the cheese by famed Italian poet Boccaccio in Decamerone, "And there was a mountain, all of grated Parmesan cheese, on which dwell folk that do nothing else but make macaroni and ravioli…" One of the treats was being able to sniff & touch the actual hay these lucky cows are fed. Its herbal-floral aroma is a hint to why this cheese has such rich, fabulous flavor!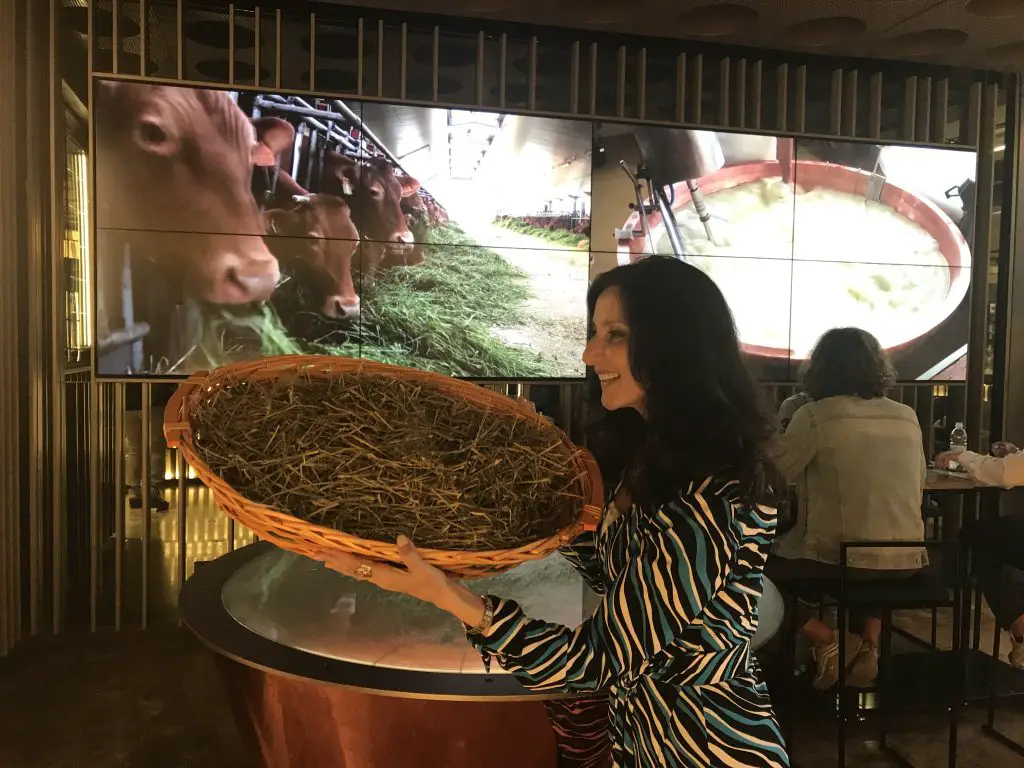 FUN option: Taste test the difference between Parmigiano-Reggiano aged 18, 36 or 72 months to discover the way the flavors change and deepen over time. Parmigiano-Reggiano is a cheese that gets better and better with age. My favorite was the 72 month one, which they vacuum-packed for me to take back to the States.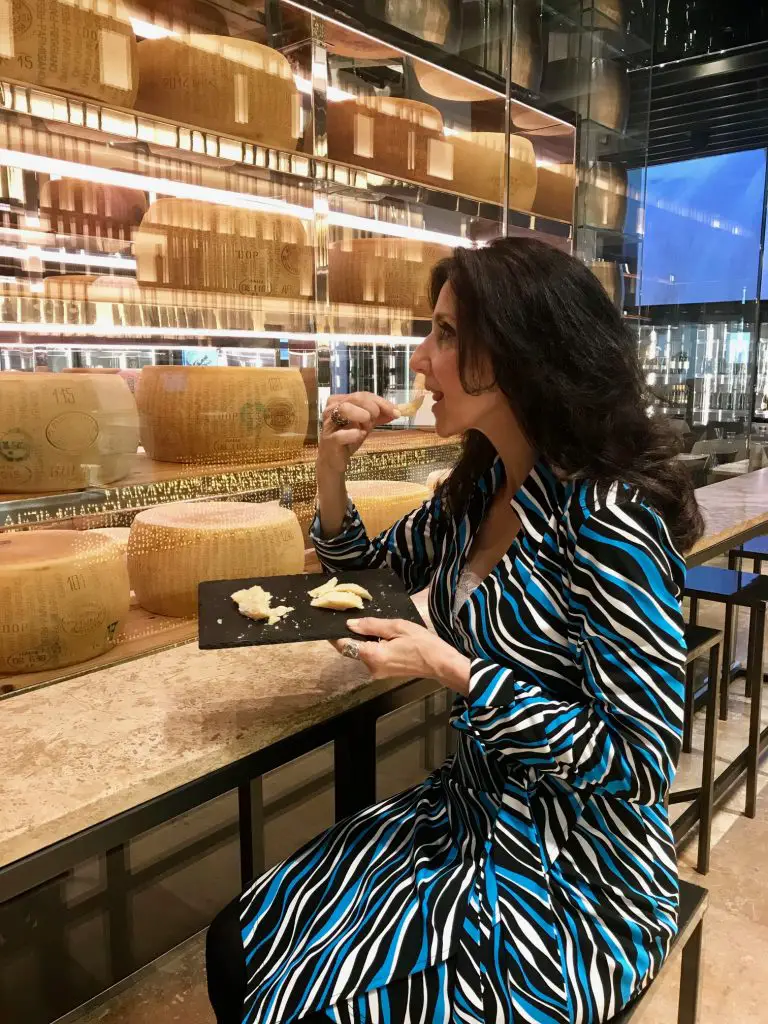 I visited "Man & the Earth," one of the five multimedia carousels. Here guests are given seeds to plant in a specially numbered section so they can trace their plant's growth over time. The other carousels are themed on: Sea; Animals; The Future; and From Earth to the Bottle, which explains how all sorts of bottled things -wine, beer, olive oil etc – are made.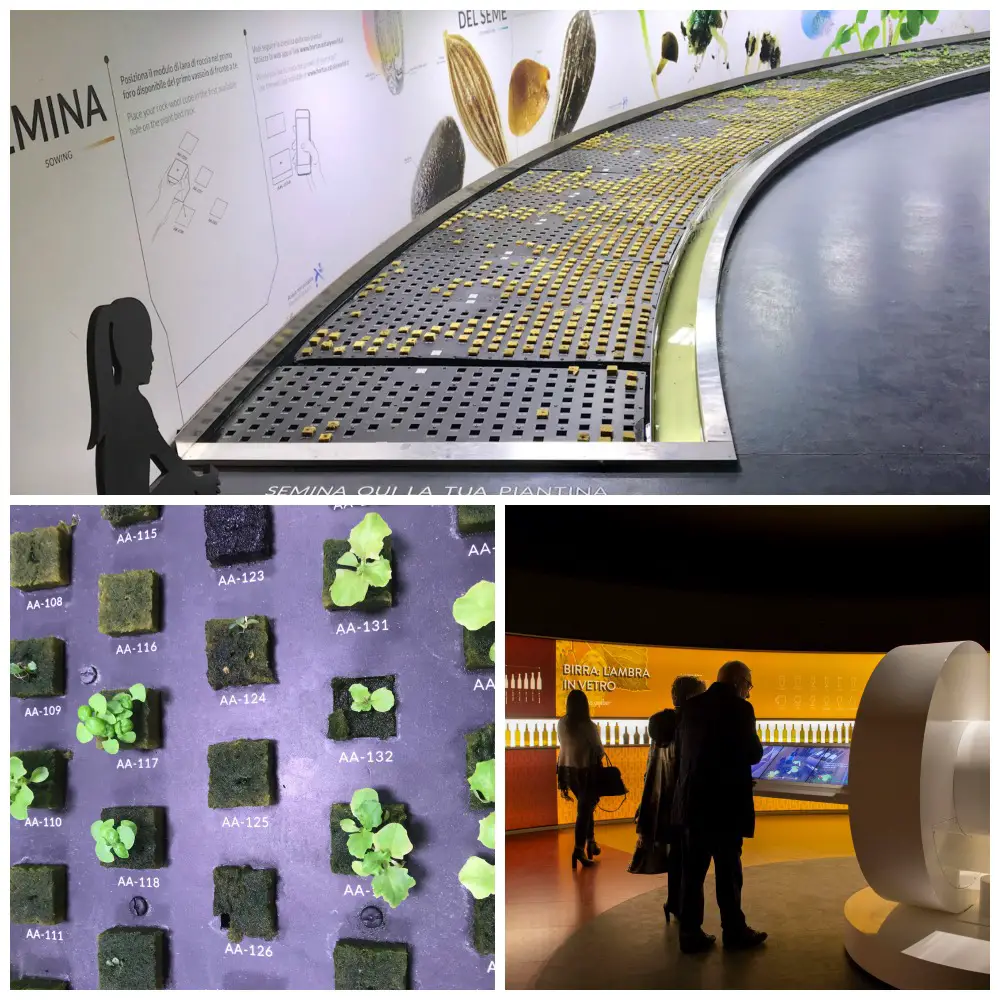 FUN option: Book a tour of all 5! Mmmm lunch time! So much deliciousness to choose from: 45 trattorias, street food kiosks and even starred restaurants.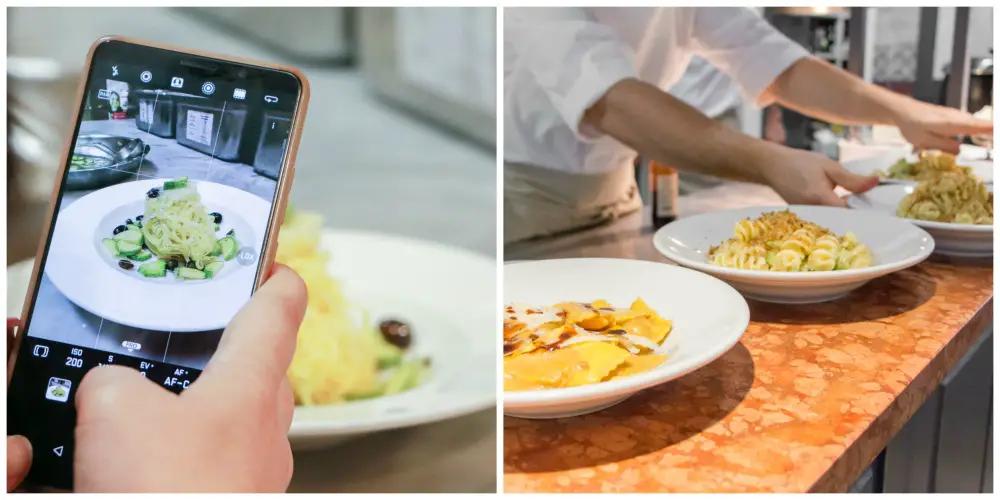 I was drawn to the intoxicating aroma of pizza so headed to famed Naples pizzeria Rosso Pomodoro. Their master pizzaioli didn't disappoint! My pizza was perfect, made with the best ingredients like Sarnese Agro Nocerino tomatoes, Mozzarella di Bufala Campana DOP, Caputo flours and the all-important extra-virgin olive oil made with Minuciole di Sorrento olives from Gargiulo. They even had gluten-free pizza for my friend!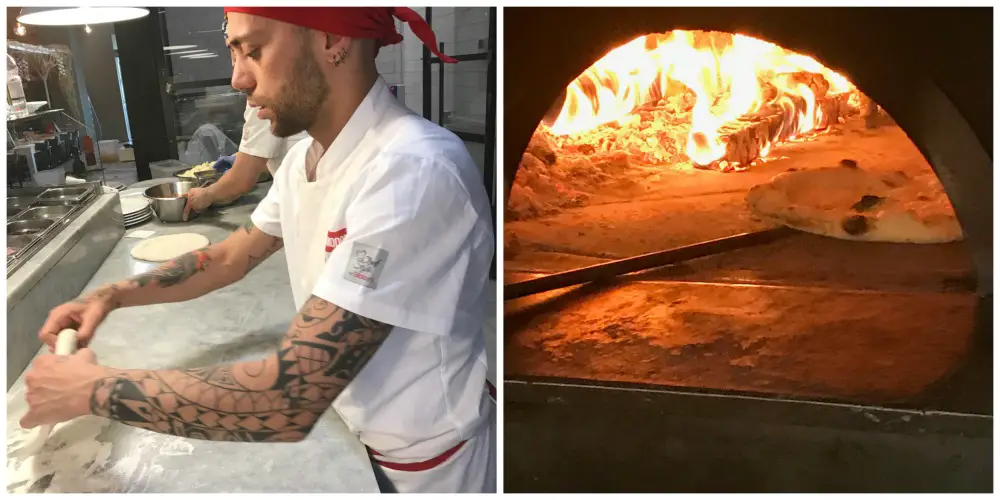 FUN option: Take a Rosso Pomodoro pizza-making class. They even offer a special class for kids.
Throughout FICO there are many pasta-making demonstrations and special classes offered to create some of Italy's hundreds of pasta shapes.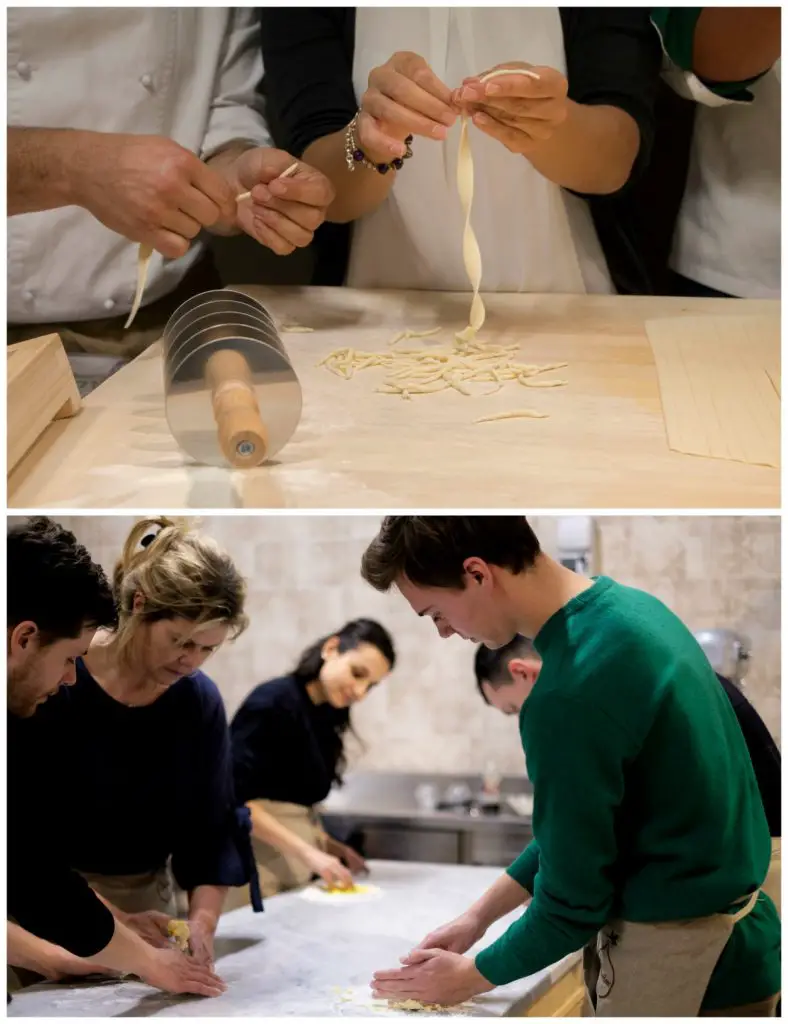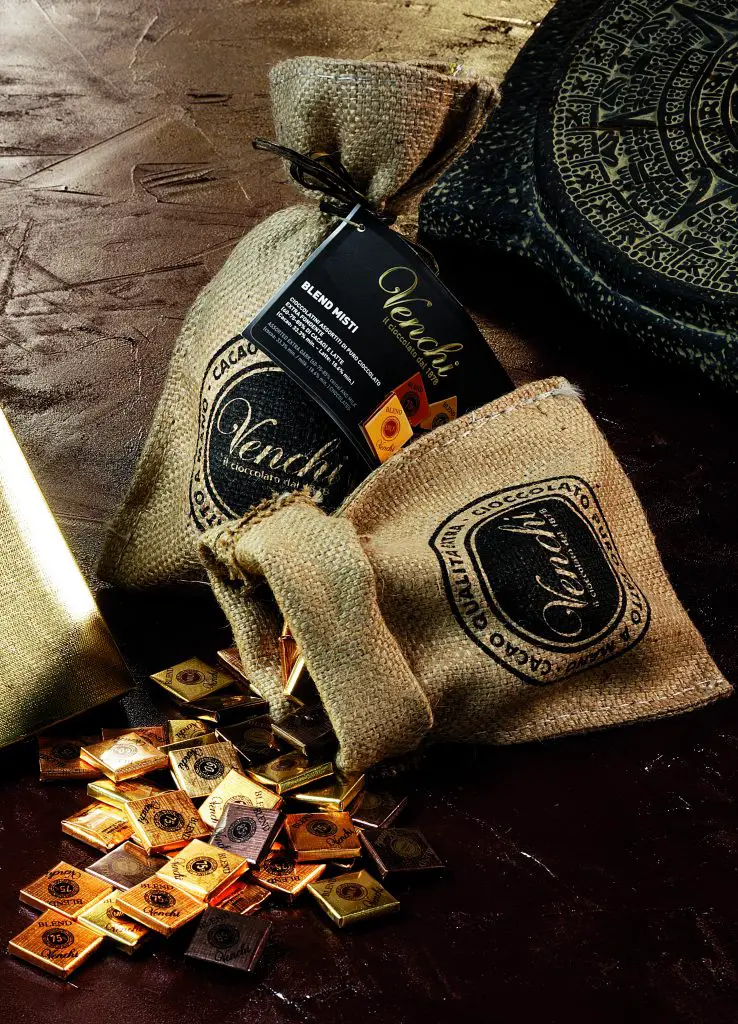 Time for dessert, so I headed over the sweets area that offers a sampling of Italy's many treats like Piedmont's historic Venchi chocolates, Balocco's panettone and cookies; and of course, gelato!
FUN option: The Masters of Carpigiani Gelato University offer two classes, on either gelato or sorbet making.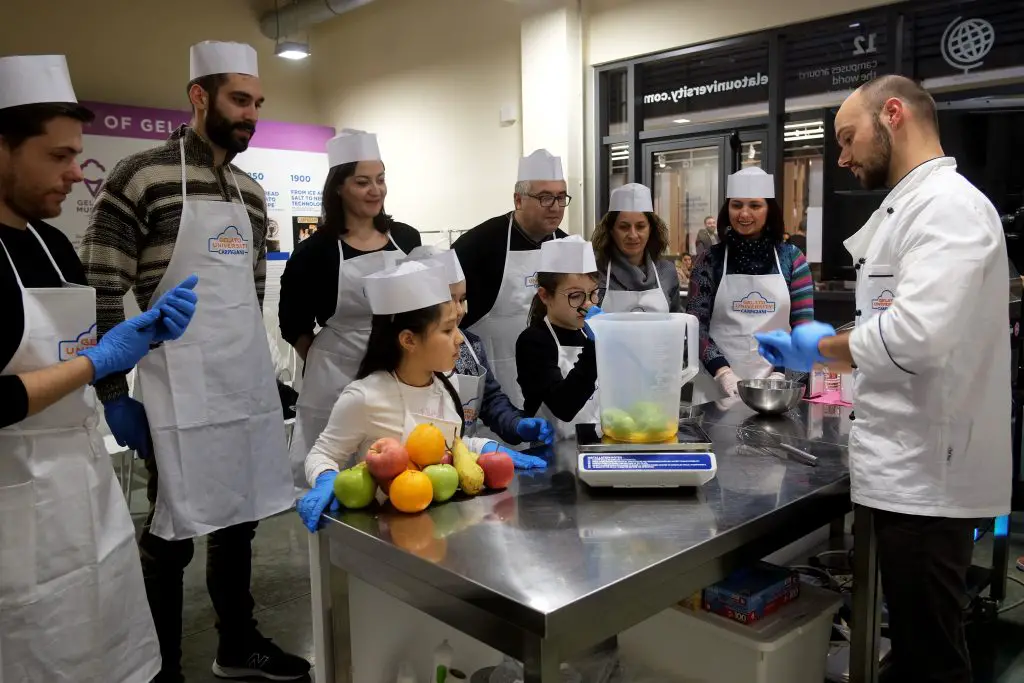 A must-see for any sweets lover are confetti, little sugar-coated treats traditionally given to guests at weddings and other special occasions. Sulmona in Abruzzo is the center of confetti making, but thanks to FICO you don't need to travel hundreds of miles to see how William Di Carlo confetti have been handcrafted for six generations made. Watch their master craftsmen mix the almonds and sugar in copper boilers.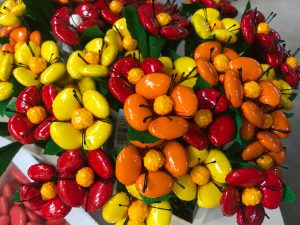 FUN option: Learn to hand-make "flowers" and adorable animal creations with confetti. These one-hour classes are available Friday, Saturday and Sunday at 11:30am and 2:30pm.
FICO has many evening activities too. Like FICO's "aperitif dinner" in their lovey outdoor Fruit Grove.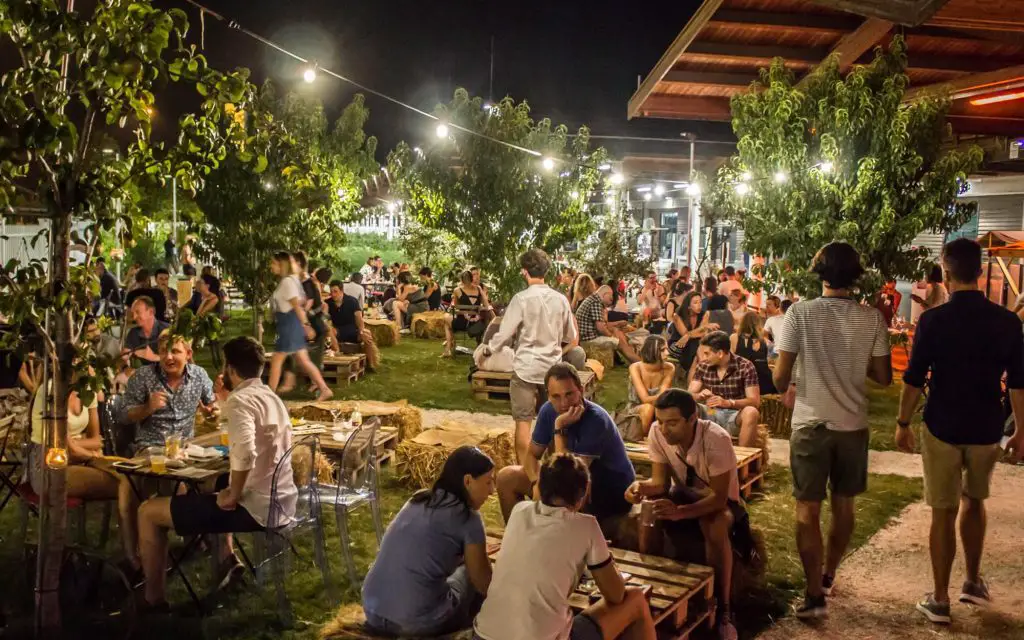 My own fun-filled visit ended at sunset with a toast to Tiziana Primori, the dynamic, charming FICO CEO. Since there's so much more to see, do and taste, I'm formulating a plan over cocktails for my next visit!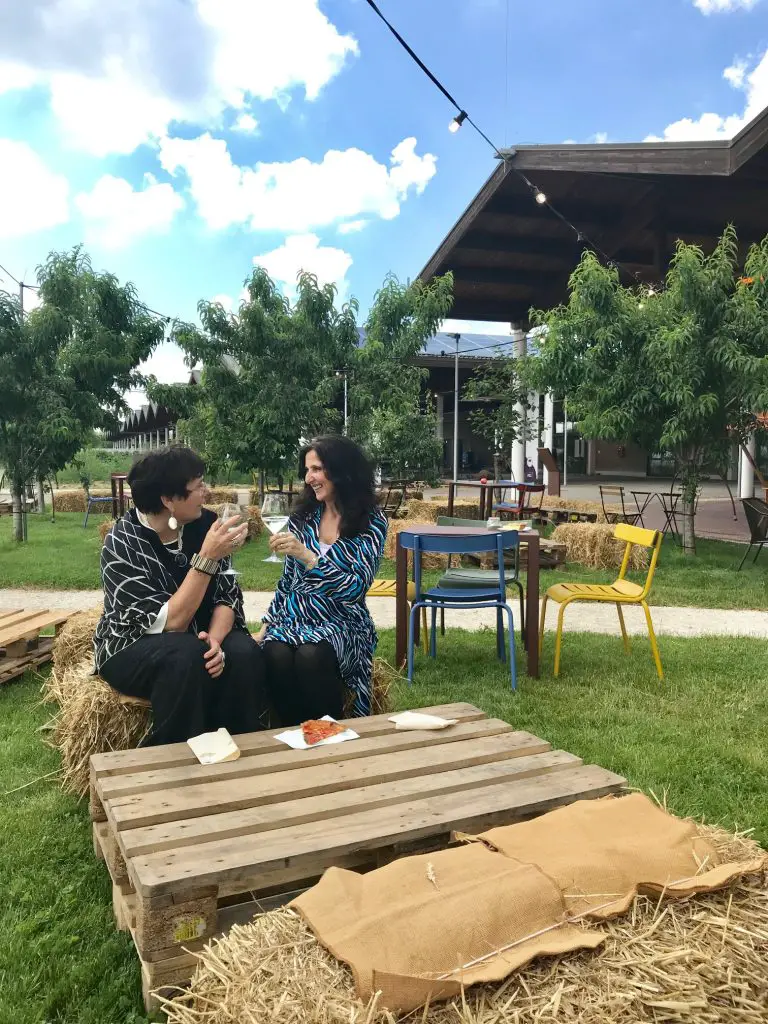 Details:
Free Entry
Opens daily 10am, closes 11pm all nights, midnight on Saturday
Be sure to visit their website to plan your visit. There's too much to do in just one day!
https://www.eatalyworld.it/en/
Photo Credit Courtesy: FICO Eataly World
---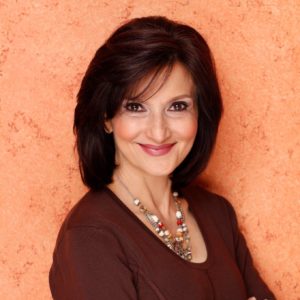 Written and contributed by Francine Segan
For more info on Francine's books, talks and cooking classes visit her website at: www.FrancineSegan.com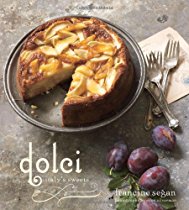 Purchase Francine's book, DOLCI: Italy's Sweets