Lou Di Palo Upholds a Century-Old Tradition in New York's Little Italy
Anyone who's ever braved the color-coded, automated checkout line process at Whole Foods in Union Square or endured death stares from the counter guy after faltering on a salad ingredient knows that buying food in NYC can be a harrowing experience. Speed often comes at the expense of service, and taking too long to order your morning coffee is equivalent to a cardinal sin in certain places.
That's one of the reasons shopping at Di Palo's on Grand Street feels like stepping back in time. When owner Lou Di Palo is behind the counter serving you, he is calm and relaxed, and when he's talking to you about cheese, there's no rushing anything.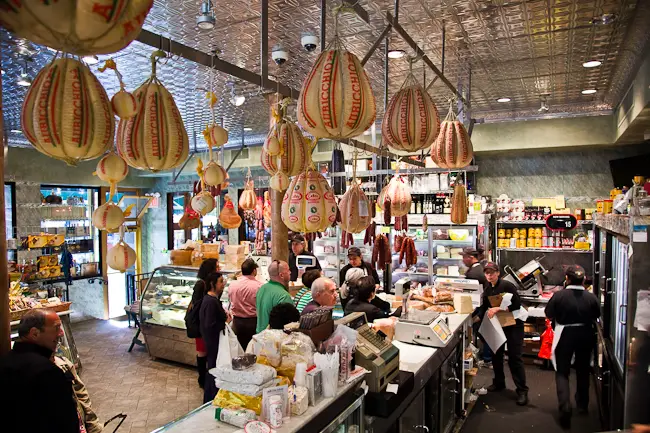 Di Palo's great grandfather, Savino, was a cheese maker from Basilicata who settled in Little Italy in 1903 and opened a latteria (dairy store) in 1910. One hundred years and five generations later, Lou and his relatives are carrying on the family's tradition of making fresh cheeses and pride themselves on bringing authentic, traditional Italian products to Americans.
"Most of the products we bring in from Italy are artisanal foods, foods that are made in a craftsman-like way, and with stories behind them. These stories need to be told. They need to be told for the people who made the product, and for the people who enjoy the product," Di Palo explains. "We welcome people to ask questions about a specific product, so that when they go home and put it out on their table, it's a focus of conversation for their family."
And answer your questions he will; the man is a virtual walking encyclopedia of Italian cheese.  From what the name of the cheese means in dialect, to what type of milk was used and the time of day it was made, to what kind of grass the animals ate, Di Palo believes in educating his customers and letting them experience a little bit of Italy through his products.
The shop carries some 300 types of cheese. The best-sellers continue to be the fresh cheeses that they make right there (the fresh mozzarella is outstanding), followed by imported parmigiano reggiano. "We're very selective about our parmigiano; we have different seasons and different ages. Right now, we're featuring a spring season and a very aged fall season, fully mature with a lot of complexity to it," he explains. "Both are good, and one is not better than the other. They're just different."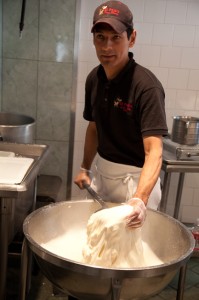 Lou Di Palo may be diplomatic when it comes to different types of parmigiano, but he does admit to having a favorite cheese: gorgonzola dolce. I was lucky enough to taste some that had just been flown in from Italy when I was in the shop, and the creamy, oozing, decadent cheese was unlike any other gorgonzola I'd ever tasted. "Every week we sell out of this. Best cheese in the world. But it's gotta be like this," he says emphatically.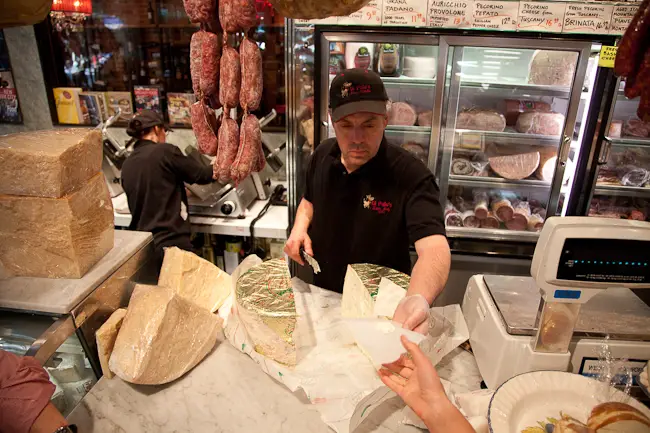 Even with his exhaustive knowledge about cheese and many other Italian specialty foods, there's nothing pretentious or decidedly "foodie-like" about Lou Di Palo.  He is simply passionate about what he does, has a great respect for cheese and for those who make it, and enjoys sharing what he knows and loves with anyone who expresses an interest.
When asked about his success, Di Palo says that their shop is "based not on how many people we serve during the day, but on how we serve the people. We try to consider it an extension of our home. You're coming into our home and you're sharing our food."
His loyal customers would likely agree that these aren't lines crafted by a clever marketing executive, but a genuine, time-honored philosophy at Di Palo's.  In fact, some customers have been shopping there for over eight decades. One of them, Nettie, 95, passed by while I was visiting Enoteca Di Palo, the wine shop next to the main store. "She's one of our oldest living customers," Di Palo told me. "She was the first customer my brother Sal ever served, when he was about eight years old. She came into the shop when she was a little girl herself, her mother held her by the hand. And look at her now."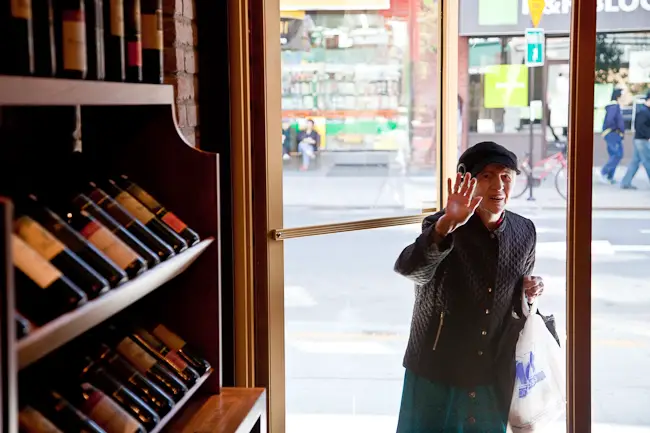 Di Palo spent much of his own youth in the store, working alongside his father every time he had a day off from school. Though he studied marketing and his father encouraged him to choose whatever career path he desired, he felt that this business was his calling. "People ask me how long I've been behind the counter, and I tell them I'm 59 and I've been behind the counter 60 years," he says, smiling.
With very few signs of the original Little Italy visible today, it's surprising and inspiring to discover that a place like Di Palo's still exists and thrives there. And while Di Palo celebrates tradition in his store, he has also embraced the changes in the neighborhood. "Little Italy basically exists in name only now, but the spirit of the Italian immigrant still remains. It lives today in the memory of the hardworking Italian immigrants who came here to make a better way of life for their future generations, and in the new wave of immigrants – Asians, Latinos, Chinese, Eastern Europeans, and Middle Eastern immigrants -who have come here and make our country a better place."
It's apparent that the work ethic of the Italian immigrant lives on in his store as well. "We're open seven days a week. No holiday for the stomach – you gotta eat every day," he says, laughing. "But that goes back go to the dairies. Even this cheese here is made 365 days a year, because the cows give milk every day."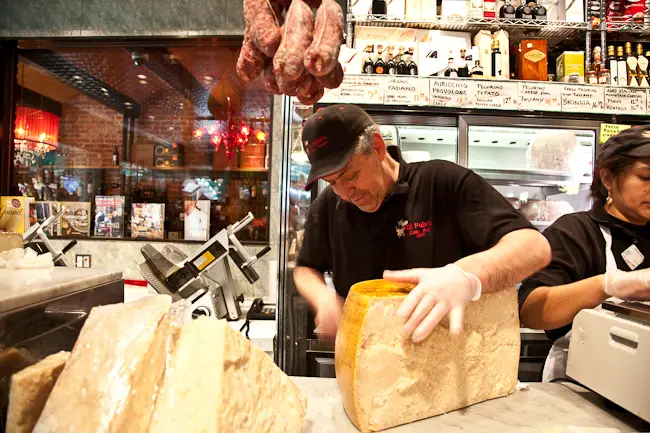 With that, he proceeded to slice a huge wheel of parmigiano with an elegance and grace reminiscent of a sculptor carving marble. Thanks to Lou Di Palo and his family's shop, the art of cheese making is alive and well on at least one street corner in Little Italy.
Visit their website at: www.dipaloselects.com
By Kristine Jannuzzi / Photos by Christopher Newhard