Florence's Famed Antica Torre Via Tornabuoni & Pici with Etruscan Pesto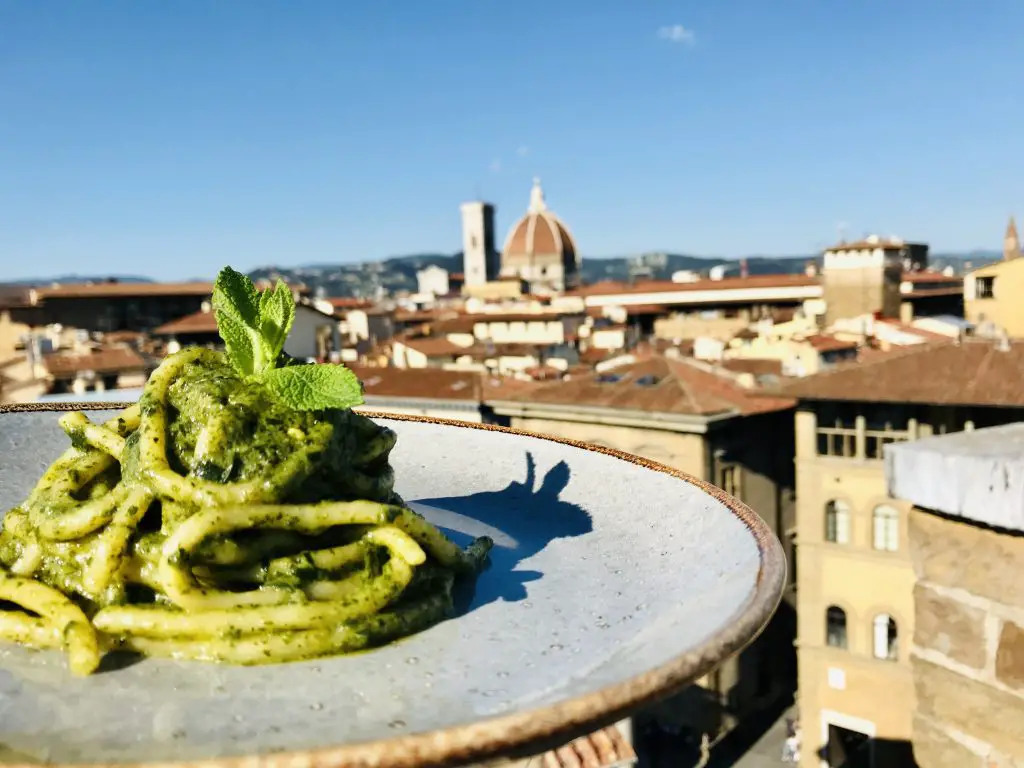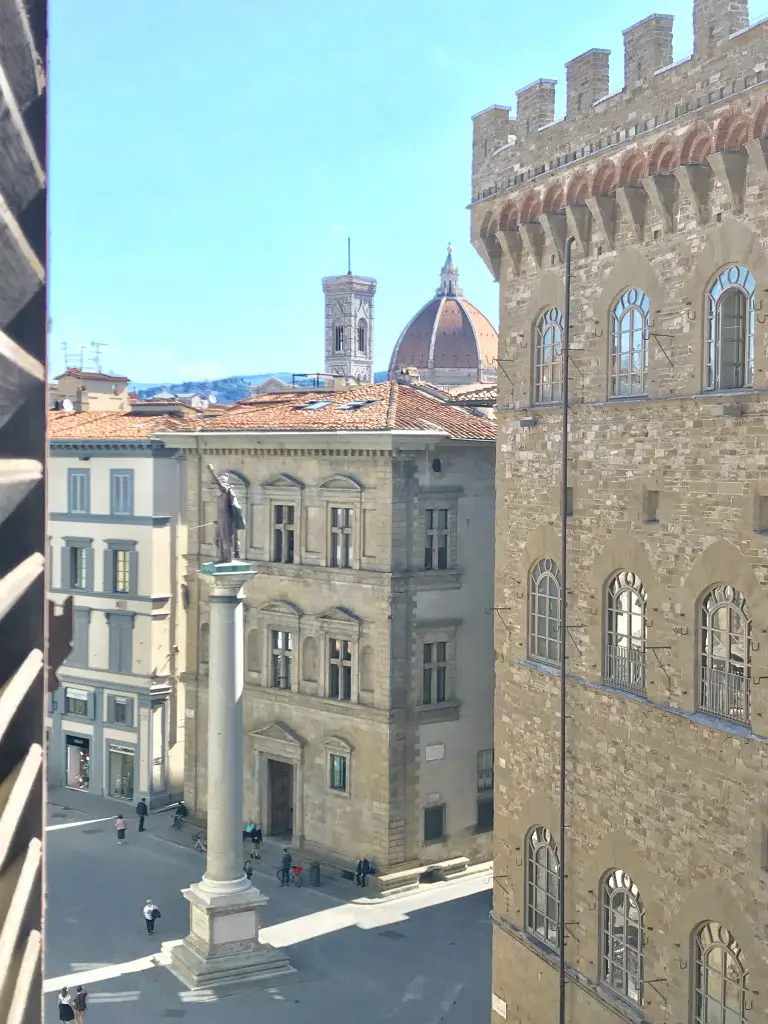 It's impossible to describe Antica Torre di Via Tornabuoni 1 in just one article. It is in an ideal spot in the heart of historic Florence on one of Italy's most elegant shopping avenues, but it is a great injustice to describe Antica Torre as merely a 5 Star hotel. As soon as you enter its massive outer doors you are welcomed as an esteemed friend into what feels like a private home.
One of the most, of many, astonishing features of Antica Torre is its several levels of terraces, only accessible to guests, which have jaw-droppingly stunning 360-degree views of Florence.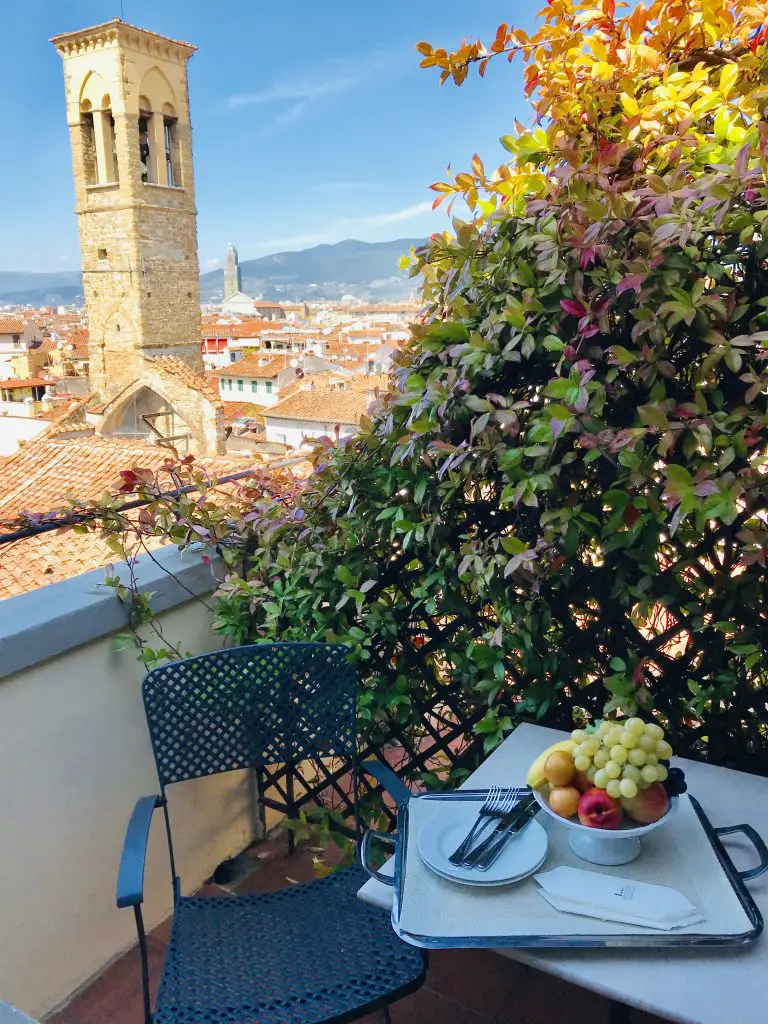 The perfectly appointed rooms that have all the amenities you could ask for… plus some you never imagined possible—are only part of the charms of an Antica Torre stay.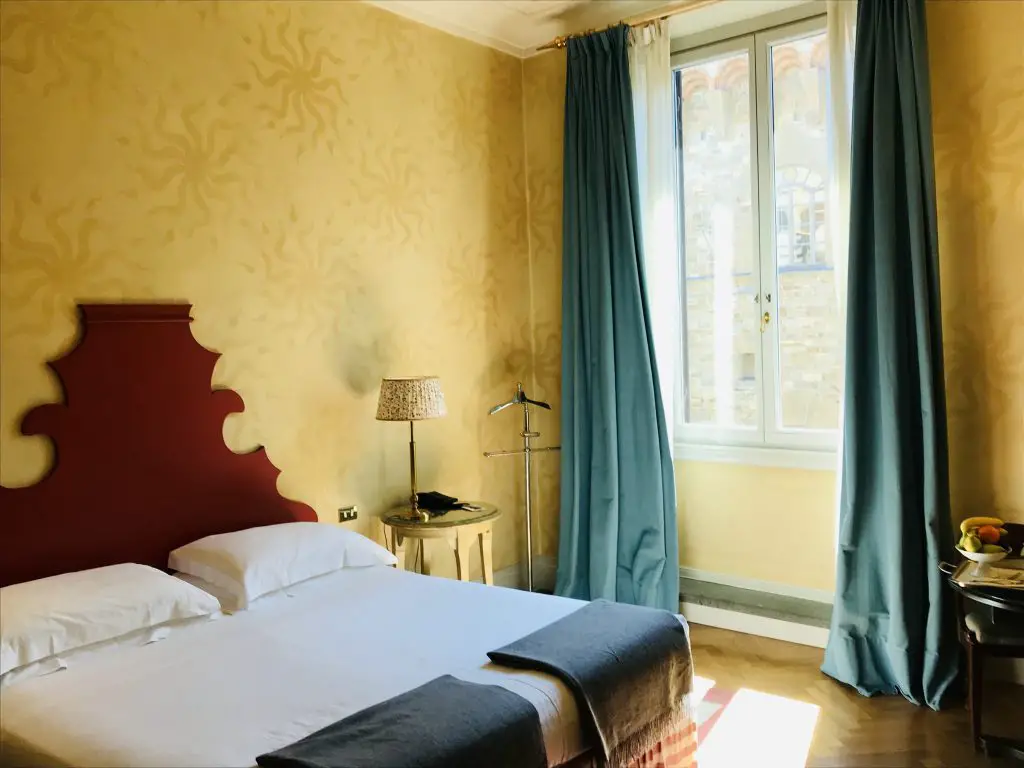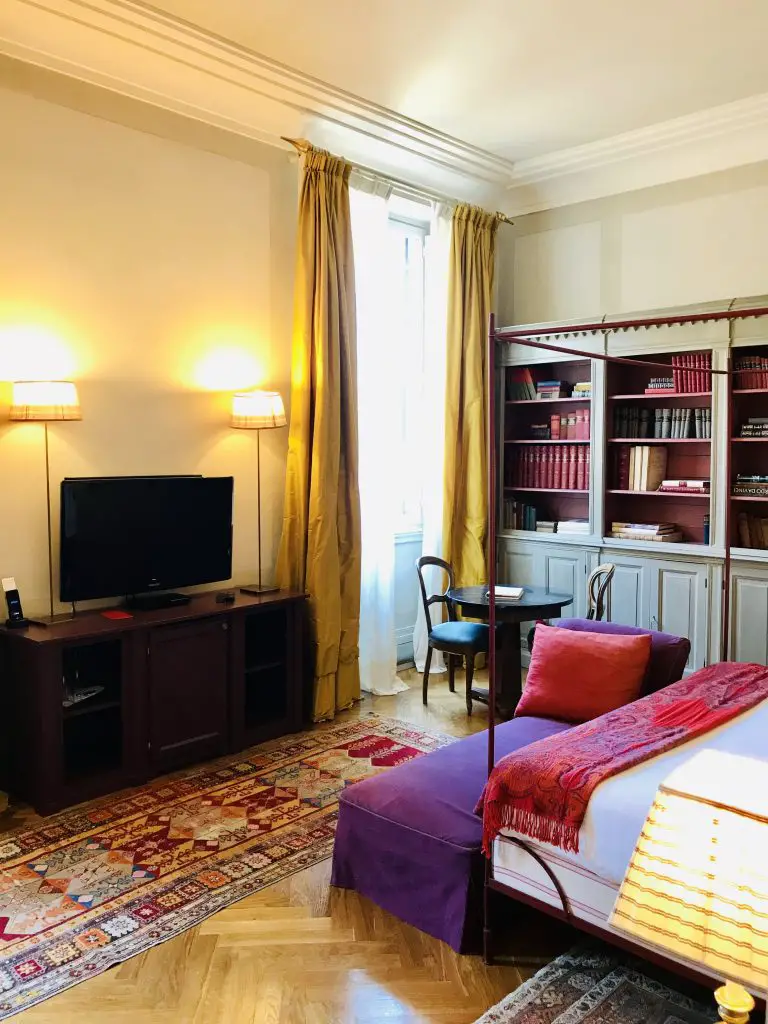 After a restful sleep in their exceptionally comfortable beds, enjoy a sumptuous buffet breakfast, which includes many sweet and savory options, as you gaze out over the Arno River, Santa Trinita Bridge and the hills of Fiesole.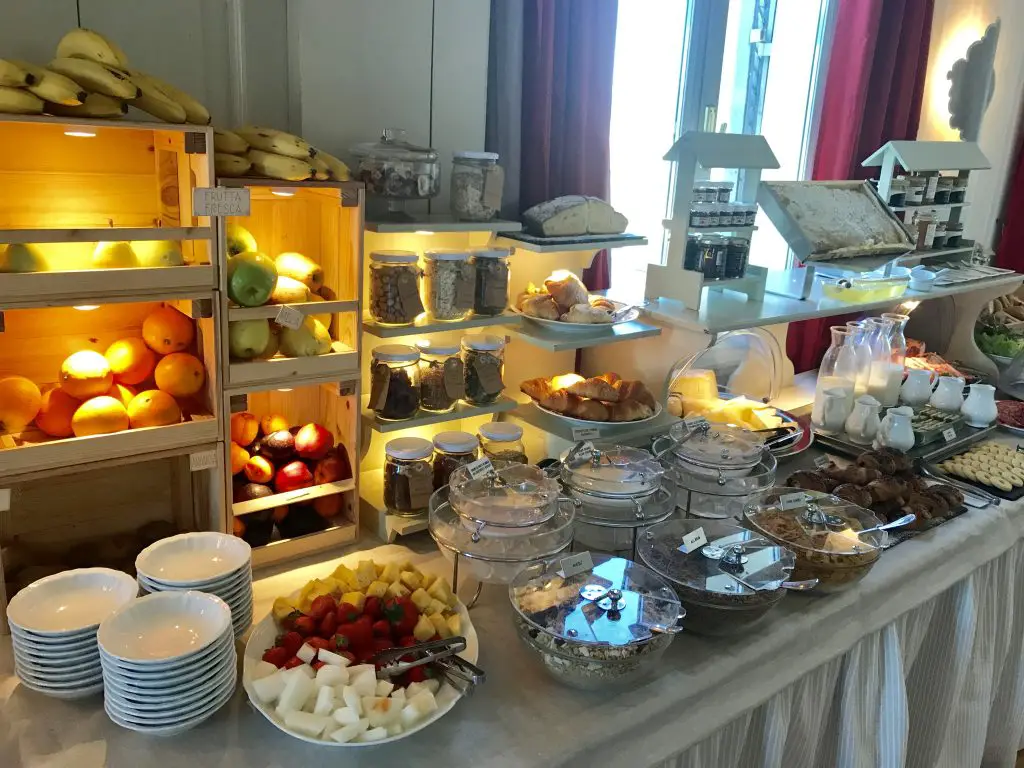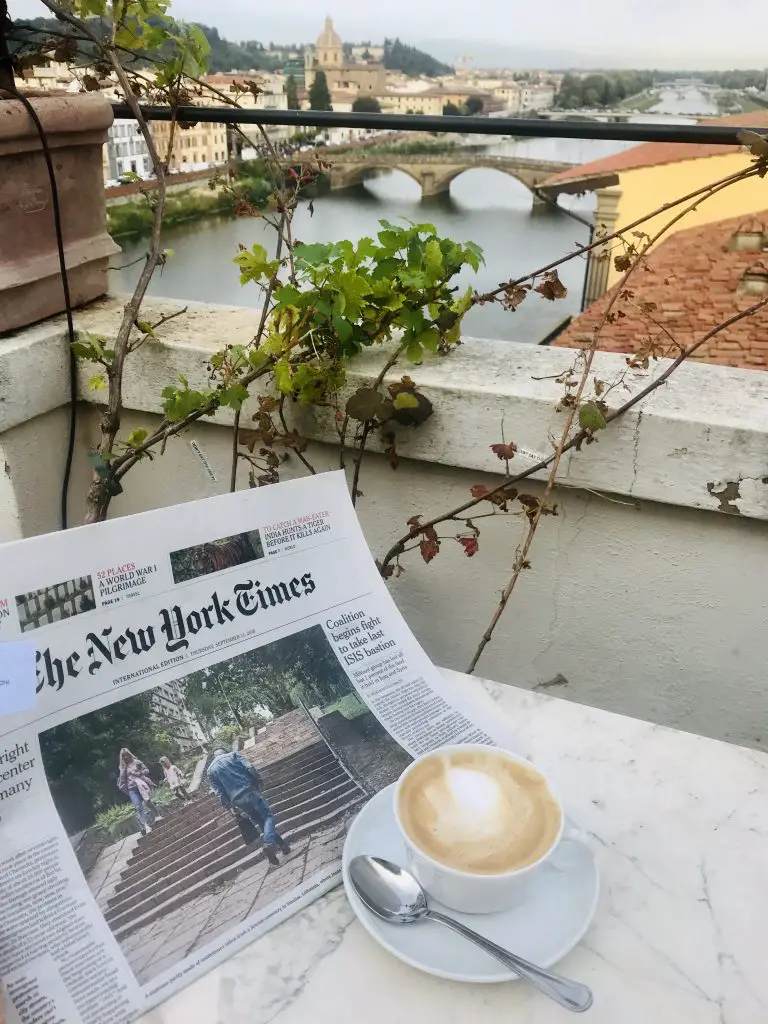 After a day of sightseeing relax in their Panoramic Bar. Partake in classic Italian cocktails and a superb choice of wines, and enjoy the splendid views of Palazzo Vecchio, the Bell Tower of Santa Trinita and the dome of Santa Maria del Fiore. No need to leave the hotel for dinner, as their fabulous "Restaurant the Tower" that offers artistically presented, perfectly prepared specialties.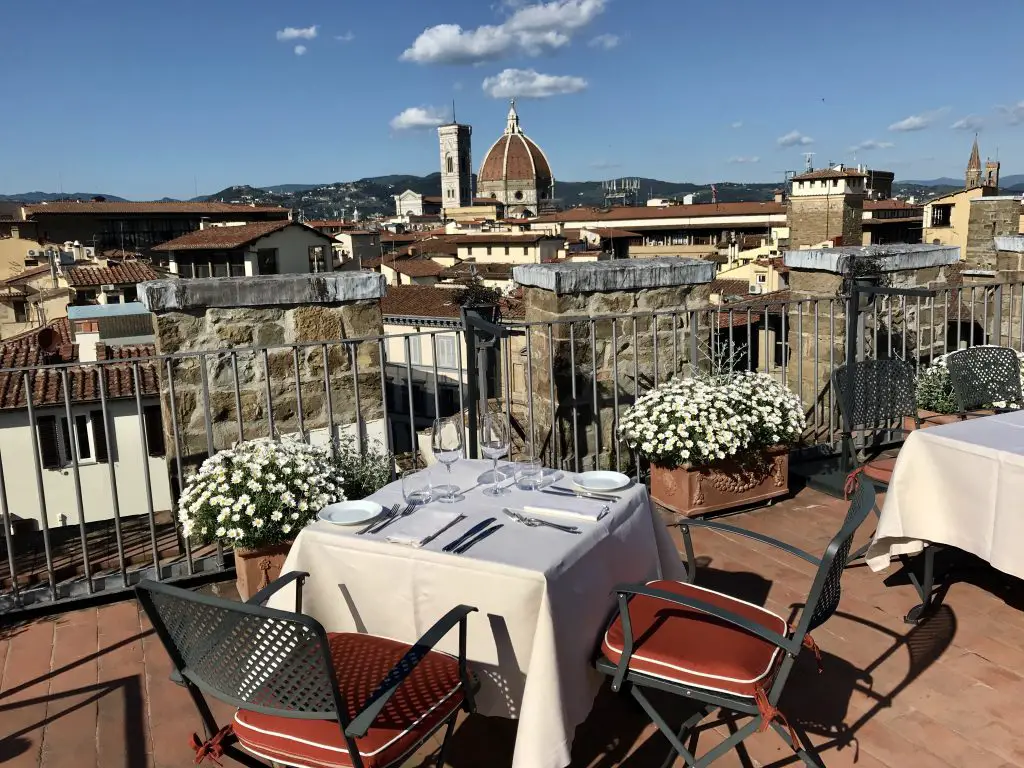 When I opened Restaurant the Tower's menu and spotted the intriguing sounding "Pici with Etruscan Pesto," I knew there was no better place to enjoy a dish with ancient roots than in this marvelous tower that dates back to 1200 AD! The delicious dinner sparked my curiosity and I researched this unusually named dish.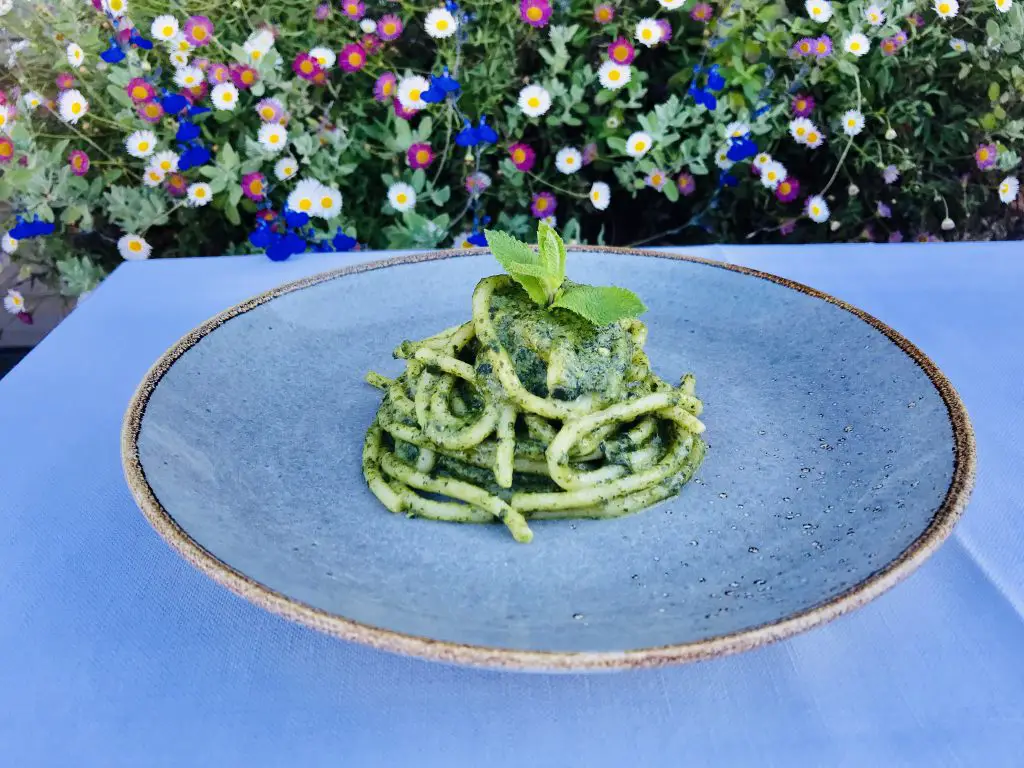 Unlike Genoa pesto, which made with basil, pine nuts, oil and Parmesan cheese, Pesto all'Etrusca features aged pecornino and a mix of herbs—basil, parsley and mint—but omits pine nuts and instead includes an unusual ingredient: boiled eggs! The result is a more aromatic and lighter pesto. Pici, a thick long handmade flour and water pasta, a classic Tuscan shape, is the traditional pasta served with this pesto. The name "pici" might derive from the Italian verb 'appicciare, which means "sticky," but others believe it is derived from Apicius, the famed ancient Roman gourmet.
Intrigued as to the Etruscan reference in the pesto's name, I interviewed several experts to track it down. My first query went to Giancarlo Gonizzi, Director of the Academia Barilla Gastronomic Library in Parma, which houses a collection of over 12,000 books from general cookbooks to those specialized in Italian culinary history and is accessible digitally here.
According to Gonizzi, "the oldest written reference to an Etruscan pasta dish was in Righi Parenti's 1964 book, La Cucina Degli Etruschi "The Etruscan Kitchen.  In addition, pici, appear to be represented in a painting in an Etruscan tomb showing pasta stretched by hand. However, Parenti's book does NOT mention a pesto with hard boiled eggs, but instead suggests that pici were eaten with simple sauces like a ragú of fresh sausage and dried mushrooms"   Food Historian Ken Alba notes, "There are many sauces that are ancestors of modern-day pesto, both in ancient times and in the middle ages. Basically, any herb, nut, oil and even spices were used and green sauce, made with parsley or something else, was pretty universal. It was common then to thicken the sauces with bread crumbs or even eggs." Gonizzi, after having done an exhaustive review of the Academia Barilla Gastronomic Library collection adds, "The recipe with eggs, although consistent with the aromas of Tuscan cuisine, seems to me a more recent creation. On this specific preparation I have found absolutely nothing on a historical level."
RECIPE
Pici con Pesto all'Etrusca
Pici with Etruscan Pesto
Recipe courtesy of Antica Torre di Tornabuoni 1
Florentine chef Fabio Picchi, one of my favorite go-to sources for all things Tuscan, advised me, in his marvelously deep booming voice, that to recreate the Etruscan feel, "There are just two hard and fast rules for this dish: One, be sure there's bed within 20 feet of where you're eating, so you can lie down immediately afterwards and two, enjoy them under the shade of a fig tree as you gaze toward the sea!"
Serves 4
Ingredients
Aged Pecorino Toscano – 4 ounces, grated
Extra virgin olive oil – About 4 tablespoons, plus more as needed
Garlic – 3 cloves
Basil – 2 ounces, about 1 bunch, just leaves
Parsley – 1 1/2 ounces, just leaves, about ½ cup
Mint – ¾ ounces, just leaves, a generous handful, plus more for garnish
eggs – 3 large, boiled for about 8 minutes so the yolks remain moist
salt and black pepper – to taste
pici or other long pasta, either fresh or dried – 1 pound, if using fresh or ½ pound if using dried
Preparation
Grind the pecorino cheese, oil and garlic in a mortar and pestle or small food processor until smooth and well combined. Add the basil, parsley and mint and process until well combined. Separate the hard boiled egg whites from the yolks and process only the whites until well combined. Crumble the yolks by hand and gently mix in the pesto. Do not grind the yolks. Season to taste with salt and pepper.
Cook the pasta in salted rapidly boiling water according to package directions. Note: Fresh pasta cooks more quickly than dried. Drain and toss with the pesto. Serve topped with mint springs.
---
Antic Torre is located in the heart of Florence's historic area on the city's most prestigious shopping street. For more information on its history or to book a stay at the historic 5 star Antica Torre Via Tornabuoni 1 visit: https://www.tornabuoni1.com/en/
---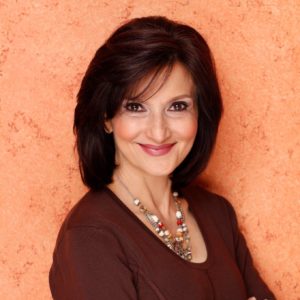 Written and contributed by Francine Segan
For more info on Francine's books, talks and cooking classes visit her website at: www.FrancineSegan.com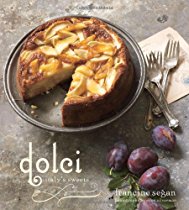 Purchase Francine's book, DOLCI: Italy's Sweets