Massimo Bottura's Fight Against Food Waste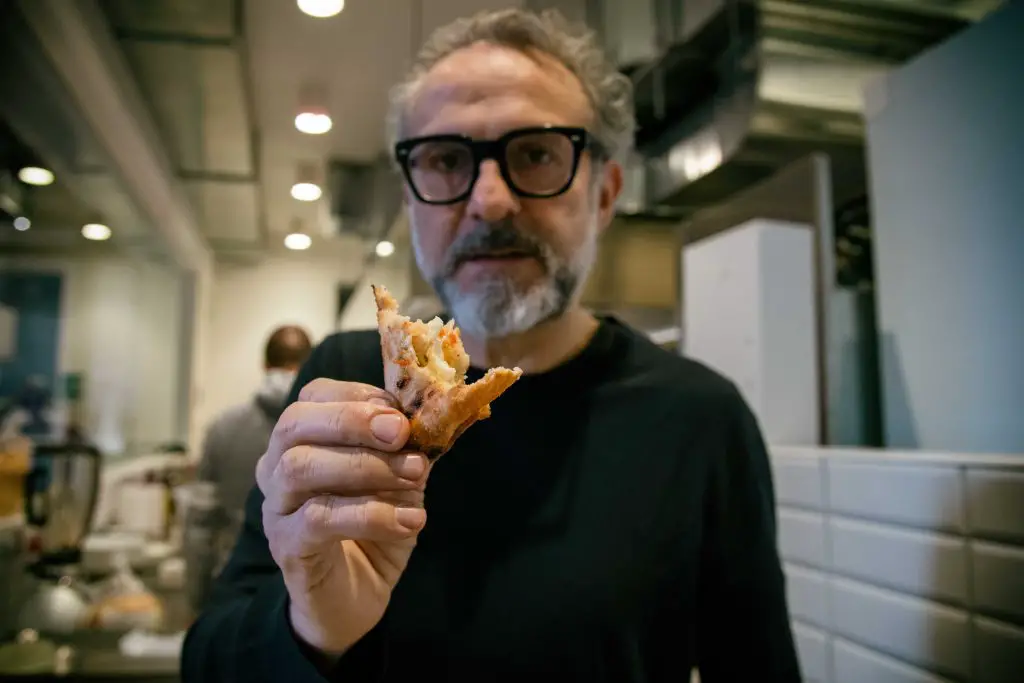 "We waste 33 percent of the world's food production. This is insane!", exclaims Massimo Bottura during his presentation at this year's UNESCO World Forum on the future of food. Bottura's 3 Michelin star restaurant Osteria Francescana in Modena – in the Emilia-Romagna region – has been named the World's Best Restaurant not once, but twice. In addition, he was named one of Time Magazine's 100 Most Influential People of 2019, in large part for his work fighting food waste.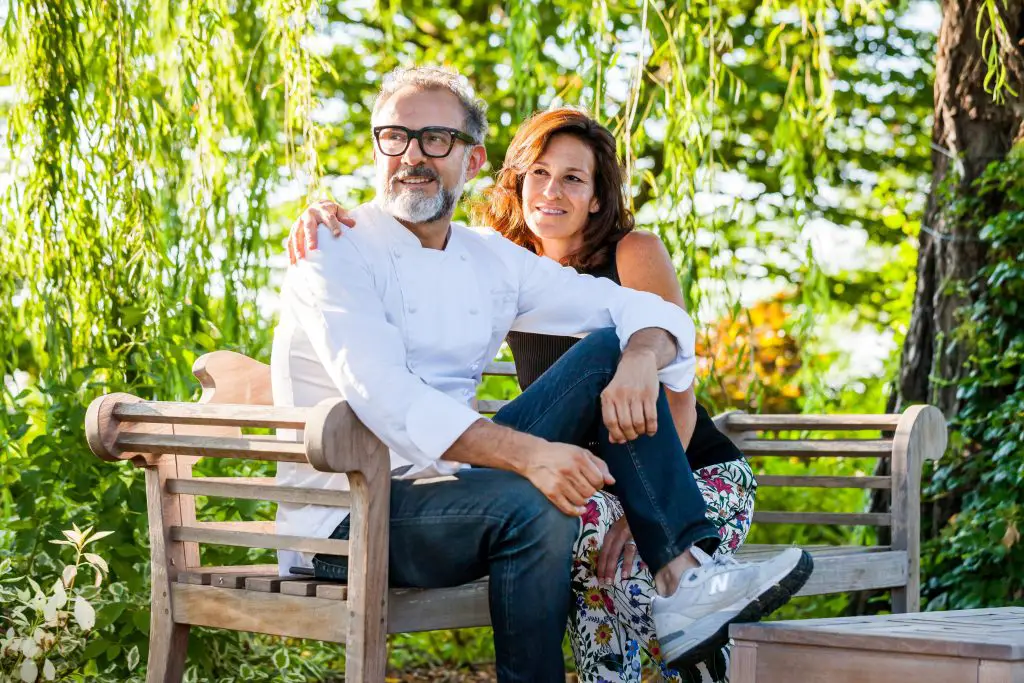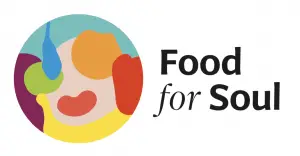 Through the non-profit organization Food for Soul that he founded in 2016 with his wife Lara Gilmore – he has organized Refettorio and Social Tables around the world to battle food waste through social inclusion. The word Refettorio, "refectory," comes from the Latin "to re-make" or "restore" and is traditionally a word referring to rooms for communal meals in educational or religious organizations. The goal of the Refettorio and Social Tables is to transform neglected spaces into zero-waste communal kitchens to feed people in need.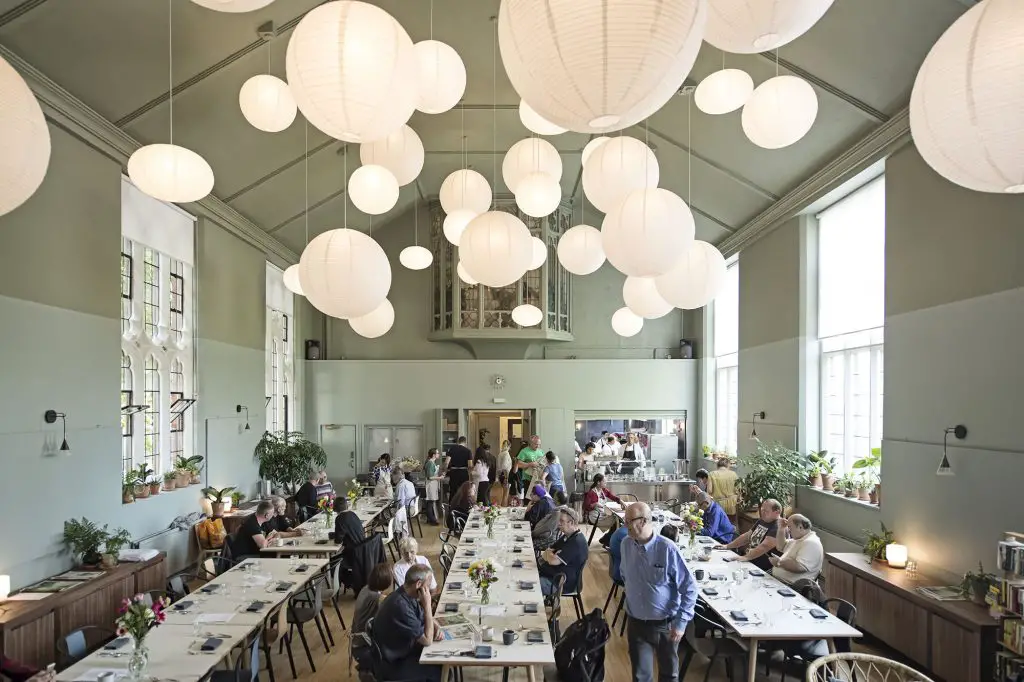 Refettorio and Social Tables have been opened in cities around the world including Milan, Bologna, Paris, London and Brazil. They are often located in glorious settings like the one in Naples, which is in the lovely cloister of the ex-convent of Santa Caterina a Formiello in Naples.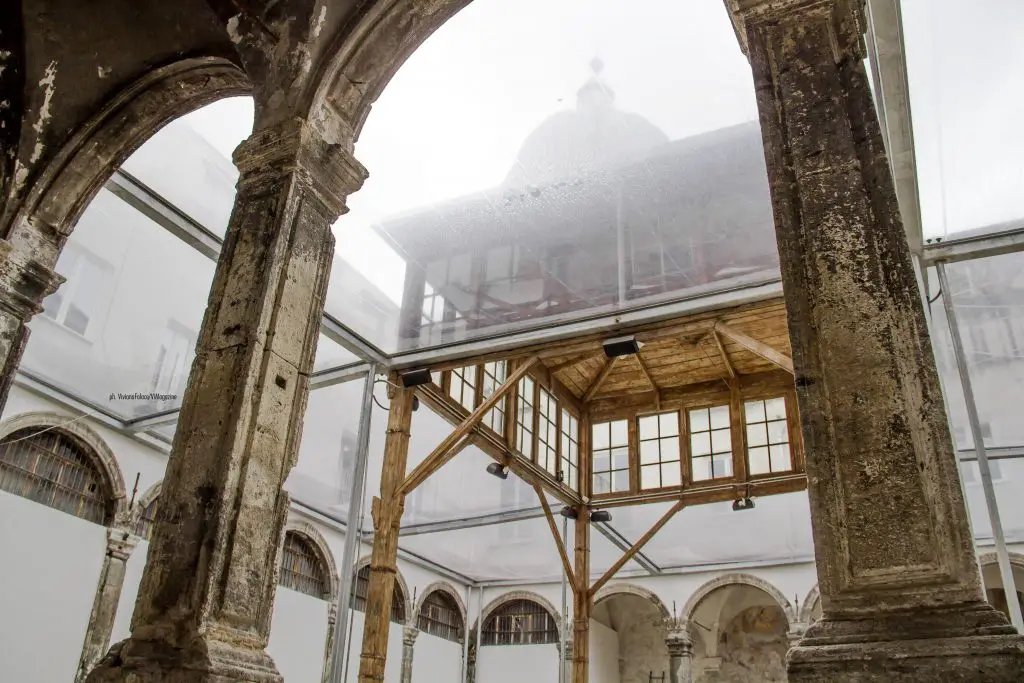 The aesthetics of the Refettorio is an important factor in achieving its goal. As noted on their Instagram posting, "By collaborating with architects, artists, designers, and community leaders, Food for Soul transforms underused places into vibrant communities, moving the spotlight to shine light on their hidden potential and encouraging them to become more resilient and to advocate for social change." Adds Bottura, "Our projects are infused with art, design and beauty to engage our guests in a holistic approach to nourishment: to feed the body and the soul. It is a cultural project for those in need and the wider community."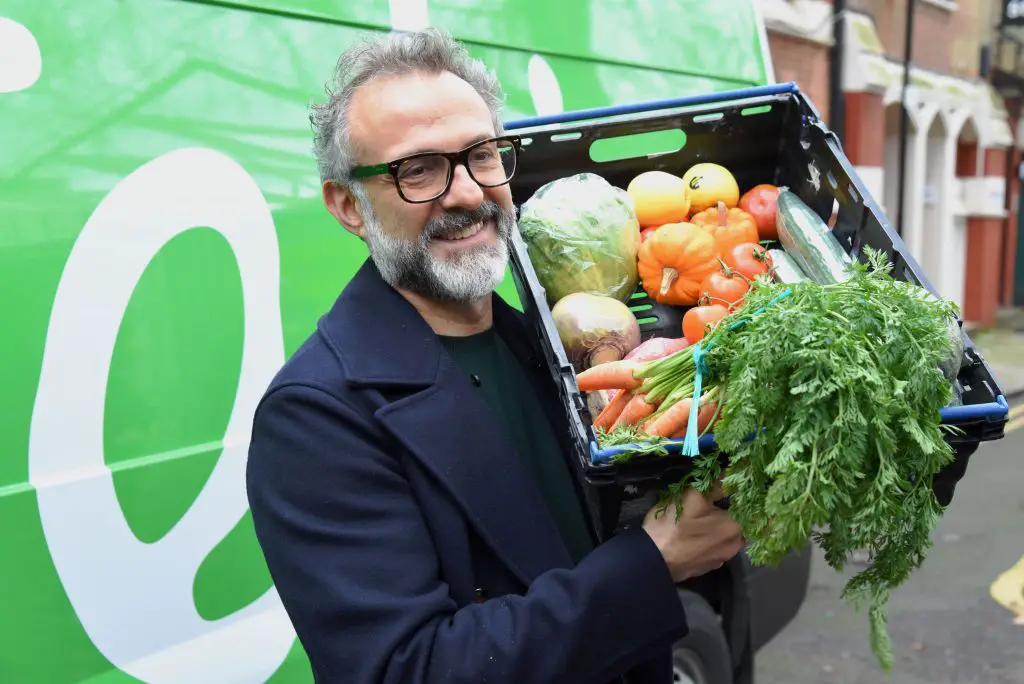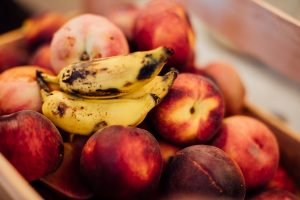 The ambition of all the Refettorio is to create nutritious menus using surplus ingredients. "Take the best of the ingredients from every stage of its lifespan. That's what the real beauty is to make something valuable out of something that might be seen as not having any value at all," recommends Massimo Bottura.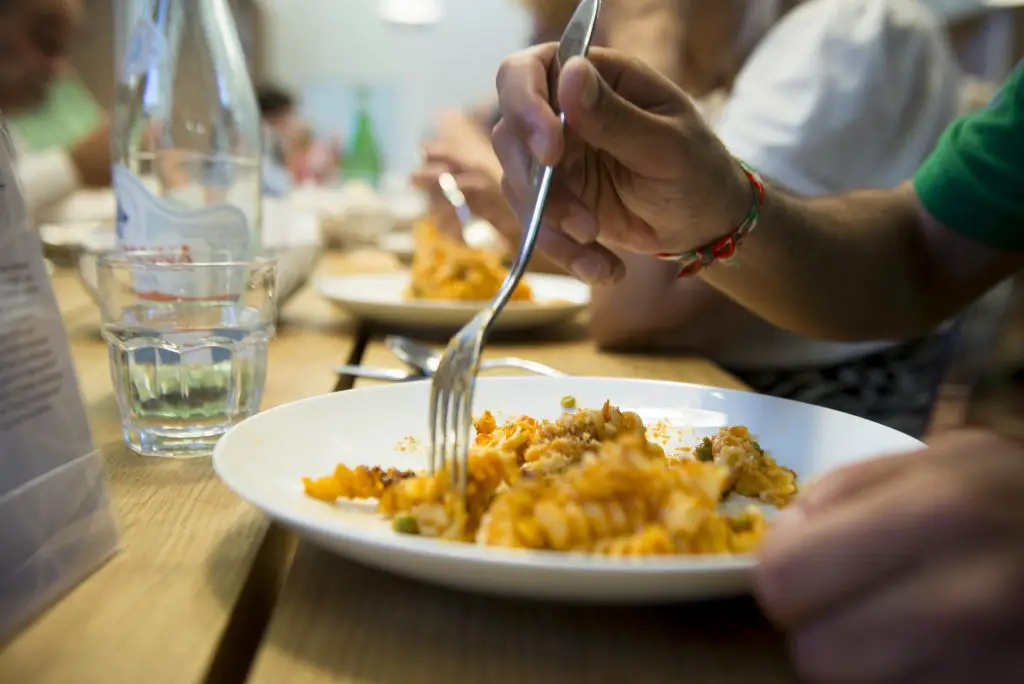 A typical lunch offered at a Refettorio might start with a vegetable and grain soup, followed by pizza or pasta, then guinea fowl cacciatore with a side of eggplant and zucchini. Dessert might be small fruit tarts. Clio Melvin, head chef of the London Refettorio called "Felix", explains the philosophy of the project: "The ethos of Refettorio Felix is to demonstrate how to use food to its full potential. Every day, I experiment with inventive ways to cook the ingredients that are donated. Our kitchen allows culinary creativity to thrive. We invite different chefs to work with surplus ingredients, which demands that they forget recipes and act spontaneously to create a meal. The menu changes with each service as we strive to use every last ounce of our ingredients. If they can't be used immediately then our next task is finding ways of preservation: pickling radishes, bread-crumbing loaves, infusing ice-creams to conserve what we can for another day and another purpose." Besides gourmet food, unlike the buffet lines at usual soup kitchens, the Refettorio chefs carefully plate each course while volunteers serve them at the tables, just like in fine restaurants.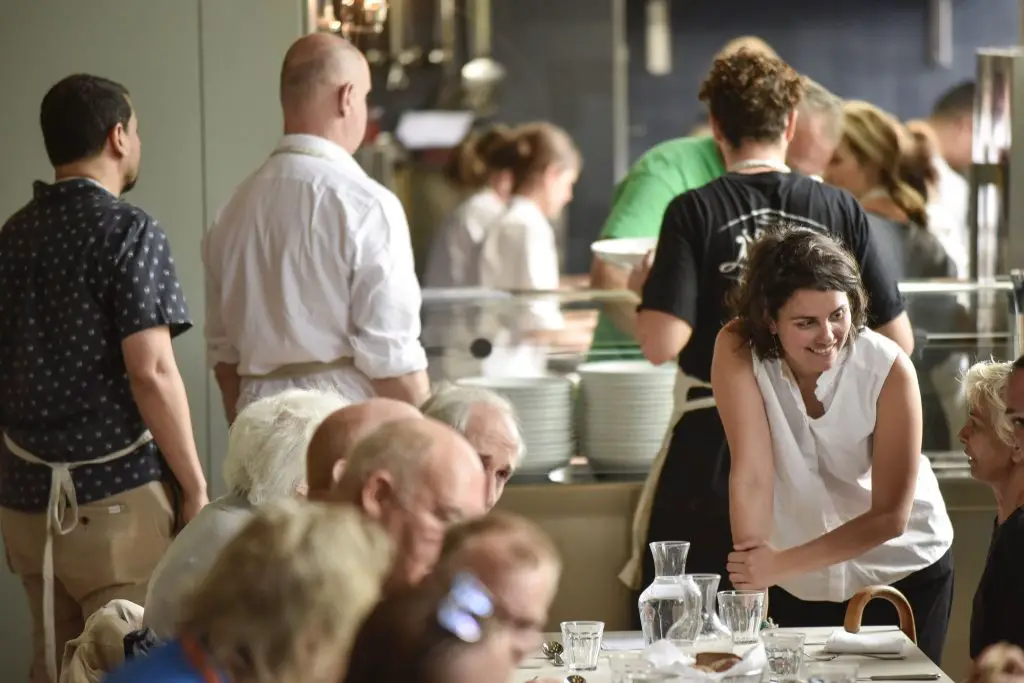 "A warm, seasonal, and delicious meal shared at a table with others is much more than the sum of its ingredients. It is a gesture of love," observes Food for Soul co-founder Lara Gilmore. As the organization stresses on Instagram, "Food for Soul believes in the Value of Hospitality to ensure a sense of dignity, caring and belonging that motivates guests to express themselves and their ideas. Thanks to the volunteers, project staff, chefs and everyone who works at the Refettorios and Social Tables, our aim is to create experiences that have an emotional impact and that can make people feel seen and cared for while opening pathways for social mobility and professional growth."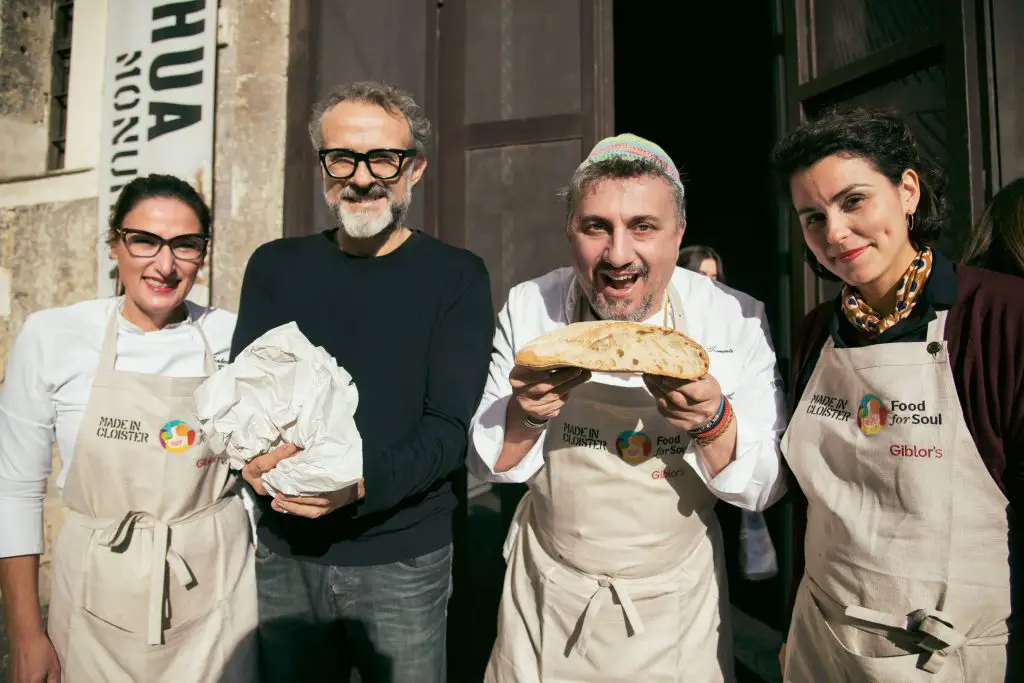 One of the five most wasted foods around the world is bread, which is thrown away in alarming quantities. Massimo Bottura's latest book, Bread is Gold, shares the secrets of more than 50 of the world's best chefs, teaching us to transform neglected pantry ingredients into delicious and healthy meals. Bread is Gold is available in English, Italian, French, Spanish and Dutch. By purchasing the book, you can help Food for Soul open new Refettorios and Social Tables around the world. Below is Bottura's dessert, by the same name, that underscores that not only should we not waste bread but that we should treat it as a precious ingredient.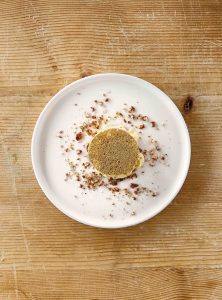 Bread is Gold
Chef Massimo Bottura's ode to his grandmother's comfort food creation of bread crumbs mixed with warm milk and sugar. This dish is served in his 3 Michelin star restaurant Osteria Francescana.
BREAD CRISPS
3 1⁄2 oz stale bread, sliced 1/8-inch-thick and cut into six 4-inch rounds
0.35 oz edible gold powder
BREAD AND SUGAR CREAM
3 1⁄2 oz stale bread
1⁄2 cup packed light brown sugar
3 1/3 cups milk
3 tablespoons heavy cream
SALTED CARAMEL ICE CREAM
2/3 cup heavy cream
3⁄4 cup packed light brown sugar
1 1⁄2 teaspoons salt
2/3 cup milk
CARAMEL CROUTONS
3 1⁄2 oz bread, cut into small pieces
4 tablespoons packed light brown sugar
FOR THE BREAD CRISPS
Preheat the oven to 350°F. Line a baking sheet with parchment paper. Arrange the bread on the baking sheet 3⁄4 inch apart.
Bake until crispy and golden brown, about 4 minutes. Let cool. Sprinkle with the gold powder.
FOR THE BREAD AND SUGAR CREAM
In a medium pan, heat the bread and brown sugar over medium heat and cook until caramelized, about 3 minutes. Add half the milk and simmer until almost all the liquid has evaporated. Add the remaining milk and the cream, bring to a boil, and cook for 3 minutes. Remove from the heat and let cool. Transfer to a blender and blend on high speed until smooth, about 3 minutes. Strain through a fine-mesh sieve two times. Cover and refrigerate. Once cold, whisk until stiff peaks form and transfer to a pastry bag.
FOR THE SALTED CARAMEL ICE CREAM
In a small pot, bring the cream to a boil over medium heat.
In a medium pan, melt the brown sugar over the medium heat until completely melted, about 3 minutes. Add the warmed cream and salt, remove from the heat, and whisk. Strain through a fine- mesh sieve into a clean pan. Add the milk and generous 3⁄4 cup water. Return to the heat and bring to 104°F over medium heat, then simmer for 2 minutes until reaches 176°F Remove from the heat and let cool. Cover and refrigerate until well chilled. Transfer to an ice-cream machine and process according to the manufacturer's instructions. (If you don't have an ice-cream machine, freeze the mixture until hard enough to scoop.)
FOR THE CARAMEL CROUTONS
In a medium pan, heat the bread and brown sugar over medium heat and cook, stirring, until the sugar caramelizes and coats the bread, about 5 minutes. Transfer to a baking sheet lined with parchment paper and let cool. Store in an airtight container.
TO SERVE
Place a scoop of the salted caramel ice cream on each plate and top with 5 caramel croutons, 1 tablespoon bread and sugar cream, 5 more caramel croutons, and 1 more tablespoon bread and sugar cream. Garnish with 1 bread crisp.
Note: Save the leftover bread for the bread and sugar cream and caramel croutons.
Want to learn more? Visit www.foodforsoul.it and also subscribe to the Food for Soul monthly newsletters
---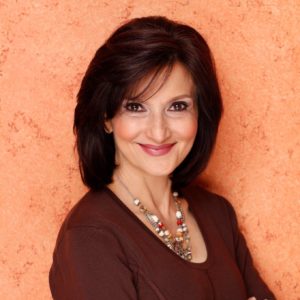 Written and contributed by Francine Segan
For more info on Francine's books, talks and cooking classes visit her website at: www.FrancineSegan.com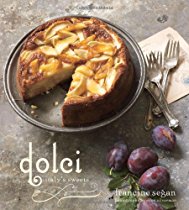 Purchase Francine's book, DOLCI: Italy's Sweets