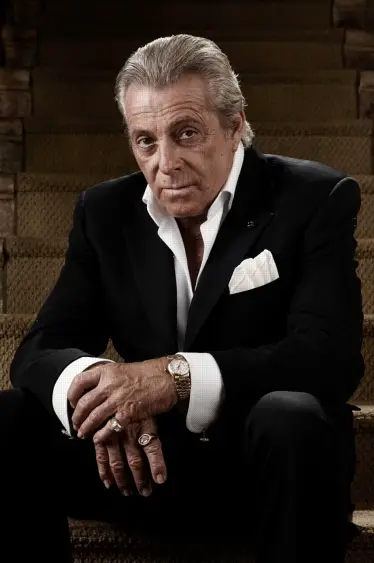 I was really looking forward to meeting Gianni Russo in person. When I arrived at Rothmans Steakhouse in NYC, Gianni was chatting away with the host. I immediately noticed how sharply dressed he was in a white Brioni suit, Gucci shoes, gold and diamond jewelry (that he told me he designs himself), slicked back silver hair and a "tropical" tan. What stood out the most was his old fashioned Italian charm and dazzling smile.
The maitre'd seated us right in front and I was immediately served a glass of Mr. Russo's own Prosecco (I only had a sip, it was delicious, but I told him bubbles give me a headache). So over a bottle of his Reserve Chianti, crab cakes and sautéed vegetables he told me in length a lot about his life.
Most of you may remember him as Carlo Rizzi in The Godfather. Little did I know Gianni has starred in over 46 feature films, owns vineyards in Italy, has 11 children, got his first tattoo at the age of 60, and is a talented singer.
He was born in Manhattan and raised in Little Italy and Staten Island. Gianni overcame polio as a young child and started his first business at the age of 12 selling pens. From there it was more hard work, hard times, and then things just started to happen. I don't want to give it all away. You can find out more about this man's eclectic, somewhat dangerous, scandalous (there were lots of women), and interesting life when a feature film about his life hits theatres in 2011 by producer Brett Ratner, Jeffrey Dash, and director George Gallo. A network television show "Russo Rules" is in development where Gianni will serve as host and co-producer.
His follow up CD was released in June 2010, and his self titled wine label Gianni Russo Wines launched nationally in 2009. Mr. Russo currently resides in NY and continues to sing and act around the world and most of all enjoying his life.
To learn much more about Gianni, visit his website: www.giannirusso.com
---
An Interview with Gianni Russo, by Loraine Pavich

Tell us a bit about your Italian Heritage?

I love my heritage, as you can tell by my name.  I'm Italian thru and thru.  My clothes, the food I cook, and my entire lifestyle.  100 % Italian!!

Do you cook a lot of Italian food at home?

I pride myself on being a good cook.  In my house it's all about Italian food nothing else.

If there were a pizza slice called the Gianni Russo what would it be?

Fresh tomato, fresh basil with a light spread of pesto on a very thin crispy crust. Now that's a pizza!

You spend a lot of time in Little Italy, do you have a favorite place?

I try to spread my business to as many of my friends who are still there.  I love LaMela, SPQR, Il Cortile, Vincent's, and Bella Farra for coffee.

Who do you find to be the greatest Italian actor of all time?

Al Pacino and Robert DeNiro

Who do you find to be the most beautiful Italian woman of all time?

Sophia Loren

Where do you like to shop for suits in New York?

I favor Brioni.

What is your favorite time of the year in New York.

The Spring and the Fall.

Are you a very religious person and if so how?

I haven't missed  a mass in over 60 years.  I receive communion every Sunday. I'm always in and out of St. Patrick's Cathedral throughout the week.

Do you believe in love at first sight?

I believe in love, I love being in love, whether it is at first sight or if it grows from a friendship to love.  I  romance with the dinners, sending the flowers and  the first kiss. It is magic.

The best thing that ever happened to you?

I had so many of the best things happen to me and they keep on happening. I am truly blessed.

What type of people attract you?

Honest people and hard workers.
---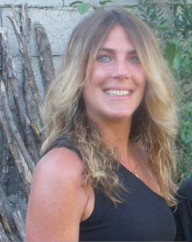 Loraine Pavich has had a diverse career in publishing with several successful magazines.