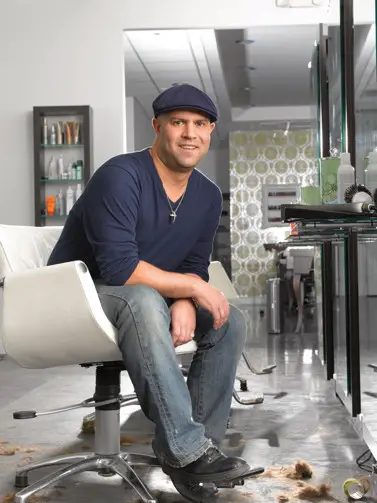 JULY 2010 – Anthony Lombardi owner of the Anthony Roberts Salon in Verona, NJ is just a regular down to earth old-fashioned guy.  His wife Patty and his 17-month-old son Anthony Gerard are his whole life.  He loves to relax with his family at the Jersey Shore hitting the beaches of Wildwood and Long Beach Island.  His Italian roots hail from Sicily and Naples, and he loves to have family and friends over for big Italian dinners (Anthony does a lot of the cooking).
He is grateful for the opportunity that was given to him to be a part of the hit show Jerseylicious.  Anthony says he does not do it for the fame.  He wants us to know he truly loves doing hair and wants to give his family a good quality life based on traditional hardworking values.  He has an extremely hectic work schedule (he also goes back and forth to the The Gatsby Salon in East Green Brook, NJ), so when Anthony needs time to get away from it all just to be alone, he heads to the track to watch the horses.
Anthony also confessed to me he has never visited the Italia Living website before, but has now added it to his list of favorites and checks out the site everyday.  He enjoys working with the cast and crew of Jerseylicious and is excited about the 2nd season premiere this September.
Be sure to visit Anthony's salon at: www.anthonyrobertsalon.com
---
Big hair and bigger drama! Catch the season 1 encore airing of Style's Jerseylicious on E! every Friday starting July 16th at 9pm. Tune-In to the season 2 premiere on The Style Network Sunday, September 5th at 8pm.
For more information visit Jerseylicious online.
---
An Interview with Anthony Lombardi, by Loraine Pavich

What inspired you to become a hairdresser?

There was really no inspiration. I did it initially to meet girls.

Did any of your friends or family discourage or ridicule your choice of profession?

My family has always been supportive in everything I've always done. My friends were a little not discouraging but i got my balls busted a little from the guys with me being a straight guy and getting into the beauty business.

What is it like working with all women at The Gatsby Salon? (it seems it can get very catty and competitive with tons of drama)

I've been working with primarily women my entire career. So for me the cattiness and drama are just another day at the office. But I can't say enough great things about all of them.

We have seen your temper flare on the show do you have a softer side?

It takes alot to see my temper. But yes I do have a softer side. Like when I'm home with my wife and son and our dog.

What is a typical Sunday dinner in your home?

Sunday dinner consists of me, Patti, Ant jr, my mom and dad and my sister brother in law and my nieces either at my house or my parents. Big bowl of macaronis all the meat, sausage, pork, braciole, meatballs followed by a big bowl of salad. Topped off with espresso and Sambuca and alot of love and laughter.

Do you prefer cannolis or cream puffs?

Cannolis all the way.

What is your favorite restaurant in New Jersey?

I gotta say that I have two – Luce in Caldwell and The Belmont Tavern in Belleville.

Do you feel reality shows today shine a bad light of negativity on Italians in NJ?

Reality shows don't shine a bad light on Italians in NJ. Certain Italians on reality shows shine a bad light on themselves.

Which celebrity you think needs an updated  hair look and what would you do?

I would love to do a KeraSmooth anti frizz treatment on Sarah Jessica Parker. Dont want to remove her curls but just wanna relax them a bit.

Is there one cast member of the Jersey Shore you'd like to go out to dinner and drinks with?

Not really. And i mean no disrespect to them i'm sure they are all real lovely people but i'm gonna be 38 and do i really need to be hanging out with them? We are in different places.

If you were not a hairdresser what would you be doing?

If i said playing centerfield for the New York Mets would you believe me? Seriously i think i would probably be doing something in the restaurant business.

What are the 3 biggest accomplishments in your life?

Becoming a husband, becoming a father and opening my business.

One thing no one knows about you that would surprise us?

Anthony: I still think that there is a future for me in the WWE as a professional wrestler – even though i'm 5'8 190 lbs.

What can we expect to see on the 2nd season of Jerseylicious?

The drama is is bigger, the stories are better, the hair is fuller and the girls are tanner.
---
For a special treat on Italia Living, here is Anthony's Lombardi Sunday Gravy recipe:
4-cans San Marzano peeled plum tomatoes
1-Medium yellow onion chopped fine
4- cloves garlic chopped fine
3-4 country style pork ribs
3-4 links hot or sweet Italian sausage
1-2 pork or beef braciole.
In a large heavy stock pot on med heat add olive oil, onion and garlic being careful not to burn garlic. Soon after add all your meat making sure to brown on all sides. After meat is browned remove and set aside. In a food mill crush up all your tomatoes making sure to discard all seeds. Set aside all the crushed tomatoes in a separate bowl. Back to the heavy pot on the stove add your tomato paste to the garlic, onion, and oil stirring frequently till paste loosens up a bit. Next add your crushed tomatoes and 1/4 cup of the water. Then add your meat. Leave heat on med to med high. Add the basil leaves and stir occasionally. Reduce heat to low after the first hour.  Add salt and pepper. Let simmer for another 2-3 hrs. Adding water if you notice gravy becoming to thick. Add water 1/4 cup at a time.
– Enjoy with your favorite macaroni!
---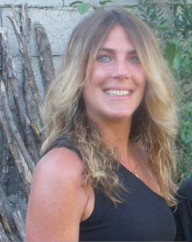 Loraine Pavich has had a diverse career in publishing with several successful magazines.