Zeppole di San Giuseppe al forno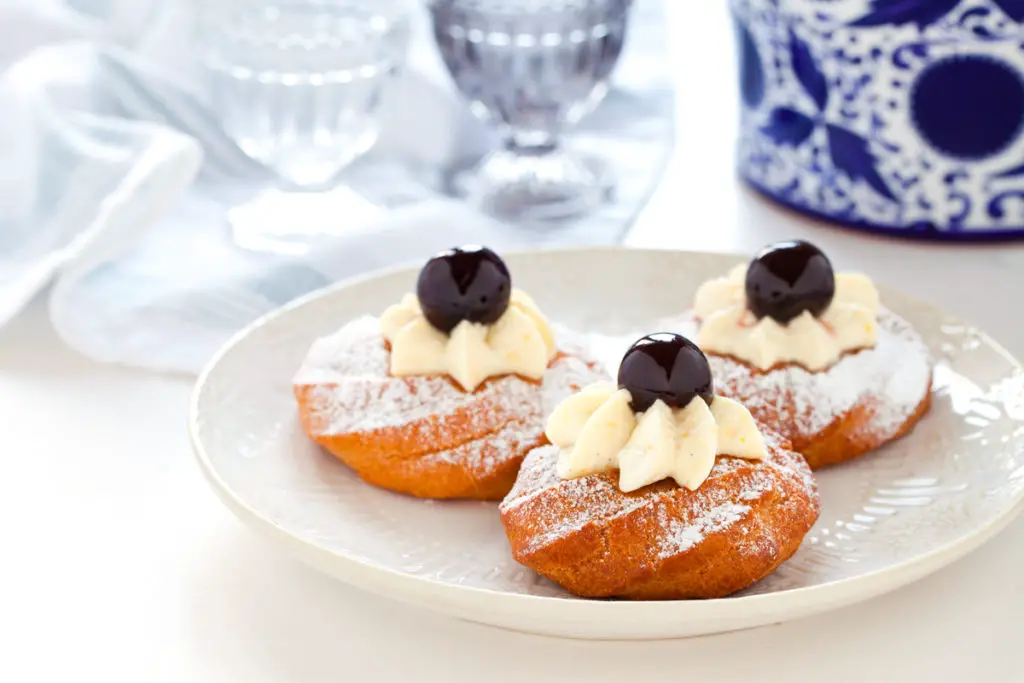 The Feast of San Giuseppe, March 19th, is a religious holiday in Italy, and is also the day Italians celebrate Father's Day – Festa del Papá. In some parts of Italy, school-aged Italian children secretly hide a letter – filled with appreciation and promises of good behavior – under Dad's dinner plate. There are many special regional desserts for the Feast of San Giuseppe, but the most popular in southern Italy, especially Naples, are these eggy-rich donuts served with thick vanilla-lemon custard topped with a cherry.
There's an Italian saying,"San Giuseppe frittellaio è un dì per metà festaio,"  that means that March 19th, the Feast of San Giuseppe, is not really a day off for shops that sell fried food, since fried foods are so popular that day. Although often fried, these donuts can be baked too, making them light enough for you to add a double plop of custard and an extra cherry on top!  Speaking of cherries, my favorites for an authentic zeppole, are those made by the Fabbri company. Their wild cherries in syrup have been popular in Italy since the company's founding in 1905. They are wonderfully dark red with a firmness that offers fabulous mouthfeel.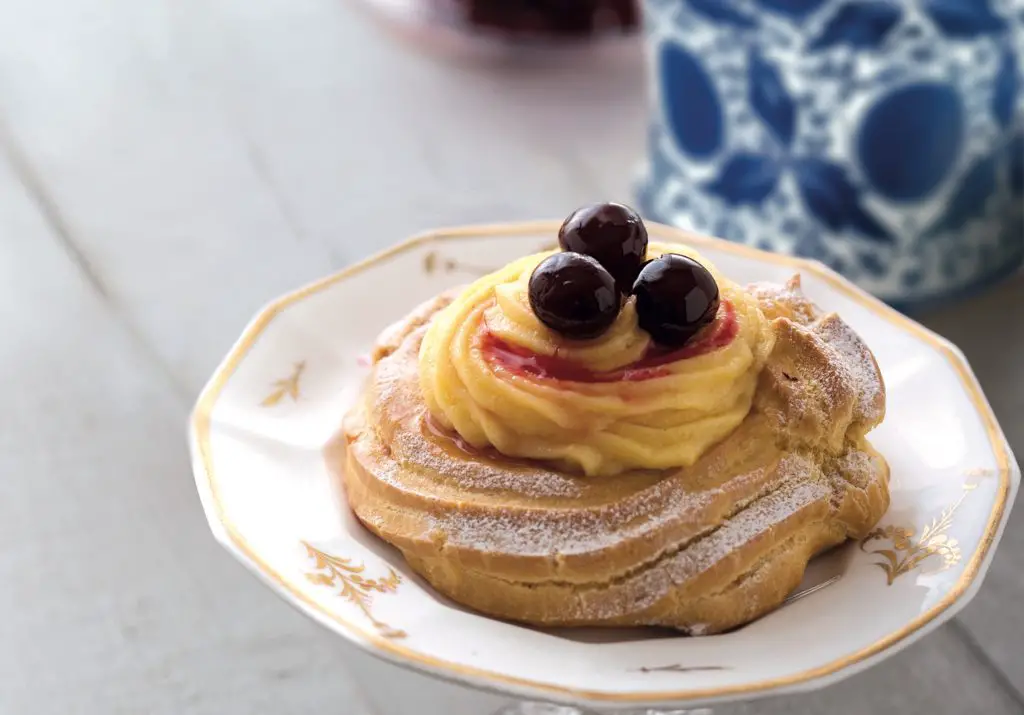 Recipe makes 6 large or 12 mini donuts
For the custard:
1 2/3 cups whole milk
1/3  cup  heavy cream
6 large egg yolks
1/2 cup granulated sugar
1/4 cup potato starch
Zest of 1/2 lemon
1/2 vanilla bean, grated on microplane
1/4 teaspoon salt
For the donuts:
3 ounces, 6 tablespoons, unsalted butter
1/4 teaspoon salt
1 cup, 4 1/4 ounces, cake, pastry or 00 flour
4 large eggs, room temperature
To serve:
12 Fabbri cherries
Instructions:
For the custard:
In a saucepan, over medium heat, bring the milk and cream to a low boil.
Meanwhile, in a bowl, using an electric handheld mixer, beat the egg yolks, 1/2 cup of sugar, potato starch, zest, vanilla and salt until smooth and creamy. Pour the hot milk into the bowl and beat until combined.
Pour the entire mixture back into the saucepan and heat over low-medium heat, beating constantly, until the mixture thickens, about 3 minutes.
Immediately pour the mixture into a bowl and allow to cool to room temperature.  Cover with plastic wrap, with the wrap touching the custard to prevent a crust forming, and refrigerate until ready to use.
For the donuts
Preheat the oven to 375 degrees F. Line a large cookie sheet with parchment paper.
In a medium saucepan combine 2/3 cup of water with the butter and salt and bring to a boil, stirring until the butter melts. Remove the pan from the heat and add the flour, beating vigorously with a wooden spoon until combined. It will be very dense.
Return the saucepan to low heat, and stir rapidly with a wooden spoon until the flour absorbs all the liquid and forms a ball, pulling away from sides of pan. Continue stirring until film forms on the bottom of the pan and the dough is no longer sticky, about 2 minutes.
Remove from the heat, transfer the dough to a bowl, and allow to cool for a few minutes.
Beat the eggs in a measuring cup. Add the beaten eggs, just a little at a time, beating vigorously with a wooden spoon or electric mixer.  Be sure each egg is fully incorporated before adding more. The dough will look like lumpy cottage cheese, but that's normal. Continue adding the eggs, beating with each addition, until the dough is thick and ribbon-like.
Put the dough into a pastry bag with a large star nozzle, or into a sturdy plastic bag with a hole cut in one tip, and pipe out 6 large, 3-inch diameter, or 12 small, 1 1/2- inch, donut shapes. Regardless of which size, pipe a double layer of dough for each donut, one layer of dough over the other. Bake for about 25 minutes until golden.
Allow to cool to room temperature.
To serve, generously fill the center hole with custard and put a cherry on top.
ENJOY!
---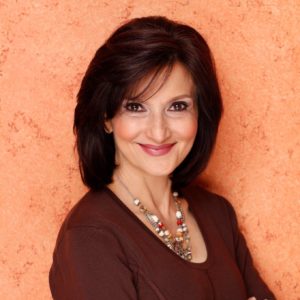 Written and contributed by Francine Segan
For more info on Francine's books, talks and cooking classes visit her website at: www.FrancineSegan.com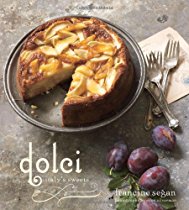 Purchase Francine's book, DOLCI: Italy's Sweets