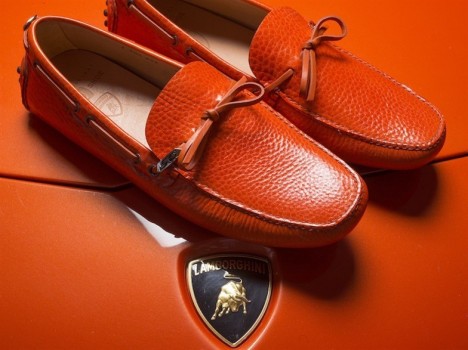 MAY 13, 2013 –
Lamborghini is culminating its 50th anniversary celebration this year, and in collaboration with Automobili Lamborghini, CAR SHOE (owned since 2001 by the Prada Group) is launching a new limited edition driving shoe.
Hand made with meticulous attention to detail, the classic profile features a pebbled calf leather upper and a notched, rubber studded outsole for added grip and comfort.
The moccasin is finished with Lamborghini's iconic logo on the heel tab and metal 50th anniversary logo on the laces.
The collection consists of three different colors – black, red and blue – all reminiscent of classic Lamborghini tones.
CAR SHOE was established in Italy in 1963 by the creative artisan Gianni Mostile. His passion for race-cars and handmade shoes sparked the invention of a moccasin with a sole set on tiny rubber nubs, which earned him a patent from the Italian Ministry of Industry and Trade as well as a large group of sophisticated connoisseurs (Giovanni Agnelli, JFK, Roberto Rossellini, Ingrid Bergman among the others), both in Italy and abroad. PRADA Group took over the stake of Car Shoe in 2001 and has, since then, aimed to develop the brand by focusing on its historic values of quality and innovation.
Anticipated arrival will be at select Prada shops shortly and will be sold in all Car Shoe flagship stores and online through the e-commerce website.
Learn more at: Car Shoe for Lamborghini