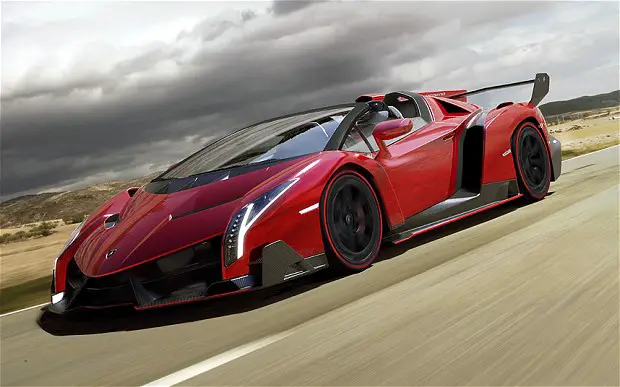 Lamborghini has unveiled a limited edition design which will be the world's most expensive new car. Called the Lamborghini Veneno Roadster, it is one of their most aggressive super models that can be categorized as a hyper-car. With a price tag of a staggering $4.5 million, it is easily the most expensive car you can buy today. The limited edition model comes without a roof and has many elements of a race car. The Italian car maker has made it into one of the most extreme vehicles ever built, but have taken care to keep it entirely road legal.
Lamborghini says the Veneno Roadster can hit a top speed of 221 mph and sprint from zero to 60 mph in 2.9 seconds. The power of the Lamborghini Veneno Roadster is derived from a 750bhp V12 engine.
Most of the Roadster's exterior body panels are shared with the hard-top model; Lamborghini says the entire front end acts as an aerodynamic wing to provide optimum airflow and downforce at speed. A smooth underbody also helps to reduce drag, while the dramatic rear diffuser accommodates four large exhaust pipes.
All the nine limited edition units of the new design will be ready for delivery in 2014.