If you are planning a trip this year to 'Bella Firenze' obviously the first things to see are the wonderous sights.  However, when you can't face yet another work of art, more interesting architecture or eat more Italian ice cream, let me make a suggestion…The fashion tour!
Los Angeles has Rodeo Drive, New York has Fifth Avenue, London has Bond Street, but Florence trumps them all with a 'Golden Triangle' of luxury shopping right in the centre of town.  Where the famous Via Tornabuoni, Via della Vigna Nuova and Via Strozzi all meet.
( Click: Shopping Tour Florence for a Google street view and check out the layout of streets and shops before you go. )
Starting our tour in the Palazzo Strozzi, with a quick pop into Giorgio Armani, it is easy to find Via Tornabuoni (the name comes from one of Florence's famous families).  Also known as the 'Miracle Mile', here you will find the fabulous windows of Versace, Gucci, and Roberto Cavalli, as well as numerous historical Palazzos, one of which houses Prada's womens boutique.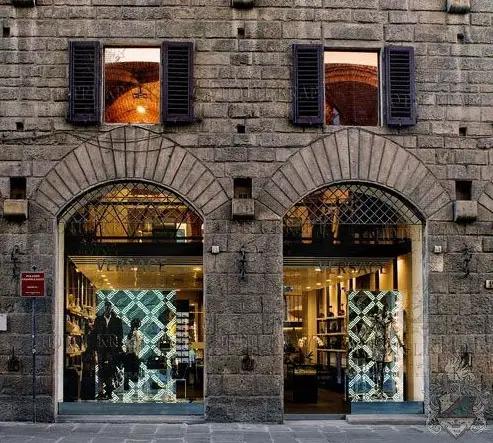 Via della Vigna Nuova is the second most important shopping street in Florence, with beautiful window displays from Gianfranco Ferre', Loro Piana, Furla, and Cesare Paciotti shoes.  Make your way back to Via Tornabuoni and pause for the best cappuccino in Florence or an aperitivo at the Cafe' Giacosa.  Once the meeting place for Italian aristocrats and the elite of Florentine society, it was restored by the flamboyant Roberto Cavalli.  You will find it in Via della Spada 10 – close to the Roberto Cavalli boutique on the 'Miracle Mile'.  Enjoy the boxes of chocolates designed in animal skin prints, a trademark of Cavalli. www.caffegiacosa.it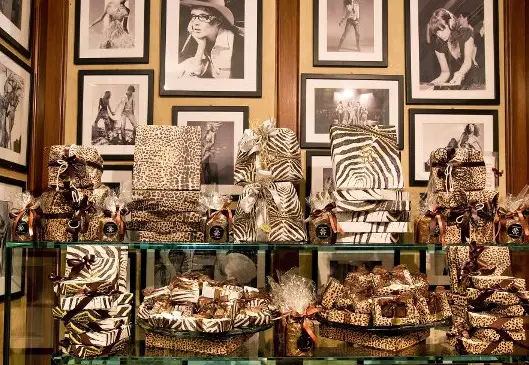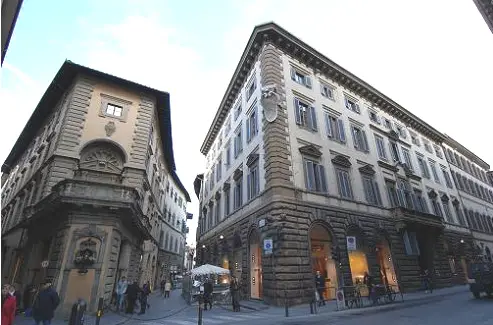 At number 73 Via Tornabuoni, you will find Gucci, really the first grand dynasty of Italian fashion.  Guccio Gucci left Florence as a teenager and went first to Paris then London, where he worked as a liftboy in the Savoy Hotel.  When he returned he started a small workshop making leather accessories for the equestrian industry, explaining one of the Gucci trademarks, the red and green striped webbing inspired by the girths for saddles and rugs.  The family business prospered on its use of a certain type of leather called Cuoio Grasso, used to make travel bags – and when embossed with the twin Gs of the family name, became a global sensation.  A family known for their fiery feuds, and love of the high life, this is the place to shop for glamorous fashion and accessories.  Here, I fell in love with a Gucci belt with a horsehead buckle… should I buy it here or wait to see the Gucci outlet?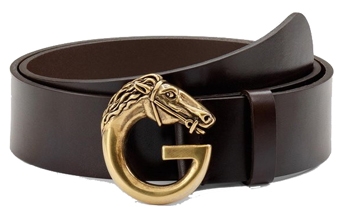 Wait! I hear you cry YES…. go to the Outlets where the prices are more affordable.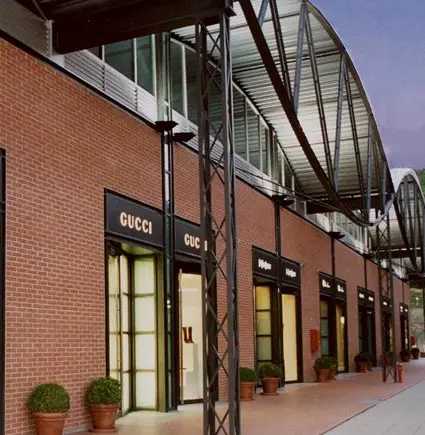 Just 35 minutes outside the city you will find "The Mall" Via Europa 8, Leccio Reggello. www.outlet-the-mall.com Hours of opening, directions and details of the shuttle bus service are on their website.  Here you will find shopping heaven with 30 – 50% off retail prices, so well worth the trip.  All the prestigious names are here, Valentino, Gucci, Bottega Veneta, Armani, Tod's, La Perla, Fendi and Stella McCartney.
Have lunch or just refreshments at Dot.Com cafe nearby, or if you fancy something special, try Tuscan fare at a restored wine cellar converted into a restaurant "Cantina Il Petrarca" Via Francesco Petrarca 11 Incisa in Val D'arno.
Dolce and Gabbana have an outlet just 5 minutes from The Mall, on the SS69, Via S.Maria Maddalena 49, Incisa in Val D'arno.  Brands D&G and Dolce and Gabbana, but do avoid visiting at weekends when there can be crowds.  Not everything is discounted but worth the trip if you are a D&G fan.  Open Mon – Sat 9.30am to 6.30pm, Sunday 2.30 to 6.30pm.
Prada fans will love the Space Outlet at Montevarchi (Ar) on the SS69 locality Levanella, head for the industrial estate, Tel: 055 9196528, open every day.
Roberto Cavalli also has an outlet at Via Volturno 3, Osmannoro- Sesto Fiorentino (Fi) www.robertocavallioutlet.it
30 km from Florence there is another huge and modern outlet mall, Barberino Designer Outlet www.mcarthurglen.it/barberino. With over 100 shops it's located at Barberino del Mugello on the A1 towards Bologna.
Enjoy Florence and don't forget to take your credit card.
---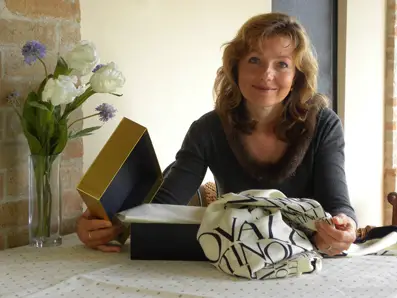 About the author:
Sally Hamilton lives between Italy from Britain and runs an online boutique specializing in exclusive, Italian-made clothing and accessories (www.selandarisitaliancollection.com ).
With a gift for discovering designer outlets and traditional artisans in hidden corners of the Italian countryside, Sally's latest innovation is the Shopaholics Tour of Central Italy's best-kept shopping secrets.