Beautiful artistic designed handbags discovered in Le Marche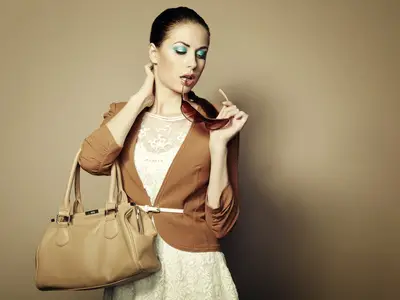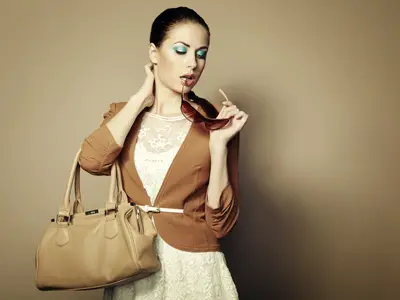 When I took my niece to the Prada Outlet here in Marche region, she said, "That's an awful lot of money to pay for something just to carry your stuff around" – she's right of course, the top designer handbags can cost more than a mortgage payment! However she was thinking only of the functional use, not of the more important issue: 'The Ultimate Fashion Accessory'.
Yes we do need to carry our 'stuff', phone, purse, make-up, keys…but we also express our personality through our choice of a handbag. Depending on who you want to be that day and where you are going… office or evening… you may want to be colourful, classic, stylish, fun, or to have the latest luxury status symbol. Your choice has an effect on the onlooker, who makes a judgement about your personality (as cars do for men).
Whilst it's fun to have a variety of bags, you really can't go wrong with a top quality Italian leather handbag. Not only will a classic style remain in fashion a well-made bag will pass the test of time. But why are they SO expensive? Apart from employing the best designers, and having to pay for expensive advertising campaigns, a luxury brand becomes luxury because of the quality of workmanship. The best leathers are used and brass rather than steel alloy fixings. Linings are the best fabric, you will find them hand-tooled and stitched by real craftspeople. The big designer names however, are often priced upwards of £500… Do you really have to "Pay to Play" ? the good news is, NO. I can help you find the top quality leather artisans who make handbags every bit as beautiful here in Marche region.
On this tour I wanted that oooohhhh reaction – when you want to touch it, the perfume of new leather, knowing that somebody took pride in making something beautiful, something to be chosen as a new best friend!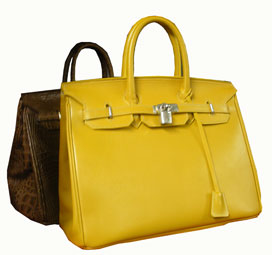 I have written about "Lucio Torresi" before, and remain impressed by the way they keep their designs moving forward with new colourful leathers this year as well as keeping the classic shapes. Famous and prestigious brands choose this artisan workshop for making their handbags, although I'm not allowed to tell you who they are, I can tell you that you can find a little den of a shop under the family-run factory where you can find some real gems from €120. www.torresi.com.  Some "Birkin" style bags in various colours at €160 like this happy yellow one, complete with padlock, with the key in the leather toggle which protects the bag from scratches.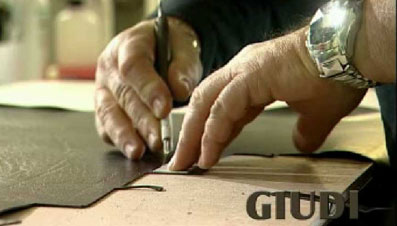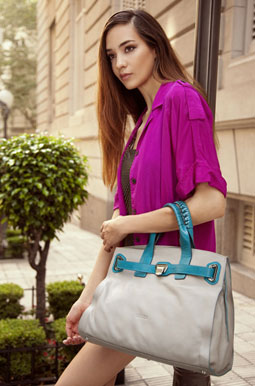 My next trip was to Giudi. www.giudi.com. They've been creating high quality leather goods since 1975, bags, briefcases, luggage, in vintage and modern styles. Also small leather goods, not only wallets and purses, but phone cases and business card holders, and belts. The outlet store in Morrovalle has rows and rows of gorgeous leather goods. I was given a hand-held computer to bleep the bar codes and read the prices. I found top quality leather handbags (obviously some from last seasons collections) are from just €85 -€100, I found darling little jewel-coloured evening clutch bags at €36. They tell me the brand is renowned in Italy for using natural tanned leather with no chemical polluters added.
Watch backstage fashion shoot for the 2011/2012 collection in Bologna here:

Valentino Orlandi was next on my list, when I first found them they had 'Chanel' type handbags in black 'quilted' leather with a gold chain in their outlet in Corridonia near Macerata. Would they still be there? I hoped so. Valentino Orlandi was founded in 1974 and knows that the value of his handbags is due to the long tradition of artisan craftmanship moulding the leather as no-one else can.
They Offer 30 – 50% reduction off normal prices – this is a great place to find something special. They use vintage fabrics, patent leather and ooze quality… many with unusual and elaborate designs. If you like snake skin you can find python leather bags at just over €500 (from €1,147), but I loved this black leather shoulder bag with red tassle at €254 (reduced from €500). The shop is full of creativity, in both design and fabrics.  Metallic leather, fur, and evening bags with Swarovski crystals can all be found by the adventurous handbag hunter who wants something very unique. www.valentinoorlandi.it
Watch the Milan fashion show here:
Don't forget that a trip to Marche region can also take in the Prada outlet store and Tod's outlet store in this same area as the outlets above. Contact Sally for details on outlet shopping trips.
---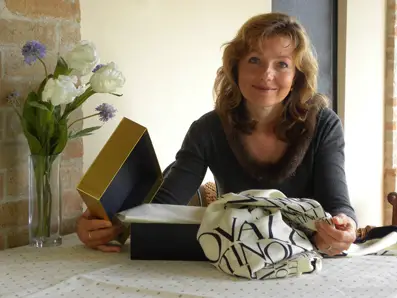 About the author:
Sally Hamilton lives between Italy from Britain and runs an online boutique specializing in exclusive, Italian-made clothing and accessories (www.selandarisitaliancollection.com ).
With a gift for discovering designer outlets and traditional artisans in hidden corners of the Italian countryside, Sally's latest innovation is the Shopaholics Tour of Central Italy's best-kept shopping secrets.