Italian glassmaking company specializing in crafting stunning light creations has unveiled the world's first asymmetrical 24 karat gold-plated chandelier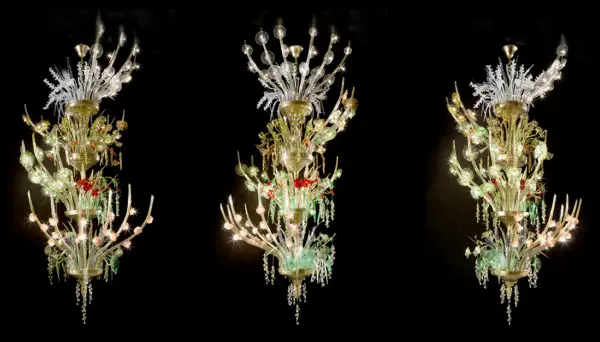 Murano glass made exclusively on the Venetian island of Murano is as elite today as it was in the 10th century, when glassmakers were first recognized. De Majo is keeping the tradition and reputation of the chandelier alive with their custom made exquisite Murano glass chandeliers.
De Majo has been using elegant glass work techniques to craft one-of-a-kind custom chandeliers since 1947, and the brand is showing no signs of slowing down.
Their latest creation, inspired by the Four Seasons of nature and crafted from Murano glass, is like something out of an enchanted fairytale. The Quattro Stagioni (or Four Seasons) chandelier is a work of art laden with minute details and filled with elements of fantasy.
This extraordinary chandelier has been conceived and christened on the basis of the final division of the year into four parts, the two solstices, summer and winter, and the two equinoxes, spring and autumn.
Designed by Francesco Dei Rossi and Roberto Assenza, this asymmetrical chandelier rises up to four levels with six arms illuminating at each level. The three meter tall chandelier is made of 370 handmade Murano glass elements of different colours which are completely covered with 24kt fine gold leaf.
Unlike the traditional pattern of the rotation along a circumference of the arm in a chandelier, the new creation blossoms with asymmetric arms that are rotated, according to a spiral pattern, referring to the cycles of the seasons. Such an arrangement of the arms doesn't give to the chandelier a canonical pyramid-shape, but cylindrical form. Fitted with a total of 72 light points, the arms extend as branches, while fulfilling the traditional function of holding the bulbs.
You can light up your seasons with the Le Quattro Stagioni for about $175,000.