The ever growing fashion trend of that popular accessory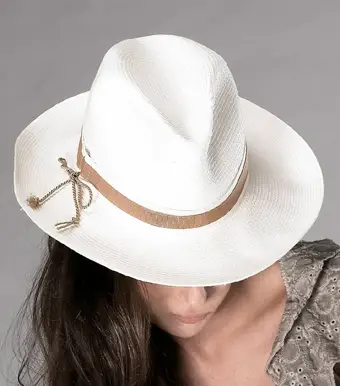 Lately designers are paying more attention to that great fashion accessory – the Hat. When  the Italian newspapers showed photos of The Duchess of Cambridge, (Kate Middleton) wearing a 'Made in Italy'  work of art, a dainty red hat, we traced it's origins here to our region of Le Marche.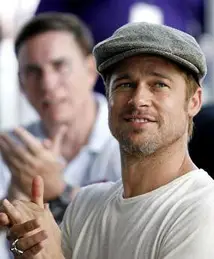 From the world of hip-hop to Hollywood, the fashionable crowd are again sporting headgear. Casual caps, simple pork pies and fascinators… think Brad Pitt, Kate Moss, Lady Gaga, they all know how to wear a hat for true a style statement.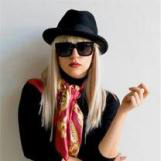 Most Italian hats are made in the little town of Montappone in Le Marche region, and the 6 villages surrounding it. It's as if the people grow up here with hat-making in their DNA. A 19th century fresco of the town has the figures painted with golden ribbons of straw streaming out from their hands – they used to plait straw as they walked to church. The straw hat festival continues every year, Il Cappello di Paglia, in July.  Historical and cultural memory of this ancient art is on show at the Hat Museum, which houses historical artifacts, and proudly treasures the last hat worn by the director Federico Fellini. If you are stuck for ideas for that next wedding or Ascot horserace meeting the Museum has a display of  'Mad Hats' Cappellaio Pazzo.
Today the hats are fashionable, sexy and make a statement about you. It's possible to find any kind of hat in these factories, from baseball caps to high fashion catwalk creations.  The Italian design is very creative. Many of the factories have their own designers and others work for the big name Italian fashion designers, either to detailed specification or just by adding logos to their own production. But I needed to find something classic…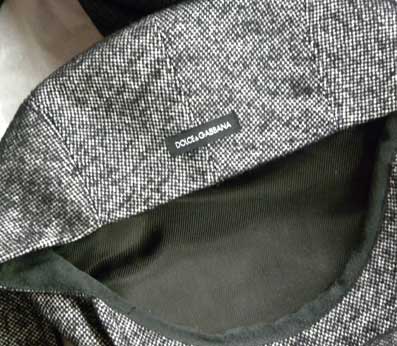 I arrived at 'Sorbatti', which began in 1922 and are known for their Panama hats, and found that although they do import pieces, on the day I went they were making and finishing D&G Harris tweed caps ready for the Milan Fashion shows. Marco Sorbatti gave me a tour and I found his passion for hats engaging, he says hats are a big business in Italy, more than 60 million made in Marche every year. The Sorbatti family have opened their own outlet shop here in Montappone where it's possible to try and admire the latest styles at prices way below normal shop prices. A genuine Panama $151 (120 euro), Panama style white straw hats $56 (45 euro) Felt and merino wool Trilby style hats from $38 – $100 (30 -80 euro) Austrailian style and Harris tweed flat caps $40 – $50.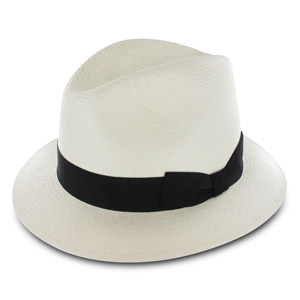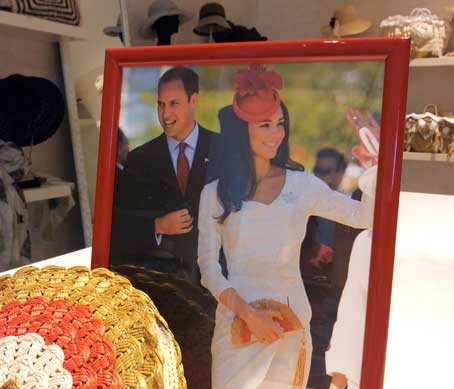 But how do I wear a hat with a style? I watched the Ferruccio Vecchi Video on their website http://www.ferrucciovecchi.com/ (go to Company on the bottom menu, choose Video and then Fashion Show). This gave me some great ideas of how to add style to any outfit and look a million dollars! The good news is  that they have just opened an Outlet Store in nearby village Massa Fermana. Here's where I found the framed photo of Kate (with Prince William) in her stylish Ferruccio Vecchi hat, and the bag she chose to go with it.
I chose a stylish little black and white number with a clever zip feature around the edge. Outlet prices start from just $ 30  (€25) up to $98 (€80 euros). The store has a range of scarves and bags – made elsewhere- but to complement the range and to make trying on more fun.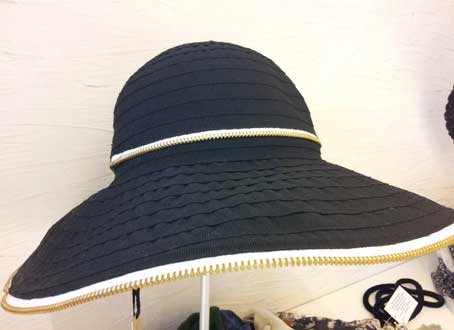 Next month I am visiting handbag factories.
How hats are made by Sorbatti:
---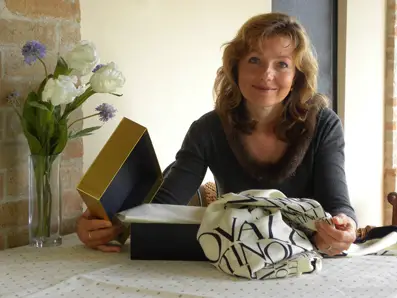 About the author:
Sally Hamilton lives between Italy and Britan and runs an online boutique specializing in exclusive, Italian-made clothing and accessories (www.selandarisitaliancollection.com).  
With a gift for discovering designer outlets and traditional artisans in hidden corners of the Italian countryside, Sally's latest innovation is the Shopaholics Tour of Central Italy's best-kept shopping secrets.