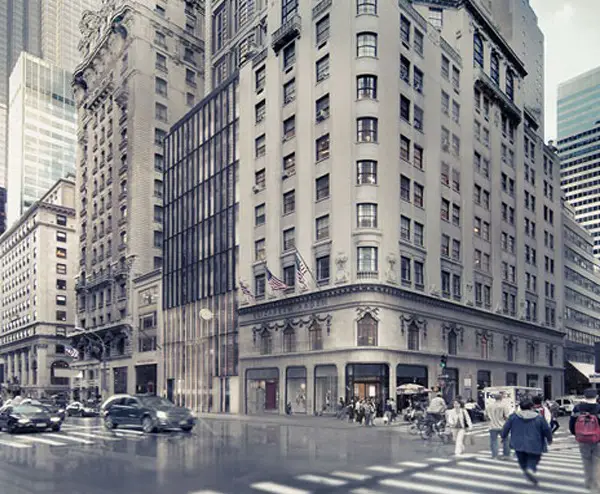 It's been over a year since Valentino announced its takeover of the former Takashimaya Building at 693 Fifth Avenue, but on Friday, August 1st, the label's largest flagship finally opened.
Making a grand statement, the colossal 20,000 square feet boutique has a brilliant metal façade with high ceilings and sleek interiors, which echo Valentino's sophistication and houses a wide range of men's and women's ready-to-wear collection and accessories.
Exclusive to this latest store in the Big Apple is the brand's largest selection of Valentino Garavani accessories that includes the new Camubutterfly pieces and Zodiac finger clutches. The Italian fashion house is keen to offer a one-of-a-kind Valentino experience, while catering to an elite clientele in a single bespoke location.
The former Takashimaya Department Store has been given a whole new look, combining old and new, in order to generate a Palazzo atmosphere, promoting a new architectural format. Located at 693 Fifth Avenue, Valentino's new three storey flagship store has been designed by architect David Chipperfield with Creative Directors Maria Grazia Chiuri and Pierpaolo Piccioli.
Shoppers can step inside the atrium which features a high-rising ceiling at 8 meters. The ground floor atrium is reserved for accessories like bags, belts, shoes as well as eyewear that are put up on an outstanding display wall featuring 39 shelves. The concrete sculptural stairs lead to 4,648 square feet of paradise for women. This level is designed to woo divas with a wide range of ready-to-wear collection in well-designed rooms. The third and the topmost level invites men to 4,637 square feet of exclusive collection of menswear line. Reported to be Valentino's largest store, it is also supposed to be the first outpost to have a whole floor reserved exclusively for menswear collection. Each level is highlighted with distinctive architectural elements like terrazzo walls and palladiana flooring, featuring a varied range of colors and textures.
The building's eight-story façade, takes inspiration from Mies van der Rohe's nearby Seagram Building, with the top tiers composed of black steel and aluminum and the lower part connected by vertical brass bars that incorporate a lantern, clock, and the Valentino logo, and promise to glow invitingly in the late-afternoon sunlight.