For now, offered exclusively at the New York Fifth Avenue Flagship Store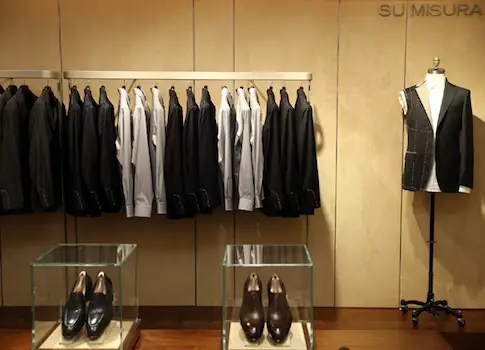 The Italian brand, known for its footwear and leather goods, offers custom suiting, jackets, pants – and now for the first time dress shirts for men at select flagship stores and through at-home appointments. Ferragamo is pushing the addition to its made-to-measure service at its New York flagship store – the only U.S. location where custom shirts are offered.
The updates to the tailoring service are meant to complement the hand crafted Special Edition Tramezza shoe collection and recently premiered Made-To-Order Travel collection.
For Su Misura suiting items, customers can choose from more than 250 fabrics and styles from the spring/summer and fall/winter collections in classic and fitted drop shapes, double breasted and single breasted jackets, pocket styles, and functioning buttons created in horn, metal, or mother of pearl.
Custom initials embroidered on the inner jacket lining and shirt breast or cuff offer the final personal detail to this elegant experience. The embroidered font, available in italics or block lettering, is offered in 7 different colors.
Customers in the United States, for example, can get the Su Misura tailoring service exclusively at Ferragamo's New York flagship store on Fifth Avenue or during at-home appointments in the area.
Drawing upon Ferragamo's expertise in tailoring, and an artisanal tradition from the company's premiere Italian craftsmen, Ferragamo offers the finest quality product at a supreme level of luxury and service.
The measuring process is executed by a highly trained tailor, using traditional artisan techniques to create the perfect fit.  Measurements are recorded and sent to Ferragamo's Florentine headquarters, where Italian artisans construct a finely tailored garment according to specifications and to be delivered within four to five weeks.Su Misura will be available in New York and internationally in Tokyo, Osaka, Milano, Roma, Firenze, and Napoli. In September, the program will debut to the newly renovated Chicago boutique, reopening early July. Phase 2 of the program will introduce pure cashmere knitwear to the arsenal of customizable pieces.
Furthermore, Ferragamo has plans to soon roll out a second phase of the Su Misura relaunch to offer customized cashmere knitwear.