Benefiting American Cancer Society – Red Bank, NJ – May 13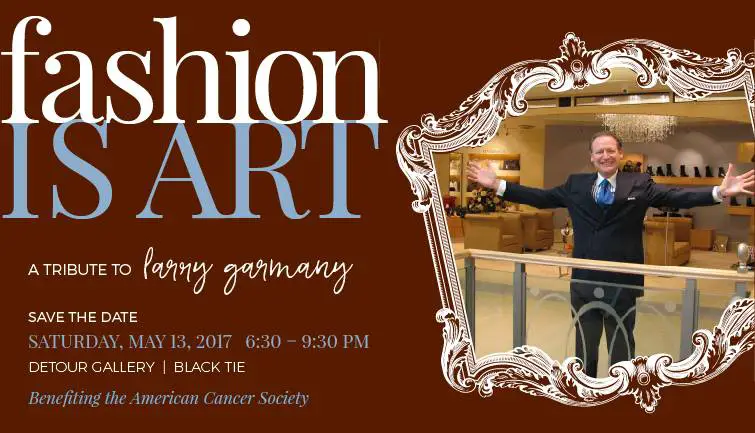 In honor of retail fashion legend and community leader Larry Garmany, Detour Gallery and Garmany are producing FASHION IS ART, a black tie event celebrating life, fashion and raising awareness for the American Cancer Society on Saturday, May 13th from 6:30 to 9:30 PM at Detour Gallery, 24 Clay Street in Red Bank.
Guests will be treated to a catered cocktail gathering with music, exciting interactive art and fashion installations in partnership with the gallery's curated artists. Each featured work of art will be brought to life by models wearing inspired fashions, hair and makeup depicting the mixed media creations.
Participating sponsors are Genova Burns and PNC Bank Wealth Management. Tickets are $200.  Contact Tswana Sewell at Tswana.Sewell@cancer.org or 856.673.5732 for ticket purchasing and sponsorship opportunities.
Larry Garmany was a true gentleman who loved family, fashion, travel, art and culture. Sadly he lost his battle with cancer in July 2014. Larry's candor was compassionate, thoughtful, polite, professional, humble. and was respected by all. This gathering honors Larry and other lives that have been impacted by cancer. Proceeds benefit the American Cancer Society. The American Cancer Society's mission is to save lives, celebrate lives, and lead the fight for a world without cancer. On May 13th, the community at large will share a common bond by bringing hope to patients, fighting cancer smarter, better and harder than we ever have before.
About Garmany: Garmany is an exquisite upscale Men & Women's Clothing Store regarded as one of the top 10 among independent retail establishments in the country. Located in Red Bank, New Jersey since 1989, a visit to Garmany is a must for the man or woman who desires the utmost in style, sophistication, and personal attention. The Garmany staff consists of professional clothing consultants and master tailors, all of whom are committed to the ultimate in shopping experiences. Visit them online at: www.garmany.com
Details:
Benefiting American Cancer Society
Saturday, May 13th
6:30 to 9:30 PM
Detour Gallery
24 Clay St
Red Bank, NJ 07701
Black Tie

Contact for more information:
Andrew Weisbrot at Andrew.Weisbrot@garmany.com 732.576.8500
Mission Statement:
The American Cancer Society's mission is to save lives, celebrate lives, and lead the fight for a world without cancer. Visit: www.cancer.org