The world is your stage – and this menswear store was created as such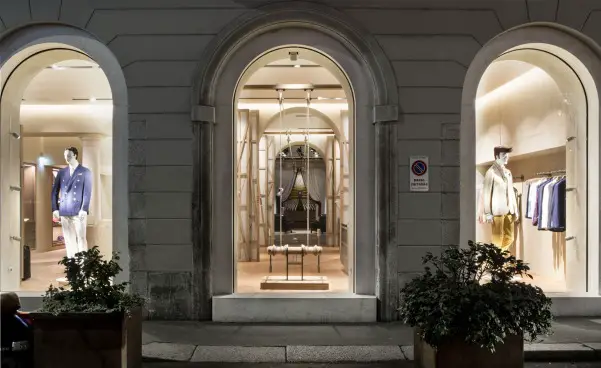 This past November, the Italian  luxury brand Caruso, known for impeccably tailored men's clothing, opened a 4,500-square-foot store on East 58th Street in New York that celebrates the company's heritage and culture. They created an atmosphere that caters to clients who wish to linger and enjoy a taste of Italy while they shop.
After the iconic opening of its first flagship store in New York, Caruso opened a new store in Milan in via dell'Uomo, 400 sqm at 4, Via di via Gesù. The store concept which was designed by Edgar Vallora is adjacent to Four Seasons Hotel Milan, formerly a historical convent.
The interiors are clean and pure, but sharply attended to, such as a winter garden room with an airy glass ceiling. Caruso's signature suiting hangs on oak racks and shelves, and against plaster walls with a hand-troweled finish. The floor, meanwhile, is a cocciopesto lime mortar with crushed pottery that was applied by hand by Veneto craftsmen who then oiled it on their knees.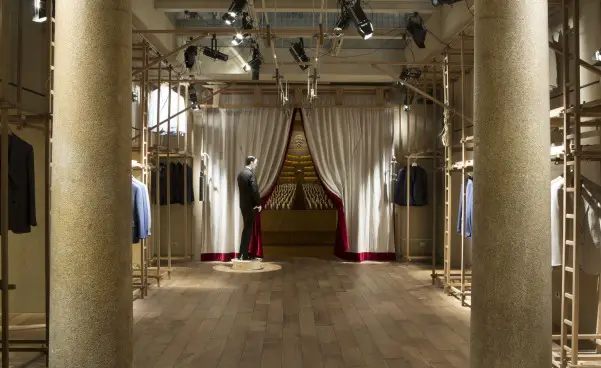 Caruso believes the world is your stage – and the store was created as such. You enter straight on to the stage of antique wood, flooded with natural daylight which comes straight from a skylight to find some of the most impeccable sartorial suits hanging from the theatre's step-units in the wings of the stage and from the ropes of the curtain. With the spotlight on the suit, everything you need to complete the ensamble is around you…knitwear, shirts, ties, casual jackets and more – for the most functional needs of today's man and the various occasions of use.
The company plans to open in Shanghai in 2016.