An icon of Italian luxury design and craftsmanship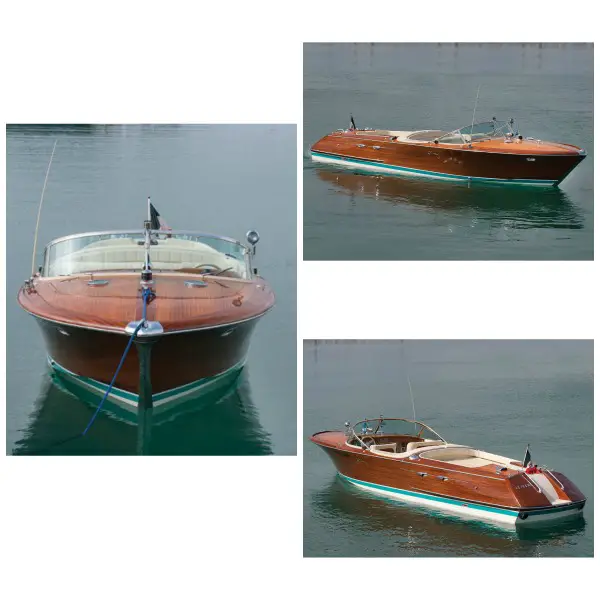 Pietro Riva launched the brand back in 1842, when he began building boats in Sarnico, a small town on the shores of Lago d'Iseo in northern Italy. The brands heydey came in the 1950s and 60s, when Pietro's great-grandson Carlo turned Riva boats into luxury icons with his focus on craftsmanship and attention to details.
Over the years, some of the world's most famed individuals and most glamorous of Hollywood royalty have been Riva owners — of which have included, King Hussein of Jordan, Anita Ekberg, Elisabeth Taylor, Richard Burton, Sean Connery, Sophia Loren and George Clooney reportedly keeps his current Riva at his home on Lake Como.
Yacht builder Ferretti bought the company in 2000, bringing it home to Italy after it was owned by a series of foreign firms since the Riva family sold it in 1969.
Today, the Riva remains a limited series of between 60 to 80 boats a year — the smallest involving 1,000 hours of work — and clients can ask for customized details to satisfy their every whim.
One particular model that has been produced in small numbers between 1962 and 1996, is the Aquarama — considered the Ferrari of the waters. There has been four variations of this model — the original Aquarama, the Aquarama Lungo, the Super Aquarama, and the Aquarama Special, of which only 277 Specials were ever built.
In this rare ownership opportunity, RM Sotheby's will be auctioning off a 1974 Riva Aquarama Special on May 16, 2016.
Riva, whose main customer base has been the jet sets of Italy, France and Monaco, representing about 40 percent of sales, has begun targeting emerging markets in the Middle East — notably the Emirates and Latin America.