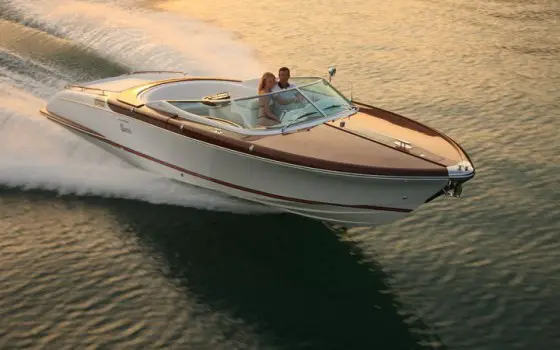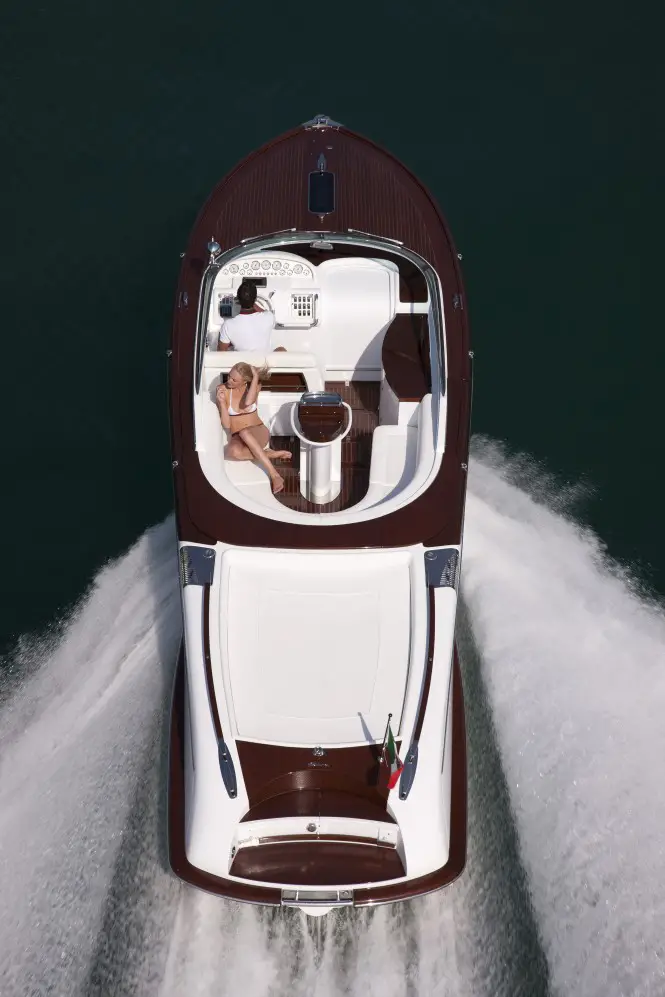 Press Release September 2010:
Italian design house Gucci said it will introduce made-to-order speedboats next year, with prices starting from 590,000 euros ($750,000).
The vessels will be produced in partnership with yacht-builder Riva to help mark Gucci's 90th anniversary in 2011. Riva, which is based in Sarnico, Italy, is part of Italian yacht-builder Ferretti SpA.
This unique collaboration between two of Italy's most renowned design houses celebrates the era of La Dolce Vita, when a joie de vivre, glamour and elegance defined an attitude and a lifestyle.
The vessel features a fiberglass hull, a mahogany deck, Gucci's signature green and red stripes and comes with a range of Riva by Gucci accessories, including bags, towels, deck shoes and flip-flops.
Frida Giannini, Gucci Creative Director, said, "Over the decades the iconic Riva boat has become without doubt one of the most evocative images of Italian style, sophistication and elegance.  It is a symbol of a glamorous lifestyle that sparks fond memories of La Dolce Vita – a golden age when both Gucci and Riva attracted an enthusiastic following among the international jet set.  It is therefore especially meaningful in Gucci's 90th anniversary year to be able to recognise and celebrate the great traditions and values of both Gucci and Riva through the Aquariva by Gucci."
Norberto Ferretti, Chairman of the Ferretti Group which Riva is part of, commented, "The Aquariva bears outstanding witness to Riva's natural evolution from past to present in the sphere of boat styling, through an elegance and delicacy of line that in a span of 33 feet holds the same attention to detail and love of tradition inspiring the Forever Now spirit of Gucci. I can't wait to see this Aquariva by Gucci in the water, a project that perfectly represents the balance between tradition and modernity, destined to become a symbol of Italian style and craftsmanship."
Mauro Micheli, Chief Designer of Officina Italiana Design, added, "We had to absorb Riva history to create Aquariva, but also forget it in a certain sense, in order to propose a contemporary product which would go beyond the legendary Aquarama, the best-known nautical icon in the world. In Aquariva, cutting-edge technologies have respected and maintained the charm, softness and clean lines of the shapes which are typical to Riva. If Aquarama has always been an icon, Aquariva is perhaps, becoming one, and Frida Giannini's enthusiasm for this model confirms this."
With a length of 33 feet, the Aquariva by Gucci has an innovative two-speed electronic gear reveals all the power of the two 380-horsepower Yanmar engines, ensuring an exceptional performance, with a maximum speed of 41 knots and a 150-mile range at cruising speed.
The Aquariva by Gucci was unveiled at the International Cannes Boat Show on September 7th, 2010 followed by a special presentation on September 22nd 2010, the opening day of Milan Fashion Week.  A show boat will then travel the world visiting some of the world's most prestigious boat shows and international destinations throughout 2011. The Aquariva by Gucci will be exclusively available on a made-to-order basis through Riva's dealer network.