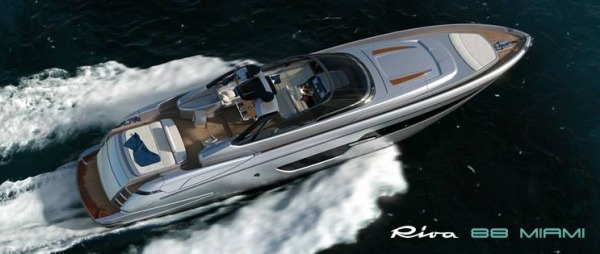 Currently on sale through the Ferretti Group's dealer Ventura, the new Riva 88 Miami yacht undoubtedly represents one of the biggest open top powerboats ever, as well as the first fully convertible powerboat to have a power opening roof. The stunning Riva 88′ Miami superyacht is expected to make her official world premiere scheduled in the first months of 2015.
Owning a Riva puts you in one of the most exclusive clubs in the boating world. The admiring audience that gathers on the quayside wherever you go is just something you have to get used to. But the sight of the convertible hardtop on the 88 Miami superyacht lifting off and swinging into its storage recess on the foredeck, will surely leave onlookers open-mouthed.
The convertible top has been engineered for motion even when the megayacht is at top speed. The Ferretti Group received a patent for the convertible top for the Riva 88 Miami, and the mechanisms were developed in house with cooperation from Besenzoni.
Of course, the below-decks area will also turn heads. A lounge/media room is open to the galley, which has a countertop doubling as a bar. A full-beam master lies down a few steps for more volume, too. Medium-tone elm wood is the primary material, evoking the era of the Riva Bahamas.
For more info visit: Ferretti Riva 88′ Miami