The Jet Capsule is created for compact fun and entertaining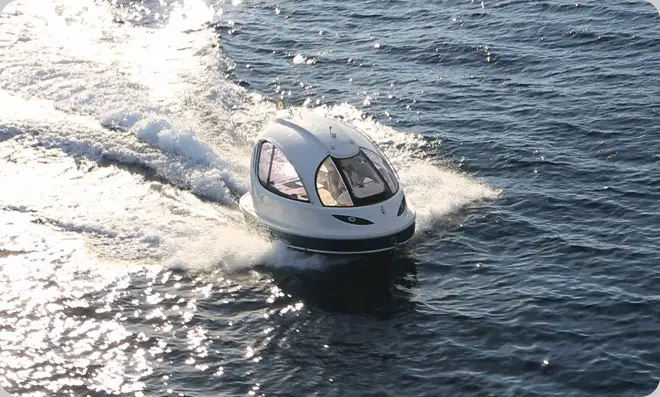 Most of us will never afford the mega-yacht of our dreams, so Italian design firm Lazzarini has taken all the amenities and luxuries of a floating executive pleasure den and distilled them into a compact pod.
Lazzarini recently presented its first "mini yacht" during the 2013 Monaco Yacht Show. Produced in Naples, the Jet Capsule is a compact water craft measuring 7.5 m (24.6 ft) long and 3.5 m (11.5ft) wide. It's powered by a 325-hp yanmar diesel with a hamilton waterjet – allowing propulsion speeds of up to 25 knots.
The futuristic looking vessel can be customized to suit a myriad of purposes, including a water taxi, emergency water vehicle, patrol boat, scuba diving vessel or recreational cruiser.
It does feature many of the comforts you'd expect of a high-end yacht. There's seating for eight, a diving platform, teak flooring, toilet, a bedroom conversion, and the ability to add a kitchen into the main compartment.
According to the designer, the Jet Capsule was created as "a boat small enough to be easily maneuvered, yet spacious enough to take a handful of friends out for drinks, over to a port for an evening's entertainment."
Pricing hasn't been announced yet, but it's sure to be considerably more expensive than your weekend fishing boat.