Dustin Hoffman and Richard Madden star in historical drama set in Renaissance Italy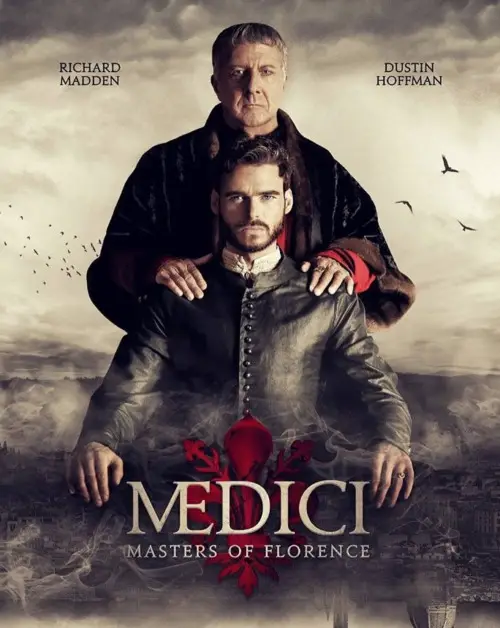 "Medici: Masters of Florence" brings back the fan favorite Game of Thrones star Richard Madden to cable television and does viewers one better: it pairs him up with Academy Award winner and legendary actor Dustin Hoffman.
Medici Masters of Florence is the new political family drama set in the Florence of the early 15th century that tells about the arise of the Medici family. Love, politics, conspiracy, power games, intrigue, and much more animate a TV series with attention to every detail. Medici Masters of Florence is not only a historical TV show, in which some are fictional events, but is also a testament of the birth of bourgeoisie.
In this series Hoffman plays infamous historical Florentine patriarch and oligarch Giovanni de Medici, whom the series focuses on during the Renaissance period. Meanwhile, Madden plays his son Cosimo de Medici, a role he seems to be truly fascinated with. Madden claims to be "almost obsessed with Italy," he shared in an interview for the Italian version of Vanity Fair.
The filming lasted 18 weeks between Rome and Florence where producers had the opportunity to shoot in historical sites as Palazzo Vecchio, Bargello Palace, the church of San Lorenzo, and inside the Duomo. Other shoots were made in Pienza, Montepulciano, Pistoia, Bagno Vignoni, San Quirico d'Orcia and the UNESCO site of Val d'Orcia.
The historical drama was made in English because of the international sales potential with its outstanding international cast.
Medici Masters of Florence aired for the first time in Italy the 18th October 2016, broadcasted by RAI TV. It is also possible to watch the series in original language and if you miss the premiere or you live abroad, you can watch the rerun in streaming on the RAI website from the day after.
At the moment there is no word on when it will be aired in the other countries.
Website: http://medicimastersofflorence.com