Sharing his love of singing and Selling New York.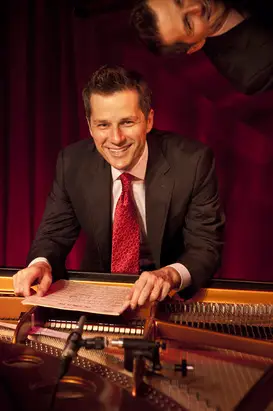 MAY 2011 – TOM POSTILIO – who will make his debut at the Manhattan nightclub Feinstein's at Loews Regency from May 17 to 21 – was praised by the New York Times for his "smooth, rich crooning voice that sends out an emotional current." One of today's outstanding vocalists and preeminent torchbearers of the American popular songbook, Tom starred in the hit Off-Broadway musical revue, Our Sinatra for 18 months. For his successful second career in real estate, he has become a nationally-known face as one of the featured brokers on the breakout hit on HGTV's "Selling New York."
At the age of 20, Tom was invited to tour internationally for a year as the featured vocalist with the Glenn Miller Orchestra. The tour included concerts throughout Europe, Asia and the U.S., culminating in a performance before 18,000 people at the Hollywood Bowl on a bill with the Tommy Dorsey and Count Basie Orchestras. Tom's success catapulted with his auspicious nightclub debut in Manhattan at Tavern on the Green's Chestnut Room. He was honored by the Manhattan Association of Clubs (MAC) for Outstanding New York debut and received the Back Stage Bistro Award for Outstanding Vocalist that same year.
Tom has performed throughout the country in theaters and nightclubs, from sold-out shows at San Francisco's Plush Room to the renowned Westbury Music Fair in Westbury, Long Island. Mr. Postilio has drawn rave reviews with some of the nation's top symphony orchestras, including the Honolulu Symphony, where he performed at their 100th Anniversary Gala. Mr. Postilio's television appearances include NBC-TV's "Today" show where he performed live from Rockefeller Plaza, "Sinatra: The Very Good Years" for PBS Great Performances, BBC News and CNN's ShowBiz Today.
Mr. Postilio's recordings include What Matters Most (Elba Records), featuring full orchestra, and Dream (DRG Records) both arranged and conducted by John Oddo. Upon the release of his second album, Billboard raved "Dream finds the young vocalist affirming his position of prominence as an interpreter of the classic American songbook and swing music from the big-band era."
Visit his website www.tompostilio.com
Selling New York: airs Thurs 9pm/8c on HGTV
---
An Interview with Tom Postilio, by Loraine Pavich

When did you start singing?

My very first gig was when I was 17 years old.  It grew out of a love and admiration when I was 14 and saw Frank Sinatra for the first time singing at Carnegie Hall.

Where in Italy is your family name from?

My family name is Postilio which is a shortened version of Postiglione.  I only recently found this out (shame on me for not knowing this sooner).  It is the name of a town about 90 miles south of Naples with a population of about 2,000.  I have to get myself over to Ellis Island and do some more research.

Who are some of your favorite singers?

Of course first and foremost is Frank Sinatra.  I absolutely love and adore Ella Fitzgerald.  I also admire Rosemary Clooney and Peggy Lee.

Where in Italy do you love to visit?

One of the first times I visited Italy was when I was performing on a world cruise in 1996.  We stopped in Florence and Naples.  Naples was  just one of those days you never forget in life. One of my closest friends growing up as a kid, his wife's family, lived in tiny village outside of Naples. They met me at the airport and showed me around the city. Afterward they took me to their farm for a feast.  The entire neighborhood came to see the guy that came from America. They were cooking all day long. There was homemade pasta, meats and breads and homemade limoncello.  It was some of the most amazing food I have ever had.  Another memorable trip was a beach vacation to Sardinia. There are still so many places I want to visit.

What do you love most about New York?

My favorite thing is that approximately 8 million people from all walks of life live on top of each other in the most ridiculously unnatural kind of way . I love that for the most part everyone gets along.  I just love that for what the metaphor of life should be. There are also so many cultural opportunities that are available at any given time of the day or night.

Do you take care of your health?

Absolutely!  I am a big health freak.  I am not overkill, but I do take care myself.  I try to eat right and get to the gym and do my cardio.  Every morning I make sure to have my blueberry shake and make sure I get those antioxidants.

If you could sing a duet with anyone who would it be and what song would you sing?

"Me and My Shadow " with Frank Sinatra and The Rat Pack.  I think about those guys during that time and how incredible it was and how much fun they had.

There are so many realtors in NYC.  How do you manage to stay on top in such a competitive market?

There is a lot of competition and you do have to try and set yourself apart.  I approach my business with complete and total honesty and transparency.  I am never that pushy salesman.  I will not force anyone to buy something that is not right for them.  You just can't force a sale. I have seen others be that very aggressive salesman.  I like to take a soft approach and make sure the customer is being heard and showing them things that are within their criteria. I have also been fortunate with the show. It has been unbelievable for me and has helped brand my firm and give me an outlet on national television.  It is a great way for marketing my business.  In an upcoming show they filmed me singing for the customer appreciation event I host every year.

What is the most expensive apartment you ever sold?

It was an 8.5 million dollar penthouse apartment in the Union Square area.  I must admit that was a very nice transaction.  Of course there were many other brokers involved but it was certainly nice to get a piece of the pie as I call it.

What is your favorite Italian comfort food dish?

Hahahahahahaha.  I love a baked ziti with a bolognese sauce or a super cheesy gooey pasta. I am so embarrassed to even admit this next one, as today I have so many foodie and chef friends.  I tell this story to my friend Sal Rizzo who owns De Gustibus cooking school in Macys.  When I was a kid and we would go to a restaurant I would always order the shrimp parmigana.  My friends just roll their eyes and laugh in complete replusion that I ate  and still love fried shrimp with melted cheese on it.  It is so completely not from anywhere in Italy, but it is tasty.

What are things in life that make you happy?

This is related to my music and me. One of the things that blows me away is when you have one of those completely unexpected moments when you're sitting in a musical venue. You are so overwhelmed by hearing and witnessing something that you completely did not expect.  I saw the one woman show Bea Arthur did on Broadway.  She was such an icon. At the end of the show she sang a little ballad that meant so much to me.  It took me by surprise and I didn't know it was coming, and at that moment it brought tears to my eyes.   Being with family also makes me very happy.  I have two beautiful little nieces.  They have taught me a whole new appreciation for children. I get down on the floor with them and play and we sing and dance. They call me their favorite Uncle Tom.

 

Do you read magazines?

Yes I do. I have subscriptions to Time, New York Magazine, NY Times, GQ and Vanity Fair. Magazines seem to be a dying breed but there is something I love about holding the NY Times and getting my fingers dirty and seeing all of the wonderful color photos in print from the magazine. It is nice to have the actual product in your hands.

If you had to retire in Italy where would you choose?

Can you help me with this one??? (laughs). I don't have the experience of visiting enough of Italy to really say,  but I know I want it to be near the water. I would love a little private beach house. I would make wonderful little tuna salads and trek down to the beach with some wine, cheese, crostini and grapes surrounded with family and friends.

Do you ever get nervous before a performance?

Yes I do. It is part of the nerves that kind of give you that adrenalin rush. It tells you to be sharp and as good as you can be.  Tuesday night at Feinstein's is a big deal gig for me. In that momement when the venue dims the lights and the band is warming up and I am getting ready to walk out there,  I will definitely have monster butterflies.  You prepare for it, you have the done homework and now its like just do it.  I truly enjoy it and do the best I can and give it my all.

How long do you want to keep on singing?

I would like to take music with me on a journey for as long as I can.  Music is such a part of my life and it has been for so long.  Even if it were not professionally, I wouldn't mind being 70 years old and sitting at the beach house in Sardinia and singing for some friends.
---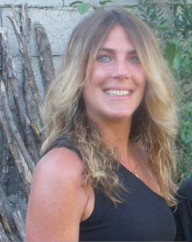 Loraine Pavich has had a diverse career in publishing with several successful magazines.