Hosted at Monmouth University on the Jersey Shore – May 9th, 2015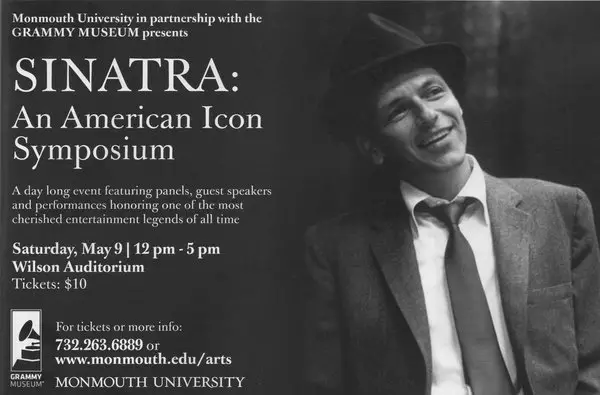 The Sinatra Family and Frank Sinatra Enterprises are pleased to announce some of the major initiatives confirmed as part of this year's Sinatra 100 centennial celebration honoring one of the most cherished entertainment legends of all time, Frank Sinatra.
An icon who forever epitomizes the American dream, Frank Sinatra continues to have an immeasurable influence on popular culture: music, film, art, theatre, fashion and beyond. Sinatra was a true one-of-a-kind personality whose incredible achievements continue to inspire greatness in others.
As part of this celebration, Monmouth University in partnership with the GRAMMY MUSEUM will be hosting a Sinatra Centennial panel discussion. Confirmed Panelists will include Max Weinberg and Southside Johnny.
Event to be held in historic Wilson Hall on May 9th, 2015 from 12pm-5pm
Tickets are $10.
For more info and to purchase tickets, call: 732.263.6889 or visit: www.monmouth.edu/arts