International Superstar and Italian Crooner Patrizio Buanne Reaches US Shores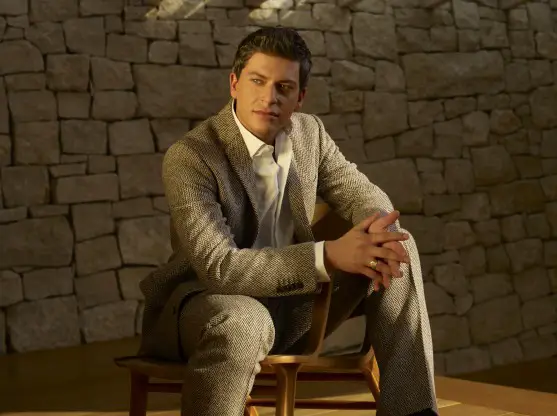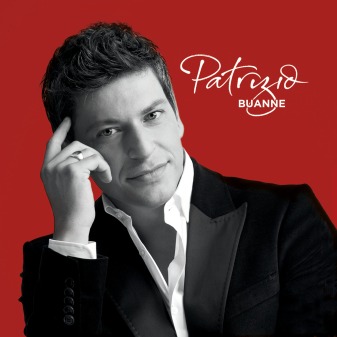 International superstar Patrizio Buanne is taking America by storm with his seductive  'Julio Iglesias-meets- Tom Jones' mixture of ballads and bravado.
On his latest release and current U.S. tour 'From PATRIZIO con amore', he's delivering entertainment with a romantic backdrop.
"Think male Celine Dion, Italian style…",  –The Boston Globe
"You'll feel like you're in a Scorsese movie."  –Time Out NY
"This international singing sensation is going to be around a very long time so learn the face, learn the voice, learn the name…PATRIZIO!" – Larry King
And, as if there was ever any doubt Buanne could make the ladies swoon, watch this CBS-TV performance during a tour stop in Pittsburgh performing, 'This Kiss Tonight'.
Having sold millions of albums worldwide in the last 8 years, and having made a mark also on the US album charts and PBS stations across the nation with his first three albums based of Italian standards, the Neapolitan crooner is currently signed for worldwide release in the US for his fourth and latest album on his birthday September 20, 2013.
For Patrizio Buanne, it is all about the voice, and an instinctive ability to convey real emotion. The dark, ruggedly handsome singer has already won over a legion of fans with two previous albums rooted in the pop traditions of his homeland that he released internationally. Buanne has also performed for such luminaries as The Pope, Royal Families, a US President, and numerous other celebrities.
With his current album, 'PATRIZIO', he stepped up a gear. On one level, the album remains true to Buanne's role as an ambassador for Italian song, which is Buanne's trademark, and are, of course, featured on the album ("Never Never Never," "Estate," "Mambo Italiano" or "Tu vuo' fa l'ammericano"), but 'PATRIZIO' found the Neapolitan broadening his horizons and he is putting a more international slant on his natural way with a song. It reached immediate platinum status in Australia, New Zealand, Asia and South Africa.
The album includes new songs written especially for Buanne, such as Diane Warren's "Why Did You Have To Be?," "This Kiss Tonight," by UK songwriter Paul Barry, and the self-penned "Solo Tu (My Baby)." Moreover, there are spirited interpretations of standards such as "Fly Me to the Moon", the Willie Nelson-Patsy Cline hit "Crazy," and "You're My Everything," as you never heard before.
"I'm not just an Italian guy singing Italian songs. It's important to give people the kind of music I am known for, but I also wanted to open myself up artistically and give them something else or rather something "more of me" that's why we called the album 'PATRIZIO'. I wanted to present my passion for interpreting any great song-no matter if Italian, American or New", said Patrizio Buanne.
Such as Chris Botti, Celine Dion or Tom Jones, Patrizio is searching for that same, timeless quality in a song where the sentiments convey in a credible way and Patrizio interprets those with his own romantic, European approach.
'PATRIZIO' showcases Buanne adding more strings to an already elegant bow. Recorded in Hollywood's Capitol Studios with Humberto Gatica (Josh Groban, Celine Dion, Michael Jackson) and in London with Brian Rawlings (James Morrison, Andrea Bocelli, Cher), the record augments his vocals with some of the classiest players in pop.
Buanne accomplishes a beautifully international slant on his natural way with song which heralds a new era for the young Neapolitan, and assures him the confidence of touring more the US and in recording his next album – PATRIZIO BUANNE: A true voice of Dolce Vita.
But what quality separates Patrizio Buanne from other great artists?  Is it the natural grace of his voice, the "rugged" good looks, or the confident, casual, respectful attention that he gives to his audience?  Or is it just the basic trust he evokes in people?  Italy has provided a simple word to describe all of the above; "Simpatico".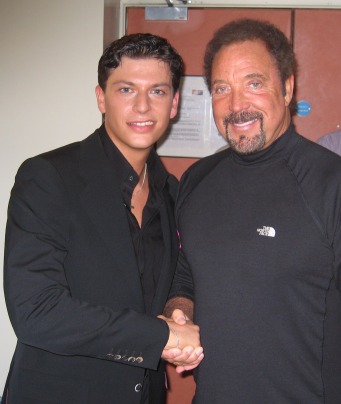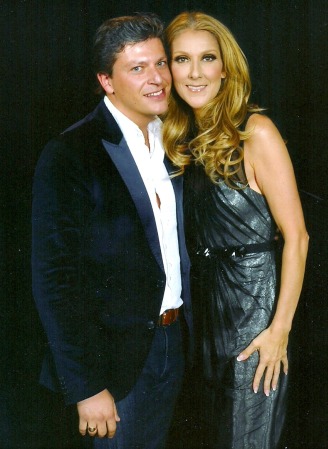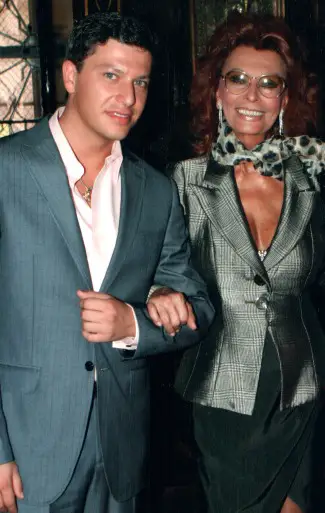 ---
Visit the Official websites of Patrizio Buanne:
www.facebook.com/patriziobuanneofficial 
www.twitter.com/patriziobuanne
For more information contact:
Andrea Leone
Assistant of Patrizio Buanne, Media and PR Consultant
---
PATRIZIO BUANNE US TOUR DATES 2013
Sunday, 09/01/2013, SAN DIEGO, CA, The Grand Del Mar – 7 PM
Thursday, 10/03/2013, FT. LAUDERDALE, FL, Broward Center/Amaturo Theater – 8 PM
Friday, 10/04/2013, TAMPA, FL, Starz Center for the Performing Arts – 8 PM
Saturday, 10/12/2013, RIDGEFIELD, CT, Ridgefield Playhouse -8 PM
Sunday, 10/13/2013, NEW YORK, NY, the world famous jazz venue "Joe's Pub" 2 Shows!  7:30 PM and 9:30 PM
Tuesday, 10/15/2013, WASHINGTON, DC, The Hamilton – 7:30 PM
Wednesday, 10/16/2013, PHILADELPHIA, PA,World Cafe Live – 7:30 PM
Thursday, 10/17/2013, MORRISTOWN, NJ, Mayo Performing Arts Center – 8 PM
Friday, 10/18/2013, YOUNGSTOWN, OH, Stambaugh Auditorium – 8 PM
Saturday, 10/19/2013, JACKSON, MI, George E. Potter Community Center – 8 PM
Sunday, 10/20/2013, CLINTON TWP, MI, Macomb Center for the Performing Arts – 3 PM
---
---
An Exclusive Interview with Patrizio Buanne

Your career has really taken off over the years with a full schedule. Where do you spend most your time living when not on tour?

My schedules are tight because I am workaholic and I tell my agent to book as much as he can. Maybe it's the schedules that made me famous (laughs) – as I am everywhere. When not traveling work wise or privately, I search for new material or am in the studio recording. I have the best job! As I would sing anyway while being at home under the shower, or going out with friend to some party. I like the creative environment, and music, it is simply my favorite thing to do. My parents moved from their homeland which was once their main base and residence away, in order to find a respectful, safe and organized country. Not just a nation that would give them respect and opportunity to build a future, but a country with possibly the best social services – in the Heart of Europe – and that is Vienna, Austria.

They have tried several times to move back to Italy, and I have therefore spent my childhood and lived in Napoli, and also Rome – but Vienna, Austria became a place to live in peace and no worries – simply 'home'. Although I spoke my parents language and was raised in their traditions and cultures. Because of that when I graduated and my father died of cancer, I went again back to Italy and got confronted with all the problems that Italy always had, and it reminded me why not just my parents, but what millions of people left Italy for. I did not totally believe and agree with what my parents where trying to explain to me over the years, but in fact, I found out that it was worse than explained, and that now Italy's problems are simply not anymore manageable. Till today, millions of Italians want to find a way to get out. While in Italy, the chances of making any career are very low and frustrating – in London, in New York and in Germany, I have realized my goals.

Italy is on one side a museum, but if people will keep treating it the way they do for now 153 years it soon will become a ruin. Art and culture and people need to be looked after. I see my cousins and uncles on a regular basis – the distance between Vienna and generally Italy are small, but in terms of progress, Italy does not develop much anymore. I consider Central Europe my home, and I spend most of my time when I am off either at my mother's place in Vienna or in my house which lies hidden on the Mediterranean coast.

You have had enormous success worldwide, especially in the US where you'll be touring again soon. Are the fans at North American venues any different than elsewhere in the world, and what do you enjoy most about doing US shows?

My bred is the applause, and while I never really make a difference or preference in an audience, and can't personally say which is the better one, or my favorite one (as it changes also all the time), I can indeed say that the North American audience is a very spoiled one – not in a bad way. People clap when they feel like, and no matter how famous and known you are elsewhere – Americans don't care. You have so much music there, so much variety, different styles and talents that are working hard to have many shows. One can say that only truly the best artists can find work in this overloaded market. It is the entertainment capital of the world. It is the nation that invented Rock'n'Roll, Swing, Blues, Country, Jazz, – all the great fusions of even Latin genres – it is musically the ultimate place to work.

Due to my worldwide success, my dream was to be able to perform in the US, and since 2005 I have been invited ever since, every year to the US, and am playing an average of 60 concerts each year. Just great enough so I can also make my fans in other countries happy without getting a burn out. In the US, I like the fact that I can host a show for 3000 to 5000 people, but sometimes play intimate shows for 250 people and can still feel enthusiasm and respect from that audience. That is not everywhere the case, where I mostly play arenas and don't even see the peoples faces. The North American media does not judge you by the number of people that sit in the audience – while European media does. I have seen top acts like Liza Minnelli or Jeff Beck in intimate clubs and nobody was disrespectful. I simply enjoy performing in the US. A performance starts with 3 people. 2 people is a dialog – with 3 people I can make people move emotionally and physically. Less expectations, bigger the surprise.

You bring a touch of that Italian romance with your own contemporary and timeless interpretation of American standards. What do you like about singing classic American standards?

My first three records, 'The Italian' (2005), 'Forever Beings Tonight' (2007) and 'PATRIZIO' (2009), are all rooted in the pop traditions of my homeland, and have sold millions around the world. People have given me the title of being "The Ambassador of Dolce Vita" because I explain that Italian music is not just classical such as Pavarotti, Bocelli or anybody who sings with a classical tenor voice – but on the other side certainly not what is produced nowadays in Italy that does not even reach the shores of other countries, and is rather American pop music with Italian lyrics.

I keep explaining on my CD's and at concerts that many Italian or Neapolitan songs from the 40's till the 70's have been translated in English and became world hits. And that is my trade mark and success. Specially causing a stir in the USA due to the children of emigrants who discovered my interpretations, and generally Americans who have heard my music when on vacation in Italy. Such as my colleagues Chris Botti, Celine Dion, or heroes Tom Jones, I was searching for that same, timeless quality in other songs not just Italian – where the sentiments convey in a credible way, and where I can interpret those songs with my own romantic or cheeky sense of humor, simply with my European approach.

So, that way I have explored also the American songbook, and recorded even in other languages. American Standards have been re-recorded over decades many, many times – but mostly within the same American spirit, either by American singers or those who want to sound American. In my case, I have dared to sing and perform those few songs that I have picked, so far, only once on my last album as if they were written for me. As if I would have never known the original performance on it. That was very risky and difficult, because I have so much respect for this repertoire and the songwriters, that I wanted to make sure that no matter how different, and how of my own I would interpret the song, it would not loose any of the original authenticity and credibility that made those songs legendary. "I did it my way" (laughing) and thanks to wonderful producers and my loyal fans, and of course these wonderful timeless songs, I have earned a bigger audience – not just people who come to hear my music due to nostalgic and cultural reasons – but people who come to hear ME. They are all looking for "PATRIZIO" just like many people would buy any Madonna or any Elvis album.

Did you have family support and encouragement growing up with your interest in singing?

I can't say that I did not get any support, as it was my father who caught me singing along to the vinyl records that he recorded into cassettes for his restaurant to be played, or my mother singing loud in the kitchen, while I was playing with my toys. He recorded my voice on tape one day – I must have been 4 years old. My mother never understood, or found it serious for me to become a singer or to invest into this talent – but it was her who brought me to all the various competitions that I wanted to participate in, and always win first place. I can say that YES, while my parents did not know what to do in order to bring it to the next step, they both supported and encouraged me to do something. It started with putting me on a chair and to sing when guests or family members came over to our home.

Since I lost my father in 1996, my mother was the only thing I felt I had. Last year I recorded "Mamma" and I finally was able to thank her. I did that very official by a planed surprize live on German TV.


Who would you most like to sing a duet with that you haven't yet?

I am someone that needs to fall in love with a voice and feel that my voice suits the other. Many record companies put acts together due to marketing reasons. I was shocked to get offers to record duets with people that did not even have time to meet up in the studio. It is not just about a song or two voices – it is about the chemistry that you develop while being next to each other, and then you both sing. Hit or not hit – it has to sound great. Saying this, I have only recorded that way till now, and while I am often compared and described stylistically as the "male version of Celine Dion", which I take as a complement, I respect her very much and in fact she must be great to work with. As a challenge and for my own ego, I like to work with other singers that know more than me and are considered strong and powerful – that way I get the best out of myself and learn from the best.

Have you ever done any acting or would you like to?

Yes, I have done some acting in a few small movies. One even with the actor Matt LeBlanc when he filmed in Europe and I was among the cast. I played a singer on stage when he walked into a club, The movie is called "All the Queens Men". I also did some commercials, and of course my own videoclips. Which you can find on www.youtube.com/mondobuanne. When I was a teenager I was too modest to think that I could be an actor, and thought I rather sing really good and maybe later will get a job for a movie, just like Elvis or Sinatra did. But nowadays everybody can be an actor and everybody can make a CD – with or without talent. No matter if they good at it or not – I guess that's why we have really poor movies or singers nowadays. There are only a few really great actors or singers around today, and not too many new talented people are following. Shame, I would love to inspire many teenagers to make honest music. They all just concentrate on being rich and famous, but where is the actual talent? I really like Al Pacino and also Sean Penn, and think that also Johnny Depp are outstanding actors.

You certainly have the looks and voice that women desire and most men wish they had…can you also cook?

Thank you for the compliment. My parents both were really good looking people, so I must have inherited the best of them both. But although looks are really not the most important thing to me today, I mean apart from being clean and dressed nice, I rather be remembered as great singer and performer than like too many singers today for the looks.

It was when I was a teenager I absolutely hated my looks. While I wanted to have a round, or as the girls say "cute" face like Brad Pitt, Leonardo di Caprio, Elvis or Johnny Depp, I was very frustrated to find my nose becoming like Tony Bennetts and my lips already being big like Mick Jaggers. My voice was very strong and loud at the early age. While the class room was chatting through the whole math lessons, I was caught immediately after just saying one word. I absolutely hated being a teenager. Sooner or later I learned to accept myself, as we can only be ourselves, and with compliments through the years my confidence grew and I felt alright looking the way I did.

Due to perforated ulcer operation when I was 17, or my herniated disc from all those travels, I guess a healthy smile is more important to me now and I learned to love myself. We all have to do that in order to be able to love another.  See, some artists are arrogant about their looks – I am not – I am just vain. (laughing). I don't care about looking like someone else, but I care looking the best I can. And I keep hearing that some guys use me as a role model – well, good luck with it. Maybe I can take some advice – I am still single and looking for Mrs. Right!

Can I cook? It was not my plan, and is not my fault, that I am raised with all the stereotypical things southern Italian people are living with- but YES, since my father was a professional chef and my mother herself cooked for us 3 times a day every day – it is something I have definitely learned by watching and helping. While today it becomes more and more a fashion and trend to do it, with many books or videos having been released, I was already cooking my first meals when I was 11 years old. Yes, while I was doing pretty well at school with languages or history, I was very weak at math, so I had a tutor coming to our home – so since I found her quite friendly and nice – I did cook for her.

What do you most enjoy cooking?

It is the first dish I have learned to cook: Spaghetti all tonno, which is Neapolitan sauce with chunks of tuna in it – served on some spaghetti or even on some bread – the bruschetta style.

If you weren't singing as a career, what would you like to be doing?

I would probably, or rather definitely, want to be working in any artistic field such as being a painter, sculptor or manage another individual – or I would be doing what I actually did study and graduate for, which is being a translator of Latin and Slavik languages. I speak Italian, Neapolitan, German, English, French, Spanish and Polish. Either way I do like the contact with people, specially individuals who have interesting point of views to share. I am a "people person". A good day for me means having had a good chat, a healthy laugh and some home style cooking accompanied by some discussions among some educated and most important open minded people. I can't stand narrow mindness and ignorance. Capa tost.

Traditions and cultures need to adapt to our times, that way we can carry them along with us by not losing them, or living stuck in the past that we can't bring back anyway. Let's keep it interesting and fresh for us and the new generation – that's how "Viva la Dolce Vita".

Thank you so much Patrizio for your time, and continued success to you!

Benvenuto. Thank you for the interview.