Enjoying their lives making people happy on the stage and off.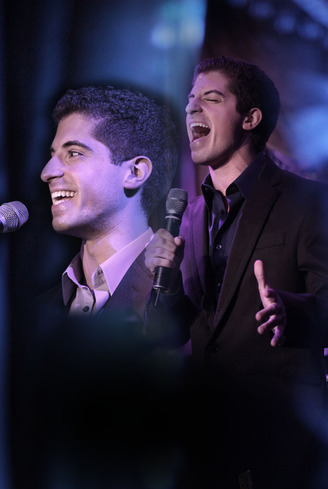 JULY 2011 – Will and Anthony Nunziata – young actors, singers and identical twin brothers dubbed "a dynamic duo with beautiful voices and charming personalities" by Cleveland Pops conductor Carl Topilow – have traveled the country with their duo concert act. Their charm, versatility and stage presence have taken them to theaters, performing arts centers and symphony orchestras around the globe, performing Broadway hits, classic American standards, selections from the Italian songbook, and contemporary music. 
Will & Anthony have headlined as Guest Artists with the Cleveland Pops Orchestra, Colorado Pops Orchestra, Brockton Symphony, and Cape Cod Pops Orchestra to an outdoor audience of more than 20,000. The brothers recently performed at Avery Fisher Hall in the finale of PBS's "Sondheim: The Birthday Concert" celebrating the 80th Birthday of Stephen Sondheim.  Other recent television appearances include ABC's "Good Morning America," NBC's "Columbus Day Parade," and "The Rachael Ray Show." This past year, the brothers brought their new concert to Sarasota , Palm Beach , and Orlando FL ; Fond du Lac and Brookfield WI , Cape Cod MA, and Singapore , to name a few places.
Will & Anthony created an Educational Outreach Program, "Double Duty," where the brothers go to local schools to talk to students about the importance of Arts Education. Their passion extends to honors as All-NY State cross-country runners and tennis players and being two-time Junior National platform tennis doubles champions. 
They will return to the New York nightclub Feinstein's at Loews Regency for their third annual engagement from July 19 to 23. For more information, please visit www.WillandAnthony.com or www.FeinsteinsAtLoewsRegency.com.
---
An Interview with Will Nunziata

What do you love most about being a twin?

Since I was younger it has always been a built-in best friendship.  If I wanted to play tennis or another sport, I never had to wait for a friend to get out of school or wait for them to get back from vacation. I had my brother who till we were 11 shared a bedroom with bunk beds. He was and is still always there for me.

What is your favorite Italian meal to eat?

I would have to say ziti with meat sauce. My mother cooks alot. She is German, Irish and a little French. She is mistaken for Italian. In the whole tradition of the Italian culture, she was given recipes from my grandmother who is Italian on my dads side. Not only has she been able to keep the Italian tradition, but she has added her own flair to the recipes.

Did you always want to sing?

It is not so much that I always wanted to sing, but it is the thing that always came easiest to me. Anthony and I were very fortunate to grow up outside of a town that was very close to New York City where singing and Broadway was very accessible.

How long have you been professionally singing?

For about 4 years ever since we graduated from Boston college.

What do you want people to know about you?

I am a fun loving positive person. I always look for the good in people no matter what.

If you could sing a duet with anyone, what would you sing and who would you sing it with?

I think I was born in the wrong era. While I was singing The Rat Pack, Judy Garland and Ella Fitzgerald, my friends were singing Madonna and New Kids on the Block. I would have loved to have done a trio with Dean Martin, Frank Sinatra and Judy Garland and sang Together Wherever We Go.  I just loved the whole idea of show business then being glamorous, uplifting and sending a positive message.

Who is your favorite Italian singer?

My favorites are Frank Sinatra, Dean Martin,  Luciano Pavarotti and Mario Lanza. Again I was born in the wrong era (laughs).

 

An Interview with Anthony Nunziata

Do people ever confuse you with your brother?

At first glance yes. However, our personalities speak for themselves right away. We have come into our own in the past few years and rarely every mention we are twins when we perform. It is not the essence of what we do. As Will always like to say we are two brothers who happen to be artists who happen to be twins. It is certainly a blessing that I get to share the stage with my brother.

What sets you apart from today's pop stars and musical performers?

What we do at the end of the day is music that hopefully touch peoples hearts. It is lyrics and melody that have a universality to it. We may be singing alot of these older songs but we want to bring a 20 's something spirit to it. We are not young guys stuck in the 1930's or 1940's, we just happen to  be guys that love this type of music. Our show is about making people happy and feel something. We want the crowd to walk away with a sense of family, love and feeling good about themselves.

Do you want to sing forever?

I hope that my voice stays in tact (laughs). I say this in all humility… I believe this is a gift. I am just going to keep on going as long as God has this as his plan. I would love for this to be a part of my career, whether it is by myself or continue to share it with my brother.  Singing truly comes from my gut. I feel very blessed. I would love to have the opportunity to share it as long as I can.

What do you appreciate most about your Italian heritage?

It is the importance of family… as simple as it sounds.  I will never forget growing up as a kid every Sunday we would drive to Staten Island to visit my grandmother and cousins. That was just part of the routine and it is something I carry on with me to this day. I try my best with my  family, extended family, and friends to value the importance of my relationships with them. At the end of the day it is all about having a good time and celebrating. My family and I try to always cherish those moments and have respect for each other.

Are there any people you admire?

My mother, my father, my sister and brother. In terms of professional, I look at people like Tony Bennett. This is someone who is constantly reinventing himself yet staying true to who he is. I look up to him and think this is someone who sticks to his guns, and this is something I greatly admire.

What is a typical day like for you?

If I am on the road, I wake up, go to the gym or a run, followed by breakfast and then it's down to business. Even when we are here in NYC it is the same. We are in constant contact with our booking agent and other people who are interested in booking us. I spend the day to strive to strengthen both my personal and professional life. This is an everyday thing and it is a full time job.

Do you enjoy show business?

Will and I have been able to tour all over. We just got back from Singapore. Again I say this in all humility, it seems like we are able to touch people emotionally and grab them. At the end of the day that is why I do it. Of course, it is a thrill to be in front of people and have the audience applaud, but for me I want to be able to look in the eyes of the audience and be able to connect with them. My goal at the end of the day is to inspire people and have them go about their day and their lives in a better way.
---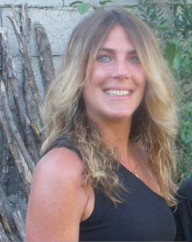 By Loraine Pavich
Loraine has had a diverse career in publishing with several successful magazines.
Learn more about Loraine here.