Sting and Trudie share their home grown products, hospitality, and award-winning wine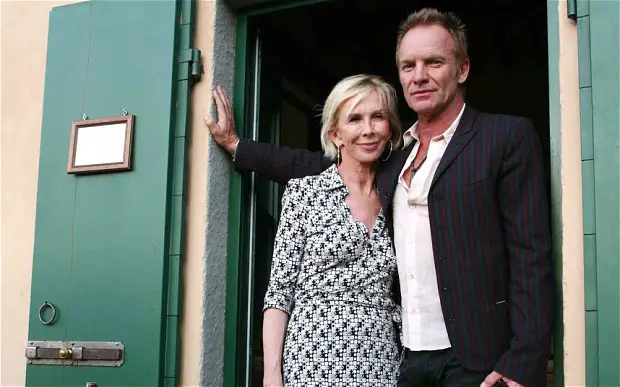 Many people know British pop star Sting, but what many people still don't know is how much he and his wife Trudie Styler love Italy.
Upon a visit to Tuscany in the late 1990's, the couple fell in love with Il Palagio, a 16th century estate in the medieval town of Figline Valdarno, some 15 miles southeast of Florence. While the estate was in need of much restoration, they purchased the property and set out to renovate and expand.
The Villa Il Palagio perches elegantly at the top of a long steep drive, overlooking the distant Tuscan hills and the undulating countryside which has always had profound agricultural significance.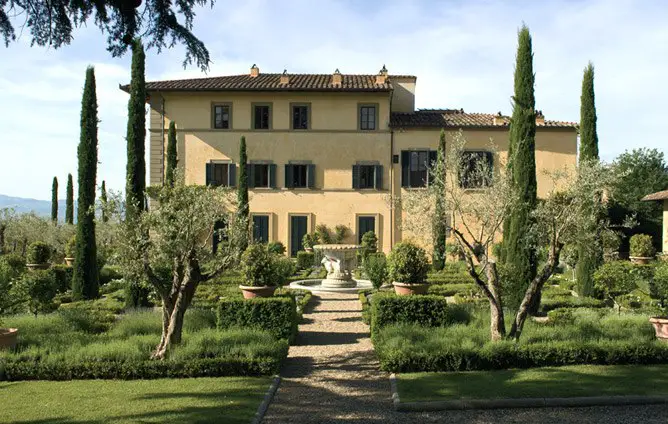 Sting, Trudie and their children, spend several months each year at Il Palagio, where the estate includes a large villa with a swimming pool, surrounding wood with six small lakes, vineyards, olive groves and an old barn converted into a recording studio. The musician also keeps a small private plane parked at a Florence airport.
With the couples strong environmental commitment, they had a growing desire to become farmers, and to nourish their family with genuine quality products from a healthy environment that are all 100% organic. They produce extra virgin olive oil, chestnut and acacia honey, jams, fruit, vegetables, salami and wine on the 900 acre estate.
In fact, a robust red made by Sting on his Tuscan estate has been named as one of Italy's finest 100 wines, placing him alongside centuries-old aristocratic winemaking dynasties such as the Frescobaldi and Antinori families. The wine, named Sister Moon after one of his songs, has been acclaimed by the organizers of OperaWine, a prestigious wine fair held in Verona this past April. The vino has been described by Stevie Kim, the managing director of OperaWine as, "silky and smooth, with mature tannins and hints of chocolate, liquorice and blackberries". A blend of Sangiovese, Merlot and Cabernet Sauvignon grapes, Sister Moon has an alcohol content of 14.9 percent and was matured for two years in French oak barrels. The wine sells for about $37 per bottle.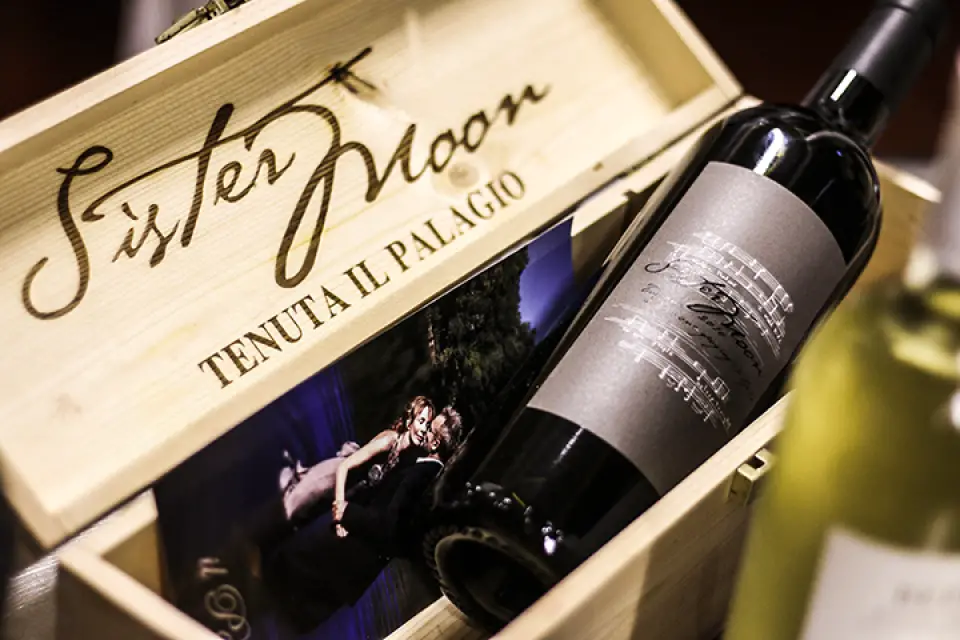 Most recently, the couple has begun offering the use of the villa for weddings and private parties that can accommodate up to 200 people. The 'Irish Times' reported that the former Police frontman is offering rented accommodation in six cottages on the estate for €7,000 a week each. The cottages can accommodate up to 50 guests.
Previous guests are reported to include actor George Clooney and former American President, Bill Clinton.
Despite his fortune, Sting's decision to rent out the estate buildings could have been prompted by a property tax introduced last year by the Italian government in a bid to bring in urgently needed revenue, said Immobiliare.it spokesman Andrea Polo.
"I don't know how much money you earn selling honey, but with the new tax, Sting will have been handed a huge housing tax bill last year," said Mr Polo.
For info on products available and the estate visit: www.palagioproducts.com