Special Palio travel package courtesy of Luxo Italia

As the Diamond Travel Partner of Italia Living, the highly rated luxury boutique travel company Luxo Italia, will offer our readers, followers and friends an exclusive travel offer each month.
Luxo Italia will work with you to custom design your travel to your desires. They truly tailor every experience to the client needs, and if you wish to extend your trip longer or change something – they can easily do it.
For June 2017 booking, we have a unique way to see and enjoy the Palio di Siena.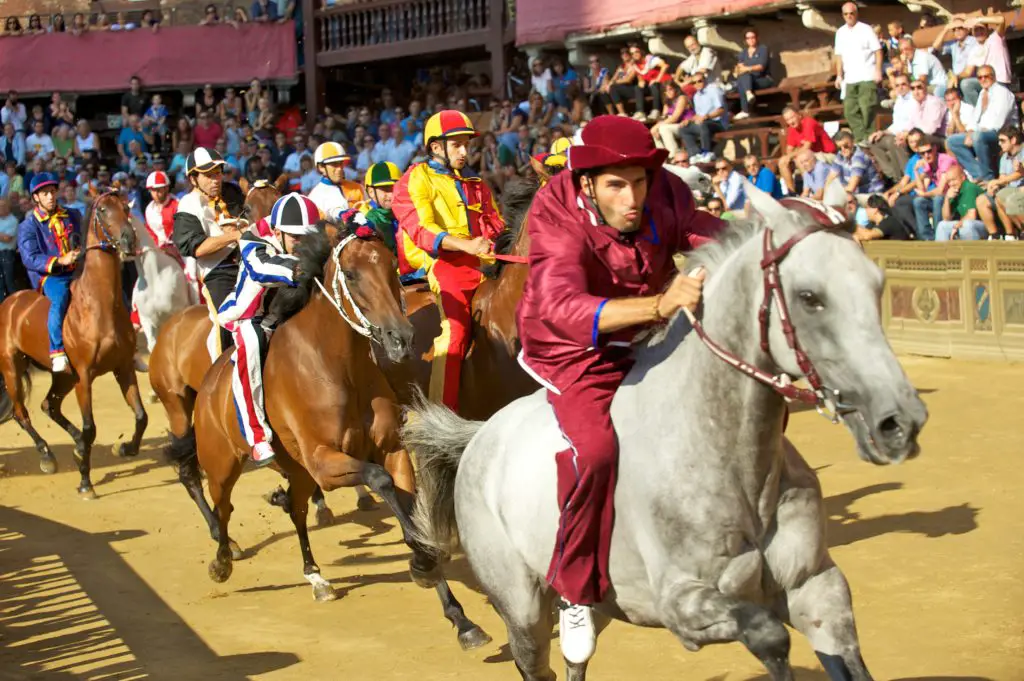 It's perhaps Italy's most famous annual sporting event. But Siena's Palio is as much about pageantry, civic identity and Sienese pride as it is about a bareback horse race that lasts, on average, just seventy-five seconds.
Every year on July 2 and August 16, the beautiful medieval city of Siena comes alive for one of the world's most breathtaking folk festivals, Il Palio. The event is known around the globe as a totally unique horse race, but it is much, much more. Preparations go on all year long in Siena, whose seventeen neighborhoods invest every spare Euro and every waking moment in their efforts to win.
The Palio represents without a doubt a unique opportunity to live the warmth and passion of the city of Siena. If you have the opportunity of attending, do not pass up on this chance to experience such a passionate and special celebration — and Luxo Italia can make enjoying this event even more special.
The evening before the race it is estimated that 25,000 people eat outside, as each contrada (neighborhood) stages a sumptuous banquet to "rehearse" their surefire victory celebration. This show is without any doubt a life time experience but the amount of people participating can make this experience quite challenging for the tourist.
Luxo Italia is proud to offer our readers this exclusive package to experience to the fullest the Palio horserace and Radicondoli San Giovanni feast.
Enjoy accommodations in apartments throughout Siena and Radicondoli, or a luxury hotel in the countryside. Enjoy Palio from your own window overlooking the square. No long lines and no huge crowds.
A True Tuscany
 Theme: authentic experiences and Palio viewing from our local count's home. Meet people, make new friends and dine at places you wouldn't be able to find on your own. Attend a special wine tasting at Bocelli's farm and a talk with musician Sting's wine connoisseur and sommelier. These few days will be full of soul filling experiences.
Starting from € 6500 per person based on double occupancy for 3 nights – select Palio di Siena on 2nd July 2017 or 16th August 2017

3 nights in luxury hotel in Tuscan countryside (Junior Suite or above)
Daily breakfast
Welcome dinner at selected farm with homemade products
Palio experience with Mercedes limo to/from hotel
Premium wine tour
Contact Luxo Italia regarding any questions or booking.
---
Visit: www.luxoitalia.com
Read some of their client reviews at:
www.facebook.com/luxoitalia?sk=reviews