Fly in a private jet with Italian-American film icon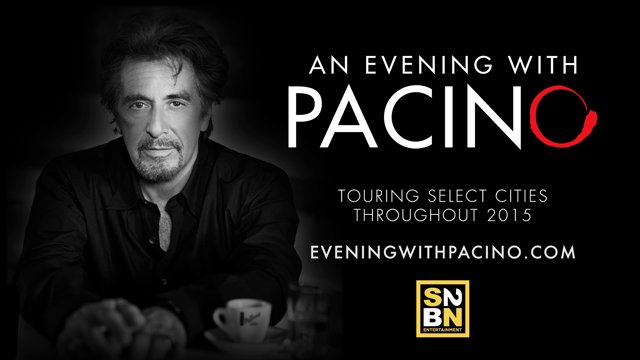 AN EVENING WITH PACINO marks a welcome return to Europe and will celebrate one of the most acclaimed careers in acting history in a theatre setting, with the actor himself, as he shares his passion for acting and directing. The evening will explore his time Off-Broadway in the '60s right up to the present day, and will include some never heard before stories and some never before seen clips, as well as the rare chance to speak directly with Pacino.
Al Pacino has created some of the most indelible character portrayals in cinema history. Starring in over forty films that include The Godfather Trilogy, Dog Day Afternoon, Serpico, Sea of Love, Dick Tracy, Heat, Scarface, Any Given Sunday, Angels in America and most recently You Don't Know Jack for HBO. He is one of the rare winners of the triple crown of acting: the Oscar, Tony and Emmy Award and was a recent honoree of the 2012 National Medal of Arts.
Various tickets and packages are available for shows in Glasgow, London and Dublin. And if you have a bit more money at your disposal and wish to book an unforgettable experience, the Italian-American actor and filmmaker is offering a chance to his fans to fly with him on a private jet as a part of the unique Meet & Greet package run by UK-based tour operator Event Travel.
The fan who buys the $41,555 package will be able to fly from Glasgow to London with Pacino and his entourage after the show. A part of Al Pacino's speaking tour in the UK and Ireland Package, the experience also includes tickets to two shows and a five-star hotel stay in London. The buyer will have a Level 1 reserved seated ticket for the show in Glasgow on the 19th May, three nights stay in London at a five star hotel with complimentary breakfast on 20th/21st/22nd May and transfers.
For more info visit: www.eveningwithpacino.com