A walking culinary tour of Rome allows you to taste some of the best and most authentic foods the city has to offer
I was finalizing my 2017 group tour of Rome this week and realized that one of my favorite parts of the entire week is our walking culinary tour, where we get to sample some of the best and most authentic food products the city has to offer. All while taking in some of the most beautiful sites in perhaps the world. All the walking we do helps to ease the guilt of all the calories we consume! And while the samples we enjoy are certainly a great treat, the history behind the shops, oftentimes hundreds of years old, is a wonderful teaching point of the walk.
Street food, or "cibo di strada" as it is known in Italy is not a new concept by any means but it is gaining in popularity mainly due to increase in food costs at sit-down restaurants, particularly in large cities. Cibo di strada can be authentic, inexpensive, quick and a great alternative to other more expensive options, especially for midday meals. When traveling to Italy you'll find that each season and city carries its own specialties. One would have to visit every city throughout the year to fully enjoy what the country has to offer. If that's not an option for you, review the partial list below and taste some of Rome's specialties, which can be found on the streets being sold by small vendors or in small specialty shops for a quick "in and out" stop. Don't let the location or shop size fool you; chances are your meal will be as delicious as what you'd find in any restaurant.
Arancini and Suppli': A trip to Rome would be incomplete without sampling these fried balls of deliciousness. Arancini are shaped like small oranges (hence the name) and Suppli' are oval in shape. Both made with rice, which is stuffed with meat and /or cheese, and then they are dipped in egg wash and coated in a breadcrumb and parmigiano mixture. A crusty coating is created in the deep-frying process. Not eating a suppli' or two while in Rome is as bad as not visiting the Trevi Fountain while there, they are about equal in popularity.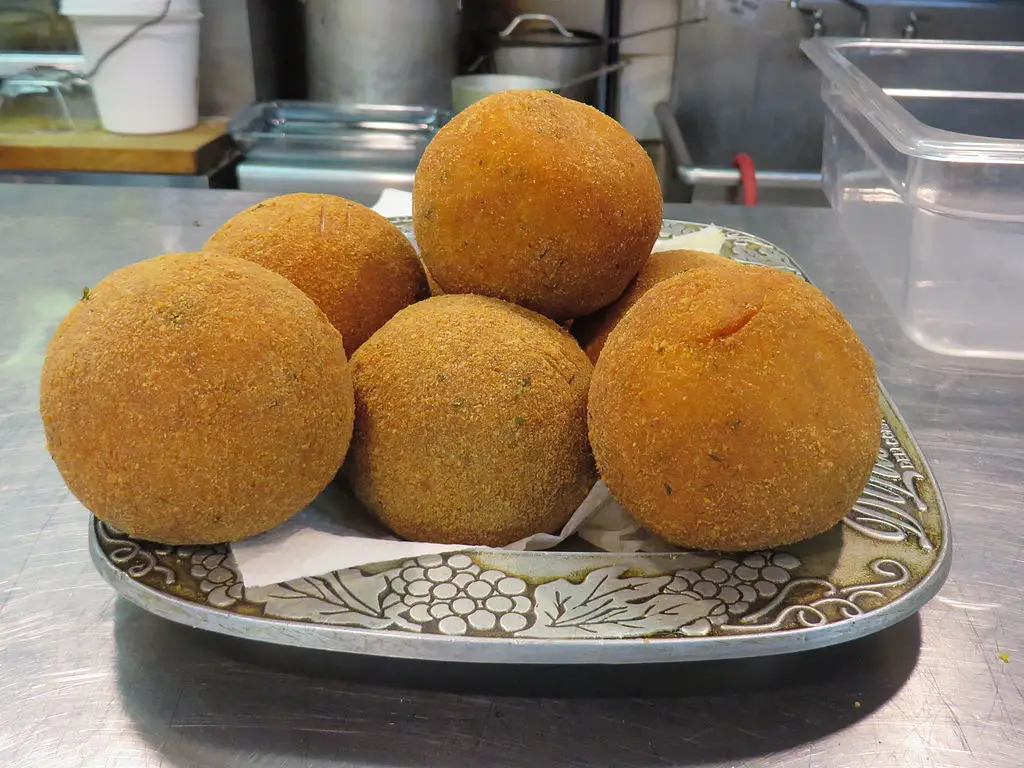 Pizza al Taglio: Walk about the city and you'll see people eating what appears to be a cross between pizza and a panino. Pizza al taglio is pizza sold by the square slice, frequently folded over to look almost like a flat panino, though sometimes it just looks like a square slice of pizza. Since the cost is based on weight of the slice, you can order a slice the size of your hunger level. It's inexpensive, quick and easy to eat on the go. You'll find that pizza in Rome is much thinner and crispier than what you'll find in other parts of Italy.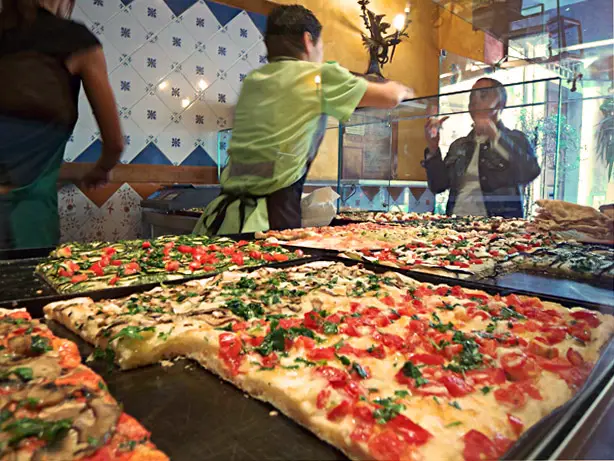 Pizza Bianca: While we're on the subject of pizza, enjoy a slice of pizza bianca, or white pizza. Lighter than the pizza al taglio, airy, almost like focaccia with a good dose of sea salt on top, you'll find this at just about any bread shop in Rome. Through trial and error, (it's a dirty job but someone's got to do the research!) I have found that bread shops all over Italy have really great pizza, comparable to, if not better than, the pizzeria. So don't just look for the "pizzeria" sign – look for the "paneficio" sign, which means bread shop. Visit around lunchtime and you'll be in for a real treat.
Panini: Certainly not unique to Rome, panini stands and small shops serving panini are plentiful in Rome and the bread is as delicious as the filling. The "rosetta" roll is round, airy and crusty and goes well with "porchetta", which is slow roasted pork seasoned with local herbs, a popular panino filling in Rome. Visit a delicatessen and ask for a "panino alla porchetta" and you will not be disappointed. Some other typical Roman fillings include mortadella, prosciutto & figs and oxtail stew.
Trapizzino: A fairly new addition to street food, a trapizzino is a cross between a tramezzino and pizza. If you're having a hard time picturing it, think a pita pocket (only about 1000 times tastier) made out of pizza dough then stuffed with a variation of hardy fillings such as chicken, meatballs or tripe. Great on the go, though a bit messy to eat, it's something different to try than the traditional offerings mentioned earlier.
Baccalla Fritto: The Romans have a fascination with frying foods. Perhaps more so than any other region in Italy, the Romans love frying just about anything from rice, to otherwise healthy vegetables to even gelato. Take the seemingly healthy baccala, which is salted cod. Once it has been soaked in water for a few nights to bring back its delicious plumpness, it's lightly battered and then deep-fried. Sounds plain, but it's a must try on your next trip to Rome; you will not be sorry you did.
Maritozzi: A specialty Rome, a Maritozzo is a sweet bun loaded with more whipped cream than anyone should have in one seating, but once you see it, you will certainly order it and be happy you did. Served at most pastry shops or cafes in Rome, it goes well with a cappuccino or quick espresso. If Sicily has the cannoli and Naples has the flaky sfogliatella, Rome has the maritozzi and like everything else mentioned on this list, you can't leave Rome and not have one, or two.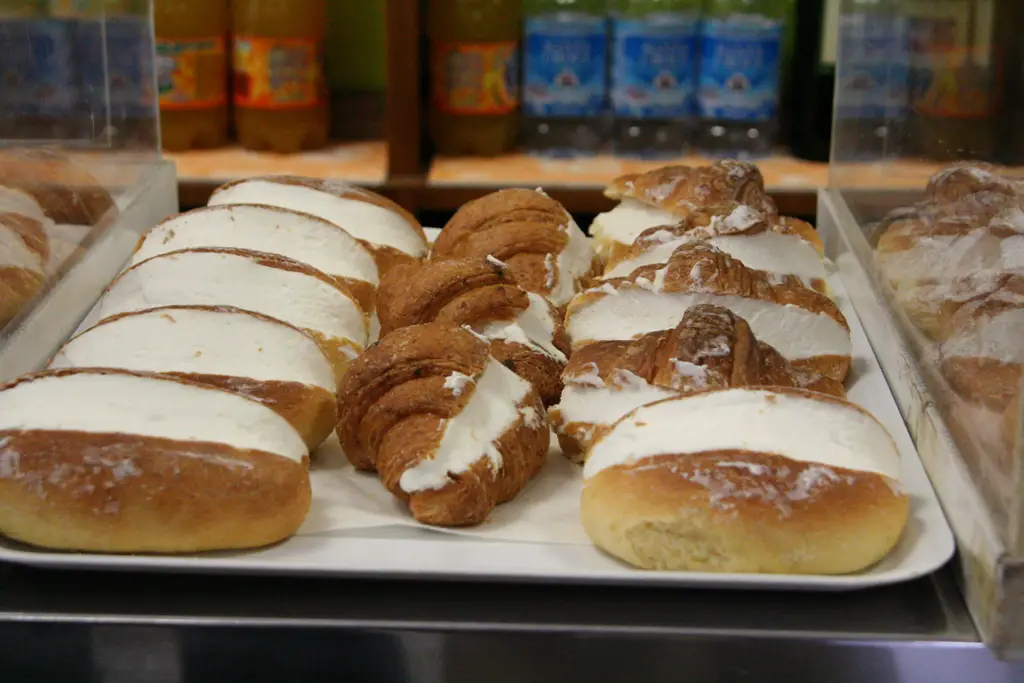 While in Rome, be sure to visit Campo di Fiori. Here you will find a wide selection of cibo di strada, cut up fresh produce and you won't be lacking for foodie gifts and souvenirs to take back. Yes, it's become a bit of a tourist trap, but that's because it really is worth the visit. If you've never been to Italy and are not used to outdoor markets, this will be a memorable stop. The market is open every day but Sunday.
---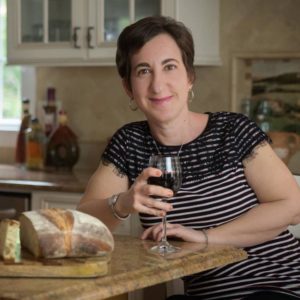 Francesca Montillo is a native Italian currently living in Boston and the founder of Lazy Italian Culinary Adventures, which provides small group culinary adventures to Italy, as well as private trip planning and organizing. She is also a culinary instructor in the Boston area. She maintains strong ties to her native land and is very excited to be able to bring folks to Italy on her adventures.
You can learn more about her at www.thelazyitalian.com
Facebook: www.facebook.com/lazyitalian