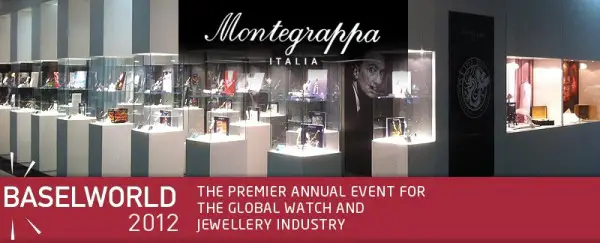 2012 heralds the first year of Montegrappa's second century. It is also the second time that Italy's most prestigious pen manufacturer has participated in Baselworld, after an auspicious debut of its new range of wristwatches in 2011. Montegrappa's writing implements have been the choice of connoisseurs and literary giants such as Ernest Hemingway and John Dos Passos since 1912. A selection of new pens representing a number of themes will be displayed in Hall 4.1 (Hall of Inspirations), Booth #A19, along with the wristwatches that complement the Nero Uno range of luxury accessories, which also includes pens and cufflinks.
Following the incredible response to the Chaos pen, designed by Sylvester Stallone, Montegrappa will unveil a procession of equally desirable limited editions, including an exquisite representation of Paulo Coelho's phenomenal best-selling novel, The Alchemist. Montegrappa's designers, inspired by the book's message of self-discovery, have produced a form that embraces the materials favoured by alchemists of lore, blending the spiritual and the scientific in a handsome objet d'art that will prove to be a joy to use and to hold.
Science, too, has inspired a pen that celebrates Professor Richard Restak's work in the study of the most complex machine of all: the human brain. Achievements powered by thought will be expressed in the newest Genio Creativo pen, in recognition of the work and influence of Salvador Dalí. A series of pens applauding one of pop culture's most enduring heroes will also emerge in 2012, along with the latest special editions in the Icons series, representing Elvis Presley's contribution to popular music. Each of three periods of his remarkable life will enjoy its own pens, including the young Elvis of the 1950s, Elvis in the movies and his astonishing comeback, and Elvis in Las Vegas.
All Montegrappa pens produced in 2012 will arrive in packaging bearing the special 100th Anniversary logo, certain to enhance the intrinsic collectability of each and every item produced by Italy's oldest pen manufacturer.
For more info: Baselworld 8-15 March 2012 – www.baselworld.com/en-US.aspx
Elmo & Montegrappa S.p.A.
Via Cà Erizzo, 43/45
36061 Bassano del Grappa (VI)
Italy
Phone: +39 0424 522232
Fax: +39 0424 523975
Web: www.montegrappa.com
Mail: contact@montegrappa.com