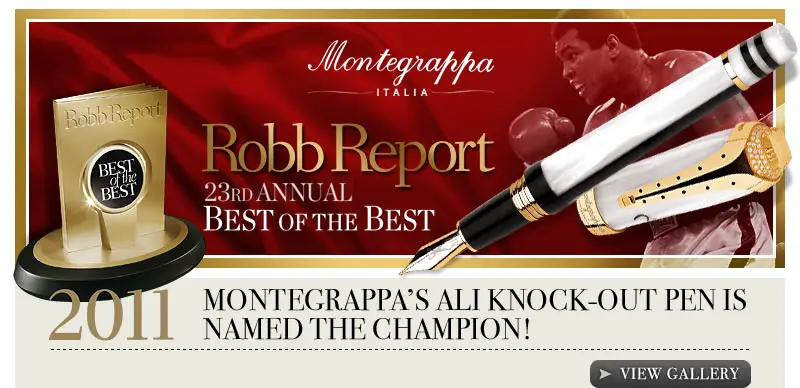 We are both pleased and humbled to learn that the editors of Robb Report, the USA's most prestigious luxury journal, have selected Montegrappa Icons Tribute to Muhammad Ali Knockout Edition as the "Best of the Best" Pen in their just-published signature June issue. This 23rd annual "Best of the Best" edition represents an entire year's search for the luxury world's most exceptional new products and services.
Achieving this honour is a monumental accomplishment for Italy's oldest pen manufacturer, for the winning pen had to compete with every pen launched in the previous year, from around the globe. Such an honour recognises the achievements of our design team and those who construct the actual pens, for any writing instrument earning the title "Best of the Best" must excel in both form and function.
To reflect the elements of Muhammad Ali's varied, eventful career, Montegrappa integrated a number of characteristic details into the Montegrappa Icons Tribute to Muhammad Ali pen, of which the Knockout Edition is the most precious. Every nib sports the "raised arms" silhouette of the victorious boxer, above the name "Ali", with the collar between nib and barrel formed from black resin.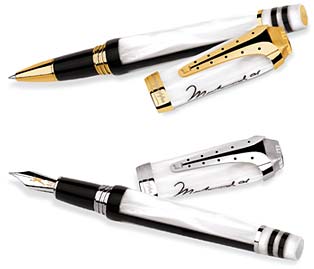 Finished in white pearlised resin with a black stripe running its length, the barrel bears the colours of his boxing shorts. The end of the barrel completes the look with two circumferential black stripes, as found at the tops of his socks. The pocket clip, terminated with the Montegrappa rolling end-piece, takes the shape of the stitching on Ali's boxing gloves. The cap's profile follows the arc of a speed bag, while the end of the cap is shaped in the cushion form of the "World Championship" diamond-encrusted ring worn by Ali and his corner team. Lastly, the cap features the great man's signature, in black, with the legend "The Greatest of All Time" incorporated into the cap's top.
Montegrappa's Icons Tribute to Muhammad Ali limited edition addresses key elements of Muhammad Ali's life. 1942 is the year of his birth. He fought 61 fights. He won 56. His wins by knockout numbered 37. Guided by these figures, Montegrappa will issue 1942 fountain pens and 1942 roller balls in resin with sterling silver trims, 61 fountain pens with solid gold trims and 56 roller balls with solid gold trims. The Knockout Edition honoured by Robb Report is an exclusive version of the gold-trimmed pens, set with diamonds in the cap's end-piece. Only 37 in total will be produced, the client selecting either fountain pen or roller ball.
Each solid gold version will bear a number corresponding to a specific opponent and fight, the pen engraved with the fighter's name, as well as the date and location of the event.
As a special benefit for being selected as a 2011 "Best of the Best" winner, Montegrappa enthusiasts can read the article describing Montegrappa's achievement thanks to Robb Report granting Montegrappa complimentary access through the following link:
http://robbreport.com/Best-of-the-Best-2011-Pens-Montegrappa-Icons-Tribute-to-Muhammad-Ali-Knockout-Edition