Special offer to celebrate Easter in beautiful surroundings of a luxury Tuscan country resort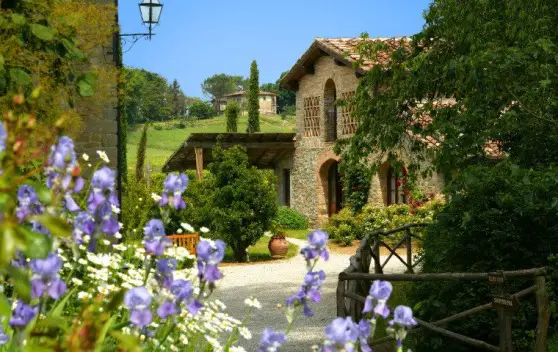 Easter is one of the best occasions to visit Tuscany, since it is a National Holiday with a special meaning to Italians – only Christmas can be more important.
Easter (Pasqua, in Italian) falls on the first Sunday after the first spring full moon, so in this period the mild climate ensures temperatures pleasant enough to make delightful to wander between breathtaking hill towns and scenery.
Many symbolic meanings are blended into this religious holiday. Easter commemorates Jesus Christ's resurrection from death, but also represents the renewal of life that Springtime announces.
Many traditional events take place during the Holy Week. The days before Easter in Italy include solemn processions and masses, but Sunday rites are joyful, as it happens in Florence.
The 'Burst of the Carriage' (Scoppio del Carro, in Italian) in Piazza del Duomo is one of the most interesting Italian Easter celebrations, since it blends the Christian rite into the pagan tradition. The Holy fires come in front of the main church Santa Maria del Fiore on a massive adorned carriage hauled by six white Ox. Then, a special fuse called 'colombina' (dove) fires the carriage and if the "explosion" (fireworks) is well done, Florentins say it will be a good year for the city.
But folkloristic representations are not the only reason to spend Easter in Tuscany.
Tuscany is a prime vacation destination anytime of year, but during springtime it is ideal for hiking and discovering the hidden beauties of Mugello, as Convent of Bosco ai Frati in San Piero a Sieve, Medici Castles and houses where famous painters were born, like Giotto and Bronzino.
And of course, in Tuscany tasting great food and wines is a certainty. Isn't that alone enough?
Monsignor della Casa Country Resort special packages allow you to celebrate Easter in Tuscany, right in the heart of Mugello, while enjoying the bright colours of the spring landscape.
The offer includes:
Traditional set-menu Easter lunch (drinks not included)
Typical buffet breakfast (sweet and salty)
WI-FI free
Use of Technogym cardio-fitness room and tennis court
Mountain bike rental
Car parking
Shopping Card for 10% discounts on top-brand shopping at McArthurGlen Designer Outlet in Barberino
2 nights for 2 guests  from € 212 – per person
Closer airports to get there are Florence, Pisa and Bologna. By train it is possible to reach directly Borgo San Lorenzo from Florence with the old, spectacular Faentina line passing through Mugello's chestnut woods.
For further information:
Website: www.monsignordellacasa.com
Monsignor della Casa Country Resort & SPA
Via di Mucciano 7
Borgo San Lorenzo (FI)
Tel. +39 055.840.821
Fax: +39 055.840.8240
booking@monsignore.com